Well, that takes care of that, right? I'm talking about the market's less-than-joyous and seasonally defying correction. But when it comes to more significant chips off the ol' block, the following three diverse Nasdaq stocks to buy are certain discounted gifts for your portfolio, as you'll soon find out.
Tendencies in the stock market, to varying degrees we rely on that sort of knowledge as it offers a trading edge. And it's totally understandable.
The flipside is that on those occasions when a fact fails to live up its billing, such as November or December being inherently bullish, the betrayal can feel significantly more punishing.
Just ask investors biding their time in the Nasdaq Composite.
Over the past two weeks confident giggles sure of a seasonal Santa Claus rally turned into suffocating gasps with the tech heavy Nasdaq tumbling by as much as 8% from its all-time-highs.
Yet as painful as the correction may have felt, it didn't come close to holding a candle to the many other presumed Nasdaq stocks to buy, which it turns out aren't immune to much larger bear market cycles in the midst of a historic rally.
Place blame for the individual performances where you will. But those excuses most often turn into rearview mirror buying opportunities. As much and in the spirit of giving, here are three Nasdaq stocks to buy that are in solid position to bring smiles to your portfolio through the holiday and into 2022.
Slammed Nasdaq Stocks to Buy: Tesla (TSLA)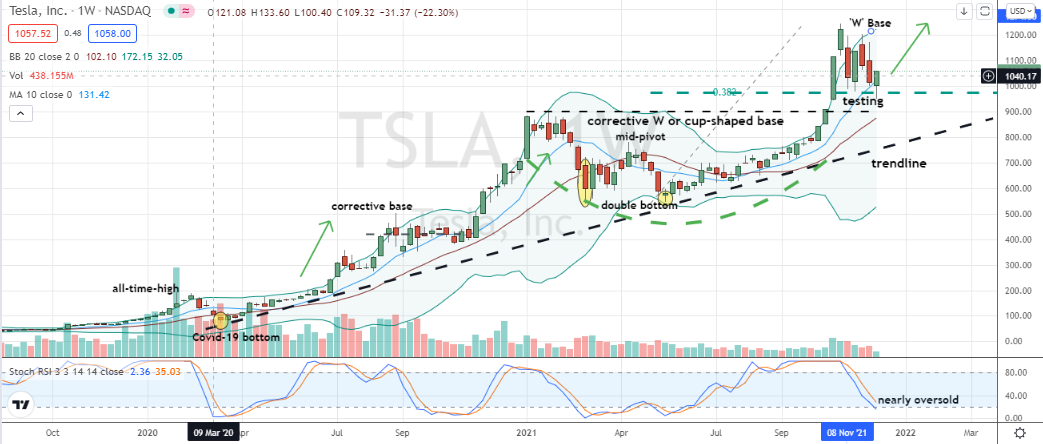 Source: Charts by TradingView
The first of our slammed Nasdaq stocks to buy are shares of Tesla.
Slammed? I know what you're thinking. TSLA Shares are up nearly 50% on the year and more than double the Nasdaq's gain of about 22%.
What's more, this Nasdaq stock to buy is up in the ballpark of 1,400% since its Covid-induced bottom in March 2020. So, what am I imagining?
What I'm appreciating is the idea of a stock being "slammed" is relative to its status within Wall Street's food chain. And at more than $1 trillion in market cap and the Nasdaq's fourth heaviest weighted component, this Nasdaq stock to buy is high on that list.
Moreover, with TSLA pullbacks rarely satisfying its bearish critics and shares positioned in a high-level and well-supported corrective base 14% in depth and six weeks in-the-making, it's time for a test drive.
To go long this Nasdaq stock to buy with greater safety features, I'd proffer parking a position in the Weeklys '07 January $1150/$1250 bull call spread.
Baidu (BIDU)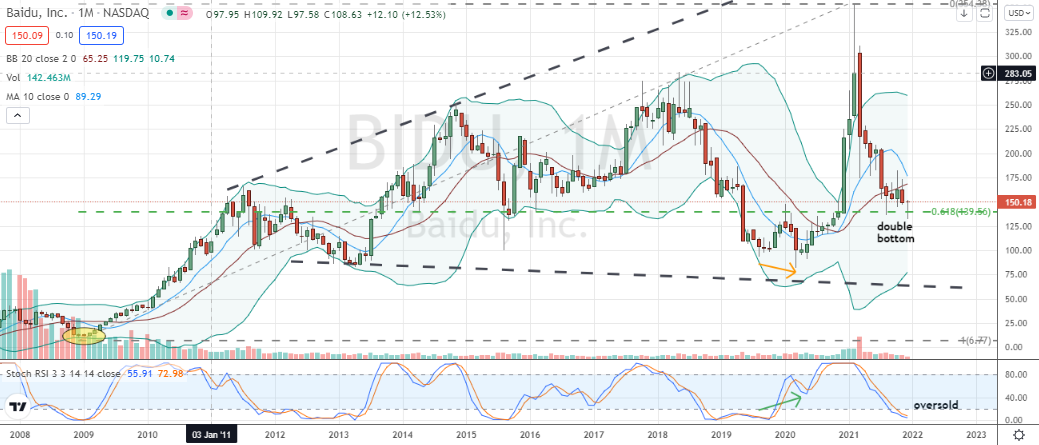 Source: Charts by TradingView
The next of our slammed Nasdaq stocks to buy is Baidu.
Slammed in BIDU stock is less relative and more absolute. Shares are off 30% in 2021 and roughly 58% from February's all-time-high.
As well and today, only five Nasdaq 100 constituents sport worse performances on the year.
To be fair, there's plenty of geopolitical "buts" for avoiding the diversified Chinese tech giant.
Then again, that's why shares are where they are. And buying when there's blood on the streets is almost never a bullish sounding RSVP.
Today though, this Nasdaq stock to buy is also sporting a smallish, oversold monthly chart double bottom.
What's more, with the pattern testing BIDU's 62% retracement level dating back to the 2008 – 2009 financial crisis and forming inside a slightly-flawed broadening triangle; even General Mao might consider capitalism.
Buy the June $180 call to stay the course with less risk and likely prosper in big ways in 2022.
Slammed Nasdaq Stocks to Buy: Activision Blizzard (ATVI)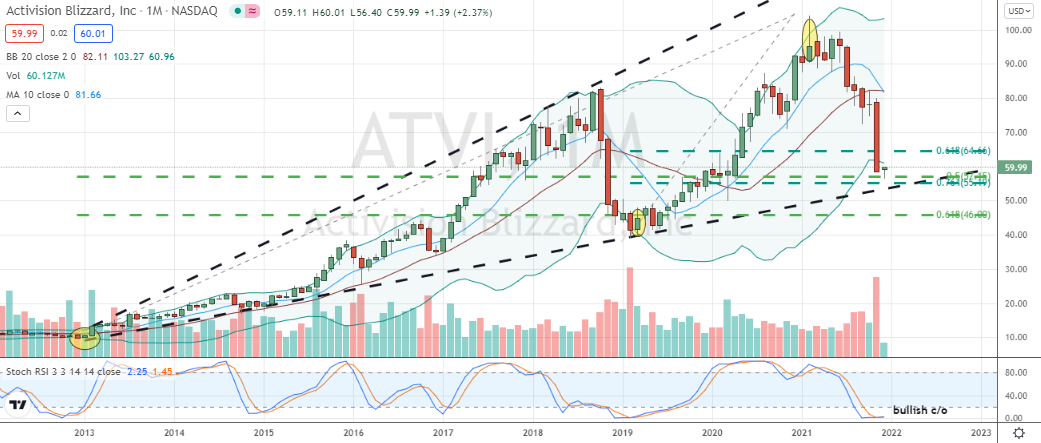 Source: Charts by TradingView
The last of our slammed Nasdaq stocks to buy are shares of Activision Blizzard.
For some investors ATVI might look like a game over situation. Shares of the video game publisher have slid nearly 37% in 2021.
And at this week's most feared levels this Nasdaq stock to buy was off 46% from February's all-time-high. But similar to BIDU, it's a good technical spot for bulls to take control of the playing field in ATVI stock.
This year's bearish cycle is now challenging an area of long-term broadening triangle and Fibonacci support dating as far back as 2013.
And with the possibility for a meaningful and bullish higher-low monthly candlestick to form that's backed by a bullish stochastics crossover in oversold territory, a first-and-long play with the September $65 call looks like a winning way to suit up.
On the date of publication, Chris Tyler did not have (either directly or indirectly) any positions in the securities mentioned in this article. The opinions expressed in this article are those of the writer, subject to the InvestorPlace.com Publishing Guidelines.
Chris Tyler is a former floor-based, derivatives market maker on the American and Pacific exchanges. For additional market insights and related musings, follow Chris on Twitter @Options_CAT and StockTwits.