Cryptos remain relevant, and combining them with the next big thing on Wall Street is Decentraland (CCC:MANA-USD). MANA is looking like a bargain in the real world of trading. Let me explain.
There are plenty of big names in the crypto space, from Bitcoin (CCC:BTC-USD) and Ethereum (CCC:ETH-USD) to Dogecoin (CCC:DOGE-USD) and Shiba Inu (CCC:SHIB-USD). You know who they are.
They're the crypto market's largest and most notorious digital assets in a decentralized finance (DeFi) universe, with some 15,000 tokens and the like tracked by CoinMarketCap, a number that's still growing.
It's also true that these assets have a history of through-the-roof volatility, ensuring huge transfers of U.S. dollars.
Maybe you've even learned a thing or two, for better or worse, about "Ethereum Killers" Solana (CCC:SOL-USD) and Cardano USD (CCC:ADA-USD). Maybe you support that reality in spades.
But one crypto that today stands out from the crowd that's building its own little world of make believe. Some investors are increasingly over the moon about Decentraland's MANA coin.
In brief, MANA is the token linked to Decentraland's virtual reality platform within the metaverse powered by the Ethereum blockchain.
As you might recall, it was just a few weeks back on Oct. 28 when the company formerly known as Facebook rebranded itself Meta Platforms (NASDAQ:META).
And at that precise moment in time, Meta's unveiling may have raised a few eyebrows on those trying to share fake news or pictures of what they ate earlier that day on Facebook or Instagram.
Yet while most of Meta's users quickly went back to their business as usual on social media, a much smaller group of first-movers are taking advantage of Facebook's move to cash in on the next big thing using the Decentraland platform.
Much like the real world, as InvestorPlace's Alex Sirois points out, Decentraland's users can "buy plots of land, develop them, and reap the rewards" in MANA token.
There's no chance of polluting the joint as far as I can tell. And unlike our own physical world, that's good, right?
As many others might tell you, your avatar is going to be going to those far-flung, far-out destinations and carrying out important tasks in Decentraland or rival metaverse platform The Sandbox (CCC:SAND-USD).
Hmm, to boldly go where no man has gone before and a date night checking out some NFTs? My avatar, if I had one, can hardly hold its breath.
Decentraland (MANA-USD) Weekly Price Chart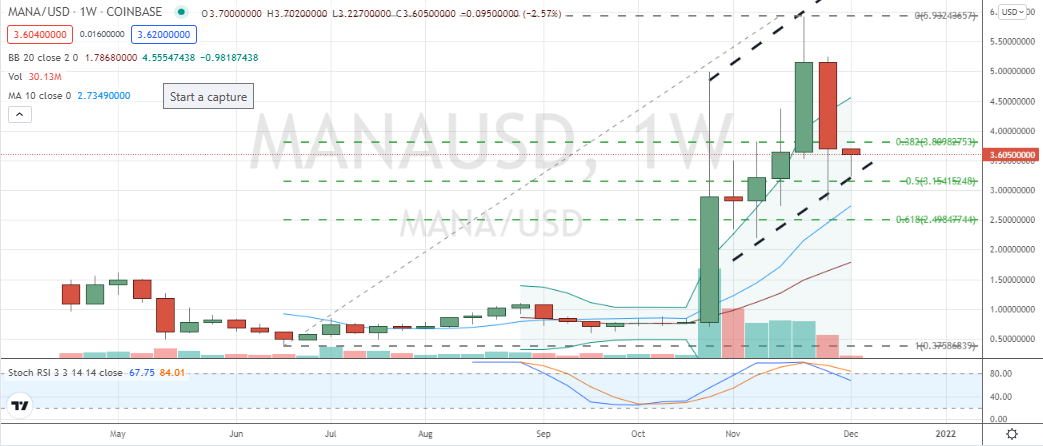 Source: Charts by TradingView
Removed from William Shatner's words and appreciating that Decentraland and other fantasy worlds are just that, I'd proffer staying grounded in reality when it comes to buying MANA token.
Today, for those willing to speculate on the metaverse and come out the other side with more U.S. dollars at their disposal, MANA price chart is guiding you into a better position to do just that.
In the midst of the token's tangle with a timeless corrective phase following a period of folly, MANA is testing a wide technical zone comprised of channel and Fibonacci support key to its nascent uptrend.
It could reasonably be a great spot to buy on weakness. But with stochastics bearishly-aligned and just exiting overbought territory, the suggestion is to simply put MANA on the radar for monitoring.
Only buy into Decentraland if a couple tried-and-true real world conditions are met.
And bottom-line, that's predicated on a confirmed weekly chart candlestick pivot low and stochastics firming up considerably — or risk boldly going where too many traders have already unprofitably ventured.
On the date of publication, Chris Tyler holds (either directly or indirectly) positions in Grayscale Bitcoin and Ethereum Trusts (GBTC, ETCG and ETHE). The opinions expressed in this article are those of the writer, subject to the InvestorPlace.com Publishing Guidelines.
Chris Tyler is a former floor-based, derivatives market maker on the American and Pacific exchanges. For additional market insights and related musings, follow Chris on Twitter @Options_CAT and StockTwits.