Wall Street has done a bit of this and a little bit of that this week. But that hasn't stopped three of the market's most-shorted stocks from making big moves that may be worth monitoring for continued upside as we'll explore below.
Inside of Friday's session, the week's ups and downs on the back of breaking geopolitical news, earnings reports, pandemic-related updates and economic data has proffered investors both thrills and chills.
At the end of the day though, or rather entering the end of the workweek, it's added up to mostly nothing. The S&P 500 was about as flat as it gets hovering above last week's close by just 0.07%.
But in a market made up of risk assets of all kinds, some of today's most-shorted stocks have been busy making louder and bullish Roaring '20s style noise of their own.
Today, let's take a look off and on the price chart at some of those heavily-shorted shares busting moves, and whether they deserve future consideration in investors' portfolios.
Most-Shorted Stocks Making Big Gains: Blink Charging (BLNK)


Source: Charts by TradingView
The first of our most-shorted stocks making a sizable gain this week is Blink Charging.
The electric vehicle charging play maintains short interest of 41%. And a rally of around 27% may have the bulls ready to take back the driver's seat.
Behind the aggressive rally, the Biden administration announced a $5 billion allocation this week to fund EV charging infrastructure.
A successful buildout could save drivers' $1,000 annually in fuel-related expenses.
Today though, investors can do their wallets a favor by monitoring this most-shorted stock for a bear trap purchase.
With a bullish stochastics setup in hand, if BLNK shares can power past a failed triple bottoming pattern while recrossing the 62% Fibonacci level, a shorter-term, slightly out-of-the-money call looks good to park some risk capital.
Gogo (GOGO)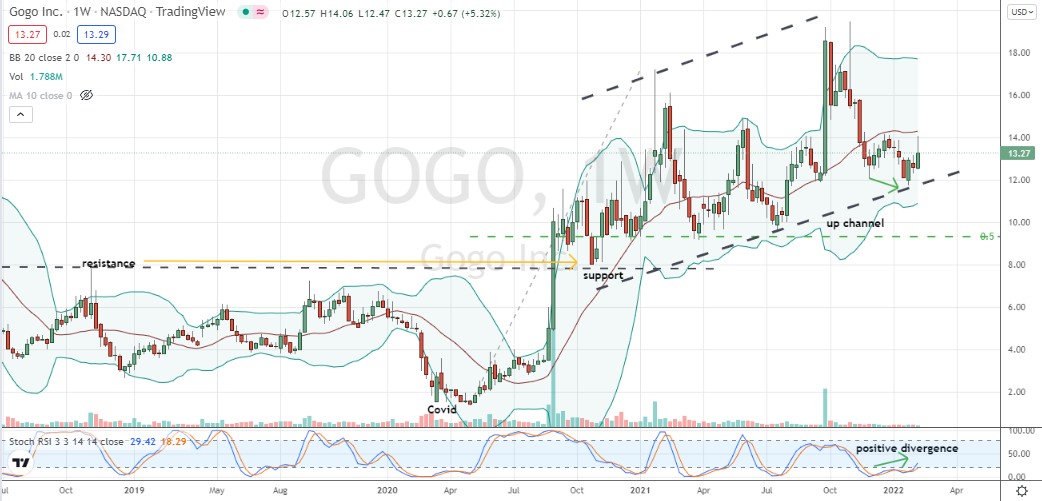 Source: Charts by TradingView
The next of our most-shorted stocks flying higher involves shares of Gogo.
The airline mobile connectivity services play currently has short interest of 39%. But with this week's gain of around 6%, the bears should be afraid of GOGO stock taking off in a really big way.
There's a lack of news powering shares higher. But to be fair, a small-cap valuation of $1.50 billion and price tag of around $13.30 doesn't require an all aboard public service announcement to justify the rally.
Earnings set to be released on Feb. 24 may give bulls official reason to consider this most-shorted stock a buy.
Today however, this most-shorted stock has put together a very nice-looking, confirmed bullish test of channel support coupled with a favorable stochastics pattern showing positive divergence.
And right now that means investors have a chance for taking a first-class seat at coach prices.
Most-Shorted Stocks Making Big Gains: Bakkt Holdings (BKKT)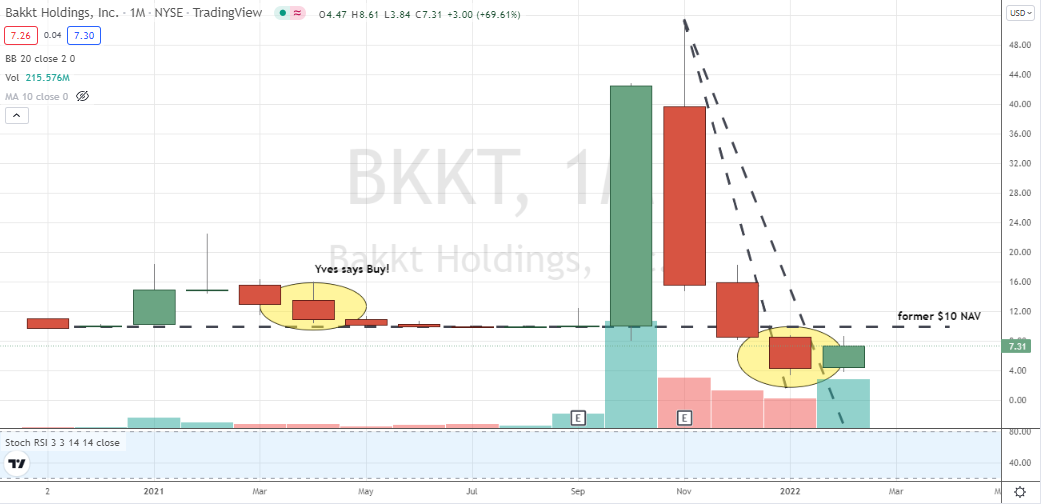 Source: Charts by TradingView
The last of our most-shorted stocks that's busting an upside move is by far the largest. Shares of digital currency platform Bakkt Holdings are up about 70% this week.
And short interest of nearly 30% has to be feeling the heat with a couple monthly downtrend lines busted in the process.
Despite the sizable gain and a valuation approaching $2 billion, there's no deals or earnings to explain the reaction in this most-shorted stock.
Still, and if opinion counts, an analyst purported to have called November's top in Bitcoin (BTC-USD) has put his money where his mouth is in BKKT stock. And that might be enough.
Based on Bakkt's potential to act as a custodian for a U.S. digital dollar, Yves Lamoureux of the eponymously named macroeconomic research firm Lamoureux & Co, announced he's doubling down in this most-shorted stock.
I like the idea of buying BKKT, but wouldn't bank on immediate follow-through in BKKT today and I'd stick to the monthly chart on this one.
The challenge of forecasting share prices on the larger time frame without stochastics or Bollinger Bands in place does make for less than perfect information than usual.
But given Yves' big picture, central bank idea, I see the monthly chart as an important tool for not getting caught up in the smaller day to day affairs of bulls and bears.
Lastly, in appreciating Yves' warning in BTC-USD and an early, but opportunistic call in this most-shorted stock this past April, a pullback may allow Yves to improve his track record, and for others, offer a pause that refreshes in front of a larger bull market.
On the date of publication, Chris Tyler holds (either directly or indirectly) positions Grayscale Bitcoin and Ethereum Trusts (GBTC and ETHE). The opinions expressed in this article are those of the writer, subject to the InvestorPlace.com Publishing Guidelines.
Chris Tyler is a former floor-based, derivatives market maker on the American and Pacific exchanges. For additional market insights and related musings, follow Chris on Twitter @Options_CAT and StockTwits.