From simply fed up to positively upbeat over the Federal Reserve meeting, Wall Street's bulls were beside themselves Wednesday. And leading the way for investors most-dearly held buy decisions was the Nasdaq 100. With that in mind, let's look at three Nasdaq 100 stocks to buy.
Each of these is suffering in vicious bear markets, but they ultimately are well-positioned to profit from new policy shifts underway both off and on our price charts.
For greater context, yesterday was FOMC day and it couldn't have happened at a better time. A bear market of 28.50% that has been gripping the Nasdaq 100 since November into this week's new corrective low was upended Wednesday.
In summary, the Fed announced a Goldilocks-style "just right" 25 basis point rate increase and a deliberate but "nimble" policy shift to combat inflation and reduce the government's balance sheet.
After brushing aside some intraday volatility, the news lifted the Nasdaq 100 to session highs, finishing up 3.71% to produce its strongest single session gain since late 2020. The policy shift also shifted the program in place for the Nasdaq 100 from a bear to a new bullish market cycle.
Wednesday's price and volume activity offered a slightly early, but critical and bullish follow-through day for the Nasdaq 100 based on the size of the gain and above-average volume expansion.
What's more, the price action is forming a positive engulfing weekly candlestick off the Nasdaq's 38% retracement level tied to its 2020 Covid-19 bear market. With all of that said, here are the Nasdaq 100 stocks you should consider today:
Nasdaq 100 Stocks to Buy: Moderna (MRNA)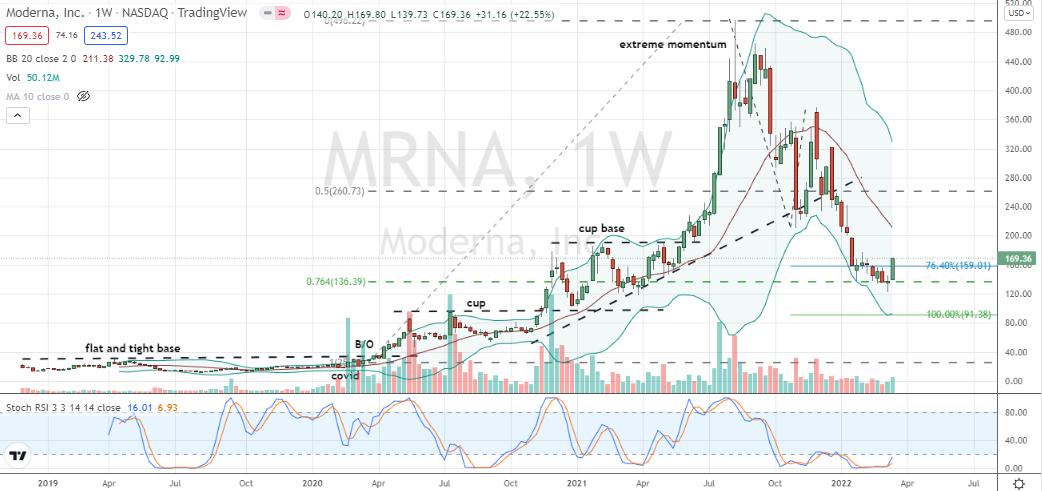 Source: Charts by TradingView
Moderna didn't save the world singlehandedly. But the biotech's Covid-19 vaccine deserves a great deal of credit for getting us collectively to a much better spot than we were two years ago when the pandemic began.
Ironically, based on MRNA stock's treatment from investors over the past several months you'd think the biotech created the virus. Compared to the Nasdaq's 28.5% bear market correction, this Nasdaq 100 stock has lost a full 75% over the course of its deathly correction.
Today, however, the bottom is in on MRNA stock's weekly price chart.
Shares have confirmed a weekly hammer-doji candlestick centered on the 76% Fibonacci retracement level backed by a supportive stochastics setup.
For positioning, a June $180/$200 bull call spread is a favored prescription for a stronger risk-to-reward profile than owning this Nasdaq 100 stock outright.
PayPal (PYPL)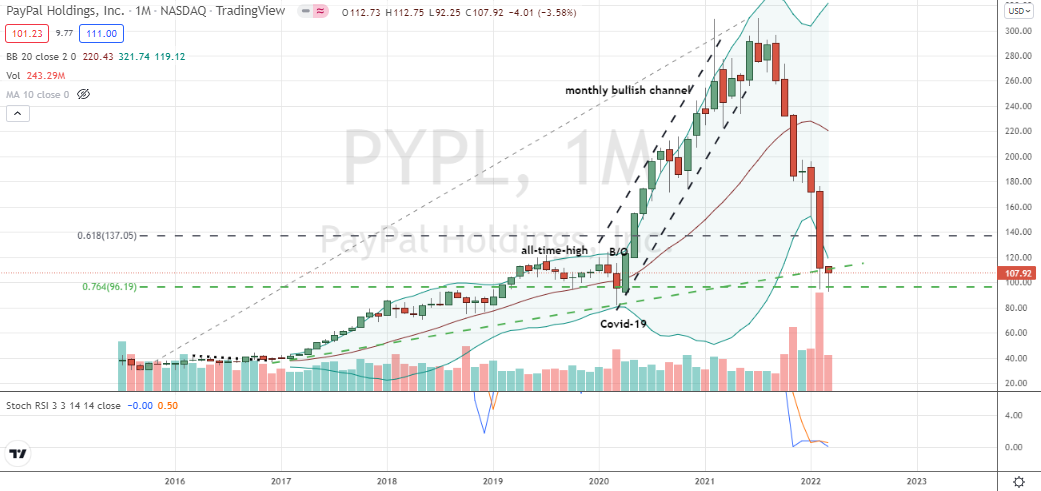 Source: Charts by TradingView
PYPL stock's 70% bearish cycle has played out since last July. And no bones about it, it has been a disaster for PayPal's bullish investors.
But misgivings over guidance following February's earnings report appears to have helped put the finishing touches on the veteran fintech's bear market.
Today, shares of this Nasdaq 100 stock are establishing a smaller monthly chart hammer candlestick supported by a long-term trendline and lifetime 76% Fibonacci level. What's more, the price action looks extremely oversold with the entire candle set outside the lower Bollinger Band.
Walking the aisle, an oversold stochastics is modestly out of position. So, it's not perfect. But what is, right?
Also, a historically cheap price multiple, attractive free cash flow, rising user engagement and an Amazon (NASDAQ:AMZN) payments partnership should help with making a purchase decision today.
The July $125/$140 bull call spread can help investors leverage this Nasdaq 100 stock's huge upside potential with sufficient time while minimizing risk.
Nasdaq 100 Stocks to Buy: Lucid Motors (LCID)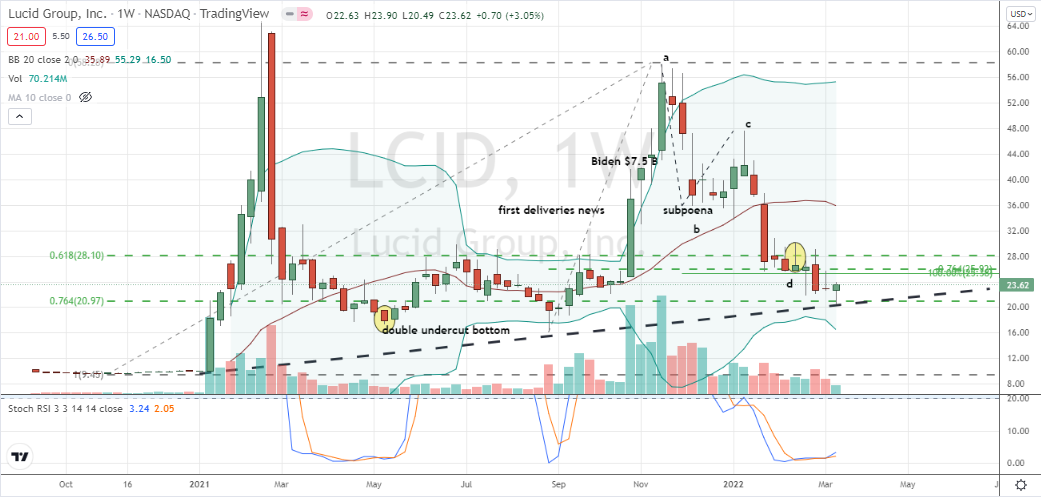 Source: Charts by TradingView
EV play Lucid Motors has been rolling out its well-received Dream Edition since last fall, but many LCID stock investors who caught buying momentum over the past year have been left feeling like crash test dummies.
Shares are off 40% in 2022. And let's just say the weekly chart shows an even more punishing reality for those jumping on board as this Nasdaq 100 raced to much higher valuations last February and November.
But I'm certain today's investors know about as much as they did at those other extreme examples of fair value in LCID stock. And it's less than most would like to admit.
Ultimately, there's always going to be detours and obstacles along the way, but this Nasdaq 100 stock is showing it has the right stuff to be in the winner's circle.
And today, with LCID smartly parked in a bullish weekly hammer off trendline and Fibonacci support and stochastics looking well-oiled for higher prices, it's time to take the driver's seat.
To commence that journey, I'm favoring an actively managed and unorthodox May $25 put / $31 call collar combination given its nice-looking risk profile off and on the price chart.
On the date of publication, Chris Tyler did not have (either directly or indirectly) any positions in the securities mentioned in this article. The opinions expressed in this article are those of the writer, subject to the InvestorPlace.com Publishing Guidelines.