By some measures Clover Health Investments (NASDAQ:CLOV) was a big deal Tuesday. But in a market feeling ill these days, one day isn't a clean bill of health for owning CLOV stock.
Today let's review some of what's happening in CLOV shares, off and on the price chart, and what a risk-adjusted determination aligned with those findings might look like.
Shares of CLOV stock finished Tuesday's session up 15% from its prior close. That's seemingly no small feat in a market which by day's end found the Nasdaq back within spitting distance of February's bear market low.
Still, the reality is buyers of Clover Health Investments aren't likely to bat an eye over geopolitical risks, the Federal Reserve's next worrisome move to combat inflation or some other macro issue.
That, of course, is what has been bothering Microsoft (NASDAQ:MSFT), Apple (NASDAQ:AAPL) and other larger tech companies of late, not withstanding Wednesday's well-oversold, broad-based bid.
But with CLOV stock we're not in a heated discussion over who's number one or two in the market's pecking order.
Clover Health is just a measly $1 billion small-cap with a stock price of around $3 a share. Sorry.
And if you can't help but recall legendary investments in Tesla (NASDAQ:TSLA) or Advanced Micro Devices (NASDAQ:AMD) that fetched similar valuations over the past dozen years, it's best to refrain from dreams of parallel outcomes.
If you're going to make a more fair apples to apples comparison for CLOV, it's best to stick with other overly-hyped, under-delivering SPACs and meme stocks that also became bull traps.
Think Virgin Atlantic (NYSE:SPCE), Meta Materials (NASDAQ:MMAT), Skillz (NYSE:SKLZ) and many others. If misery loves company, CLOV has many partners in crime.
What's more, on the whole those stocks' promised market niches mattered less than what brought them to our attention in the first place. The what, of course, is Reddit's apes.
Today that motley group of bulls are thankfully less of a market force, and bearish short interest down to just 7% in CLOV stock.
Both are potential positives. And with CLOV shares off roughly 90% from June's peak of $28.85, it's worth asking if the next-gen Medicare platform actually be worth a more serious look.
Late February's better-than-expected earnings from Clover Health appears to warrant that kind of consideration.
By the numbers, fourth quarter revenues of $432 million grew by a stronger-than-forecast 160% from the year-ago period. Clover's management also issued full-year sales guidance of $3 billion to $3.4 billion compared to the Street's $2.6 billion.
Critically, CLOV's medical care ratio (MCR), which is the amount it pays to providers, is also now trending in the right direction.
What's more, by the end of 2022, the metric should fall within a range of 95% – 99% of premiums collected by Clover.
And that hints strongly at a more realistic chance for profitability in CLOV stock. That's not all that's working more favorably for Clover Health either.
More recently, some modest insider buying suggests some confidence in those numbers.
Clover director Chelsea Clinton purchased 100,000 shares of CLOV stock at an average price of $2.53.
And following a year of heavy selling by insiders, a purchase is only made for a singular reason — to profit from a rise in Clover Health's share price.
That brings us to Tuesday's small triumph.
Shares are now up about 20% from that purchase and 55% from CLOV stock's all-time-low of $1.95 established in February.
It sounds too late, right? Not by the looks of those pennies on dollars on Clover Health's monthly price chart.
CLOV Stock Monthly Price Chart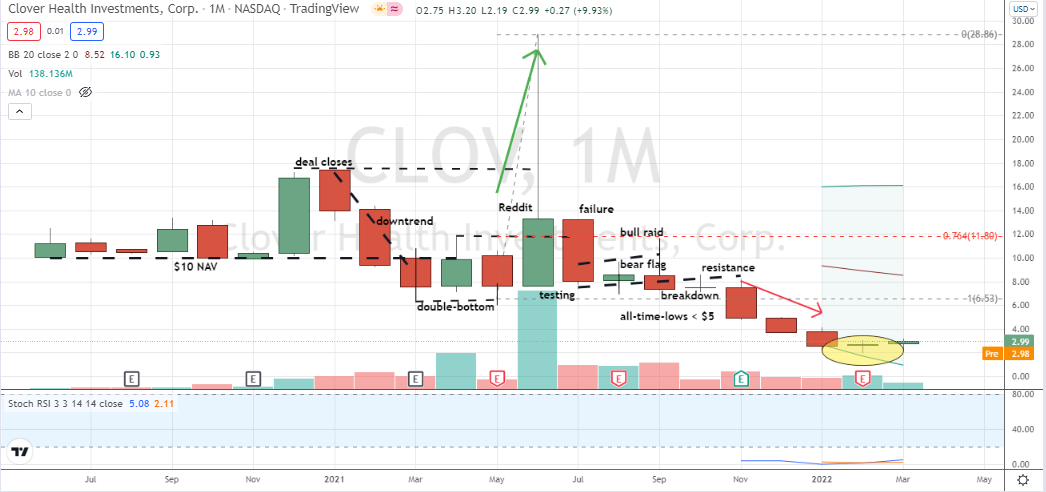 Source: Charts by TradingView
There's no doubt Reddit's history with CLOV stock is going to taint shares indefinitely for some investors. But the monthly price chart does favor letting bygones be bygones.
In conjunction with the mostly positive evidence presented above, Clover shares are just now turning the corner on the stock's $3.00 price tag.
February's doji has now turned into a confirmed bottoming candlestick backed by an oversold and bullishly-aligned stochastics following Tuesday's bid in CLOV shares.
There's no guarantee Clover's bear market is finished. And an undercut of the pattern's low would guarantee that's the case.
Also, CLOV's business is by no means out of the woods. A successful turnaround like AMD's is still far from being decided.
Bottom line though, as a smaller cap spec play attempting to make a positive change in a healthcare system in desperate need, and with CLOV stock showing signs of being on the mend, a reduced allocation looks interesting.
If that resonates (and to get more bang for your buck, given Clover's current $3.00 price tag), investors might consider a longer-term bull call spread.
One combination that looks like it will lead to a successful outcome that looks good off and on the price chart is the January $3 / $7 call vertical.
On the date of publication, Chris Tyler holds long hedged positions (either directly or indirectly) in Advanced Micro Devices (AMD). The opinions expressed in this article are those of the writer, subject to the InvestorPlace.com Publishing Guidelines.