Kidpik (PIK) is a growing subscription-based, e-commerce children's clothing company
PIK stock is also a weaker micro-cap, meme stock with Disney (DIS) collaboration
Buying PIK stock demands pint size positioning due to larger stock and business risks
Kidpik Corp (NASDAQ:PIK) may have what the kiddos want. The company offers subscription box orders of children's clothing designed by stylists and proprietary technology that's sold through its website and Amazon (NASDAQ:AMZN). And it's proving successful. But is Kidpik what parents need or what they'll want going forward?
This week increasingly hawkish Fed speak and ever higher gas prices are ensuring pinched wallets are going to be pinched harder and challenge "more" discretionary spending of cash-strapped consumers. And as that relates to Kidpik. That little fashionista who calls you mom or dad can stick with picking from the racks at Target (NYSE:TGT) or Walmart (NYSE:WMT) if push comes to shove, right? Maybe not.
Life is rarely that simple. And either is PIK stock and Kidpik. In fact the story could be exponentially larger. That all said, today let's check in on the merchandise being sold to kids and investors and whether having a Kidpik's subscription can be paid for as a PIK stock shareholder.
What's Up With PIK Stock?
According to Kidpik, since the outfit's launch in 2016, it's sold about 1 million of its clothing boxes. A million of most anything sold of course is nothing to sneeze at. Well, maybe not if it's a Kleenex. But priced at an average of $98 per order, a single Kidpik merchandise does carry more weight.
The bad news is PIK stock's earnings haven't left a favorable impression on investors yearning for the outfit to turn a profit on those revenues. Last week's quarterly report not only revealed ballooning losses, it offered a worsening financial picture. The good news? Sales also continued to inflate at a clip of nearly 29% year-over-year.
Kidpik's growth now, profits later model does have that other challenge. too As touched upon, a likely squeeze on consumers may force some Kidpik's customers to cancel their subscriptions. And that would be very bad for a micro-cap with weaker financials whose business is currently unsustainable.
Like any good story though, there's a twist and Kidpik may be on the verge of becoming less discretionary to parents committed to keeping the young'uns smiling and maybe a good night's sleep. Moreover, Kidpik could have a much wider paying audience for its merchandise in the months and years to come.
Don't Bet Against the House of Mouse
Enter Disney (NYSE:DIS) stage right. This past month Kidpik entered into an agreement with the House of Mouse to market clothing boxes inspired by a streaming reboot of Cheaper by the Dozen featuring Zack Braff and Gabrielle Union that's now available on Disney+.
The real stars of the film of course, for your kids at least, are the child actors. And with Kidpik's clothing sets they'll have the chance to dress just like them with "The Sports Fan," "The Social Media Maven," "The Fashionista" and "The Go-Getter" boxes available.
It would be silly to discount or dismiss the potential impact of Disney on PIK stock's business. We're talking about a $30 million company and sales of around $23 million in 2021 partnering with the world's largest entertainment company valued at $252 billion and revenues of $73 billion last year.
And given that, trying to make a reasonable assessment of Kidpik's financial health or longevity as an ongoing entity is shaky at best. Not only is the current agreement potentially a huge boon for PIK stock, but what's to stop the collaboration from expanding?
Could Kidpik's subscription boxes one day hold lil' Indiana Jones fedoras and khakis or Jedi robes and the likes? While I'd bet against those possibilities, I'd smartly refrain from wagering against a good outcome for Kidpik.
Trying on PIK Stock Merchandise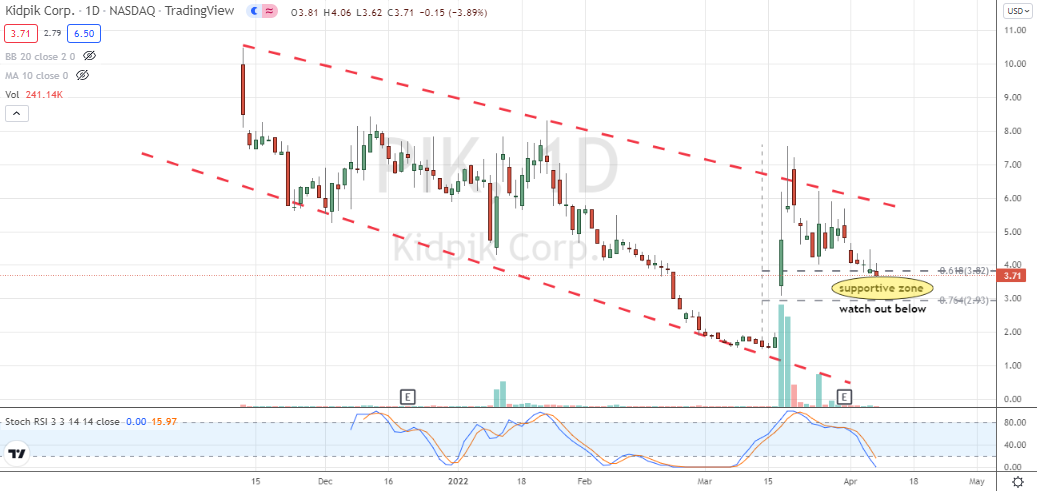 Source:
Charts by TradingView
If it's not obvious, PIK isn't without risks given today's most recent quarterly statement. But again and as expressed, I'm more upbeat the situation in Kidpik could change rapidly for the better.
Today and with shares pulling back nicely from last month's Disney rocket-like announcement, bottom or maybe more aptly considering PIK's hemline business, investors have an opportunity to buy shares nearer to what could be a true ground floor opportunity.
But with Reddit's notorious bullish ape population involved, while it's true, as Disney likes to say, PIK stock could be "where dreams come true," please also appreciate the only limiting factor on Kidpik's downside could pennies on today's dollars.
On Penny Stocks and Low-Volume Stocks: With only the rarest exceptions, InvestorPlace does not publish commentary about companies that have a market cap of less than $100 million or trade less than 100,000 shares each day. That's because these "penny stocks" are frequently the playground for scam artists and market manipulators. If we ever do publish commentary on a low-volume stock that may be affected by our commentary, we demand that InvestorPlace.com's writers disclose this fact and warn readers of the risks.
Read More: Penny Stocks — How to Profit Without Getting Scammed
On the date of publication, Chris Tyler does not hold (either directly or indirectly) any securities mentioned in this article. The opinions expressed in this article are those of the writer, subject to the InvestorPlace.com Publishing Guidelines.