Nvidia (NVDA) earnings should continue to impress, but buyers beware at current prices.
NVDA stock's price chart and the broader risk-off environment hint strongly at larger bear cycle.
Buy Nvidia as a core investment following earnings with the growth narrative intact.
A "snap" judgment was heard loud and clear on Wall Street Tuesday as bargain-hunting turned into a session of letting go of less-precious stock merchandise. And semiconductor giant Nvidia (NASDAQ:NVDA) wasn't immune, as NVDA stock sank nearly 4.5% on the session.
Some might be asking, what just happened? For many investors, the trigger was headlines of a bearish ad-driven revenue warning from social media platform Snap (NYSE:SNAP).
Call it the madness of crowds in a fear-stricken market.
But with Nvidia having as much in common with Snap as shoe size has to do with a person's favorite color, and with the tech outfit's earnings coming Wednesday after the close, let's look at how buying shares for your portfolio can make for a superior investment.
What Wall Street Is Saying Ahead of NVDA Stock Earnings
Ahead of Wednesday night's NVDA stock first-quarter earnings report consensus views are forecasting sales growth of 43% on revenues of $8.1 billion. Profits are expected to climb by a similar and robust 42% on earnings of $1.29 per share.
If Wall Street is correct, the results would keep Nvidia's attractive growth narrative of the past handful of years intact. And analysts are fairly confident Nvidia can continue to produce the goods.
NVDA stock sports a median 12-month price target of $310 and premium of nearly 92% to Tuesday's closing print. As well, of 45 analysts polled by CNN, Nvidia shares maintain a community of bulls with 32 rating shares a buy compared to just one sell recommendation.
Within that upbeat crowd, investment bank Susquehanna has chimed in on Nvidia in front of earnings. The firm outlined some concern over shrinking GPU prices tethered to gaming and crypto mining and warned the outfit's habitual "beat and raise" practice is at risk.
Nevertheless, it's positive on Nvidia's data center business, and Susquehanna maintained its "buy" rating and less-tempered $280 price target compared to NVDA stock's price of $165.95.
NVDA Stock Has Earnings Risk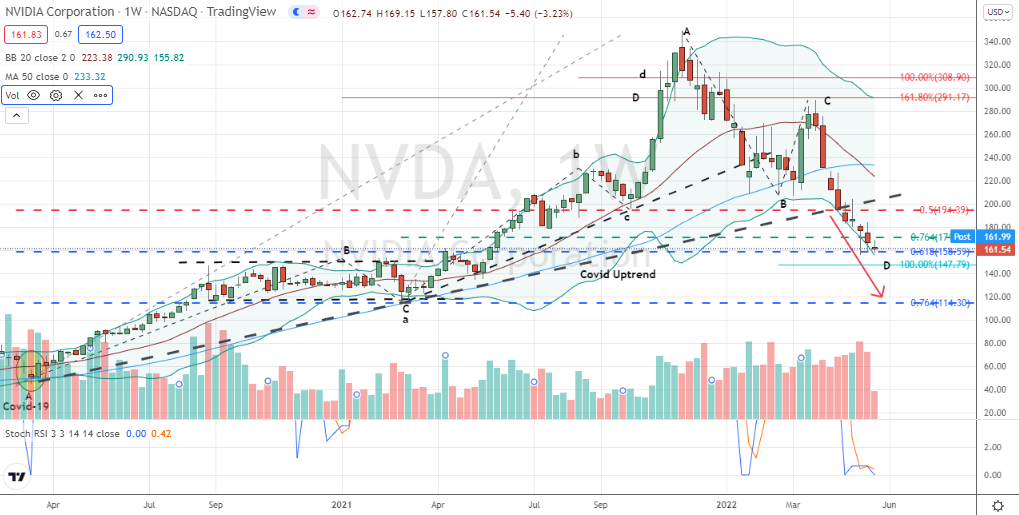 Source: Charts by TradingView
Entering Wednesday's session, it's hard to get onboard with a stock which most of Wall Street is overly keen on and collectively long and wrong.
Another strike against NVDA stock is direct competitor Advanced Micro Devices (NASDAQ:AMD).
Despite its own huge earnings beat, AMD can be picked up for roughly its pre-report stock price. Given an intolerant environment and incredibly unforgiving earnings season, it's the better risk-adjusted position at the moment.
Technically, NVDA stock is currently testing its 62% retracement level of its Covid-19 cycle. Several percent below, a Fibonacci-based two-step pattern completes and could act as support for a bottom.
Of concern, if it can't hold support there's a more substantial air pocket that opens Nvidia up to a challenge of the $100-$115 area. Coupled with a marginally out-of-position weekly stochastics and NVDA stock price that's not wildly oversold, there's simply insufficient evidence to own shares, while ignoring the increased risk of additional downside.
How to Buy NVDA Stock Smartly
To be fair, NVDA stock is the type of industry-leading, large-capitalization stock which could be a core holding in investors' portfolios. And in conjunction with an options collar spread, a hedged position might be considered despite the threat of lower share prices.
While the collar strategy is directionally bullish, when actively managed, it can be traded to allow for accumulating on stock weakness with vastly reduced risk. And with enough strategic adjustments over time, investors with a NVDA stock collar can even capture profits in a bear market.
Bottom line though, starting that sort of campaign with the odds of not being immediately underwater is a personal preference. And in today's very bearish market environment, that means waiting to buy a Nvidia collar, let alone NVDA stock, with a more clear-cut advantage is the smarter money play.
On the date of publication, Chris Tyler holds long positions in Advanced Micro Devices (AMD) (either directly or indirectly), but no other positions in securities mentioned in this article. The opinions expressed in this article are those of the writer, subject to the InvestorPlace.com Publishing Guidelines.