Cruise lines. Most would arguably agree it's non-essential travel. But when it comes to investing in Royal Caribbean Cruises (NYSE:RCL), it's also arguably a terrific time for contrarian investors to invest in this luxury with an RCL stock purchase.
It's been a tough go for RCL stock and shares of rivals Carnival Corp (NYSE:CCL) and Norwegian Cruise Line Holdings (NYSE:NCLH) in 2022. Caught in the submerged middle, shares of RCL are off 27% this year, more than twice the losses of the broad-based S&P 500.
But there are reasons to be optimistic about RCL's prospects today.
As we'll explore in the following, an improving environment for risk assets and RCL stock's price chart mean that smoother and profitable sailing for buyers is on the horizon.
| | | |
| --- | --- | --- |
| RCL | Royal Caribbean Cruises | $56.74 |
A Shot Over the Bow of RCL Stock
If RCL stock investors thought the worst was over in 2020, late last month, more bad news was broadcast to the worry of Wall Street. It conjured up the worst sort of memories from Covid-19's wrath on cruise liners.
Peer Norwegian Cruise Line pulled the plug on its Asian sailing season citing "challenging and developing regulations regarding international travel and cruising in Asia."
It's an important market for Royal Caribbean. Despite its eponymous name, RCL's cruising tendrils span the pacific basin. In 2021 nearly 38% of the company's revenue was tied to the Asia/Pacific market.
Consequently, shares sunk by more than 10% to prices last seen back in August 2020 while operations were drydocked amid the pandemic's more pervasive lockdowns and restrictions.
Moreover, with significant debt taken on during the pandemic to keep RCL afloat, elevated cash burn, non-capacity operations, hiring challenges, Ukraine, inflation punishing the industry's reliance on copious amounts of food, oil and at-risk consumers, it was hardly the first warning shot over the bow for the challenged cruise line.
RCL Stock's Path to Smooth Sailing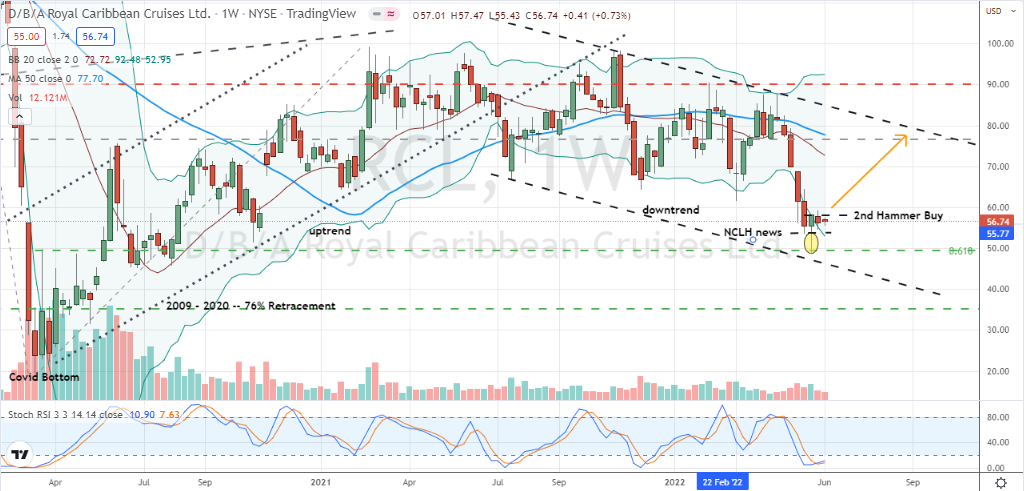 Source: Charts by TradingView
Bottom line, the operating environment has been looking ugly as RCL's most recent earnings disappointment in early May already all but confirmed. The company had larger than forecast losses. It had cash burn of nearly $2 billion, pointing at a potential capital raise, either through more debt or share dilution.
Yuck! Abandon ship, right? Not so fast.
In the wake of the panicked selling RCL stock received a lifeline. And it came from the market. A day after investors abandoned shares of Royal Caribbean, the S&P 500 signaled a bullish and critical follow-through day (FTD) to confirm a rally in the broader averages.
Not every FTD is successful, but they are integral to a bull market cycle. And the resulting bid across risk assets wasn't lost on RCL investors either. Shares immediately rallied off their sympathy low from the prior session and went on to establish a bullish and oversold weekly hammer candlestick.
With the pattern development also successfully testing RCL stock's Covid-19 cycle 62% retracement level and channel support, shares having confirmed the bottom over the past week and stochastics now also supportive of buying decisions, a contrarian purchase has a lot working in its favor.
Boarding RCL Stock as a Buyer
Obviously RCL stock isn't the perfect investment, but it certainly checks a lot of the boxes that investors use when others are fearful. That being said, I would strongly recommend waiting on a second trade-through of the weekly hammer's high of $58.21 before considering a Royal Caribbean purchase.
The rationale there is that second attempt entries often result in being the stronger play as investors second guess themselves out of a position when the reward isn't immediate. In this instance, this type of purchase in Royal Caribbean also works to validate a bottom for the downtrend, rather than a resumption of the bearish cycle, which can't be dismissed.
I'd also advise putting together a travel insurance policy of sorts on an RCL position. As we'd ideally like shares to travel to sunnier conditions towards $75 to $80 and channel resistance and not sink further, a collar or bull call spread strategy are great fully-hedged strategies to review alongside any nearby purchase decisions.
On the date of publication, Chris Tyler did not have (either directly or indirectly) any positions in the securities mentioned in this article. The opinions expressed in this article are those of the writer, subject to the InvestorPlace.com Publishing Guidelines.