I am a huge advocate for cryptocurrency and blockchain. I truly believe it's the future of finance, especially when you look at some of its more exciting applications like DeFi. The use cases in the crypto sphere continue to increase, pointing to a healthy upside ahead. Hence, it makes sense for investors who believe in the crypto world's future to pick up the best blockchain stocks.
Cryptocurrencies are still in a price discovery phase, so significant volatility is expected. However, with wider adoption and limited supply, Bitcoin (BTC-USD) will likely gain immensely down the line, despite the recent correction. Furthermore, the recent correction in the market has resulted in substantial losses for many crypto stocks. Nevertheless, the current situation presents an excellent opportunity to scoop up some quality crypto stocks, offering hefty long-term value.
With that in mind, consider picking up shares of these seven best blockchain stocks.
| | | |
| --- | --- | --- |
| TSM | Taiwan Semiconductor | $88.01 |
| PYPL | PayPal | $96.80 |
| MARA | Marathon Digital | $13.39 |
| V | Visa | $212.59 |
| RIOT | Riot Blockchain | $8.13 |
| COIN | Coinbase | $89.34 |
| SI | Silvergate Capital | $101.68 |
Best Blockchain Stocks: Taiwan Semiconductor (TSM)
Taiwan Semiconductor (NYSE:TSM) is a secondary blockchain play that is the world's leading contract chipmaker. Crypto miners depend on TSMC and its peers to manufacture application-specific integrated circuit (ASIC) chips. According to Brandessence Market Research, the crypto mining market is likely to grow at a robust 28.5% compound annual growth rate (CAGR) and reach $5293.9 million by the end of 2028. Therefore, there's a massive upside for those looking at an indirect play on blockchain investments.
With the huge growth in demand from Bitcoin miners and other segments, TSMC announced it is spending more than $100 billion in the next three years to grow its capacity. Moreover, its business continues to fire on all cylinders, with double-digit growth on its top line for the past several quarters. Hence, it remains a fascinating play in the blockchain space that cannot be ignored at this time.
PayPal (PYPL)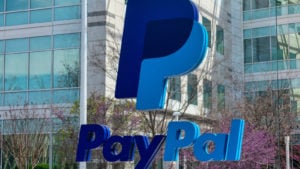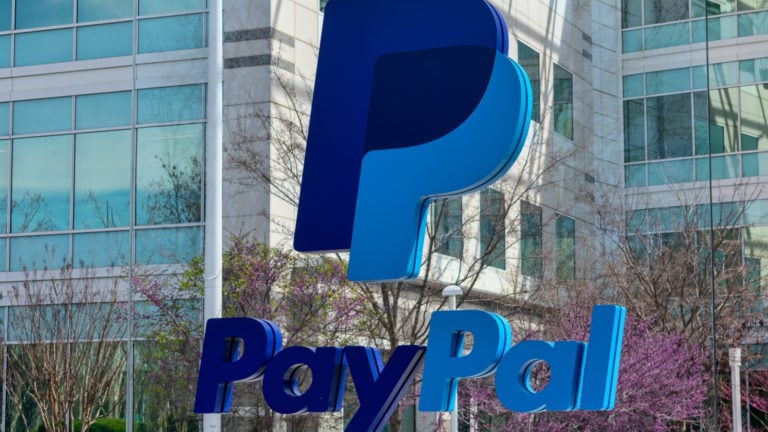 Fintech giant PayPal (NASDAQ:PYPL) offers a centralized platform for those looking to hold cryptocurrencies. It was perhaps the first mover in its niche to green light Bitcoin transactions back in 2014. Now users can hold other cryptos, including Litecoin (LTC-USD) and Ethereum (ETH-USD). Moreover, it recently announced users could effectively move their coins to other exchanges and wallets. It is also exploring the launch of its stablecoin, which will be pegged to the U.S. dollar.
Therefore, it is clear PYPL fully embraces blockchain technology and could play a significant role in its long-term growth. Its business has been remarkably consistent and grown sales at an incredible pace over the past decade. With its move into other profitable verticals, it is likely to usher in the next growth phase.
Best Blockchain Stocks: Marathon Digital (MARA)
Marathon Digital (NASDAQ:MARA) is a Bitcoin mining specialist that has taken a beating in line with the price of Bitcoin. Risky assets such as cryptocurrencies have tumbled during the current market downturn, with stocks such as MARA in a difficult spot. Nevertheless, it has enough liquidity to weather the storm and navigate the macroeconomic challenges effectively.
The key concern moving forward for companies such as MARA is sustainable sourcing power. Maintenance issues at fossil fuel power stations have proven crippling for crypto mining firms. Texas-based firm Compute North, one of Marathon's hosting partners, is building environmentally-friendly infrastructure to power 100,000 miners. The move should allow MARA to shield itself from maintenance breakdowns in the future effectively.
Visa (V)
San Francisco-based payments processor Visa (NYSE:V) has made massive inroads in crypto in the past couple of years. It partners with more than 60 crypto platforms providing crypto credit cards from major players, including BlockFi, FTX and Coinbase. Moreover, more than 80 million merchants accept Visa payments using crypto, as they can be converted into fiat currency.
Visa will make it easier for consumers to purchase and cash out crypto with Visa cards, adding new infrastructure, supporting the emerging non-fungible token (NFT) economy and conducting research. Furthermore, banking institutions are keen to retain consumers with crypto services.
Additionally, Visa facilitates a platform for stablecoin payouts pegged to the U.S. dollar. The firm effectively bolsters merchant-customer relations through added payment options through this initiative. Therefore, it has clearly embraced decentralized payments as the next growth area for its business.
Best Blockchain Stocks: Riot Blockchain (RIOT)
Riot Blockchain (NASDAQ:RIOT) is a pure-play Bitcoin miner that enjoyed a massive price run-up in the past couple of years. Bitcoin prices soared during the pandemic, which propelled RIOT stock's price to a whopping $78 last February. It trades at a fraction of that price and remains an excellent bet for those with a bullish view of Bitcoin.
After May, it deployed roughly 43,458 mining rigs at an impressive rate of 4.6 exahashes per second (EH/s). The goal is to take that number to 120,150 miners by January next year with 12.8 EH/s. That represents a three-fold increase in scale by 2023.
Despite the inconducive market situation, company revenues during the first quarter came in at a tremendous $79.8 million, a 244% increase on a year-over-year basis. Of that total, its mining business gained a hefty 150% from the first quarter of 2021.
Coinbase (COIN)
Coinbase's (NASDAQ:COIN) business dipped in the past couple of quarters, which is why its stock trades at a downtrodden valuation. In the first quarter of 2022, it derived most of its sales from transaction fees. With the drop in trading volumes, the entire market has crashed, and so has the interest in cryptos. It essentially means there is less activity on the platform, which resulted in a 27% decline in sales.
Nevertheless, once the market rebounds, it's not tough to see how Coinbase would benefit. In a bullish market last year, it generated triple-digit growth in sales and profits. Moreover, apart from being exchange and brokerage, its CEO Brian Armstrong aims to develop a robust crypto economy that's dominated by utility. Its investment arm, Coinbase Ventures, has made a truckload of investments in various crypto businesses across the globe. Hence, Coinbase has a massive stake in the crypto game and should see its valuations rise again.
Silvergate Capital (

SI

)
Silvergate Capital (NYSE:SI) is a crypto bank that operates its own trading network called the Silvergate Exchange Network (SEN). The network facilitates the flow of money for crypto exchanges and financial institutions. It is an FDIC-insured institution, the only regulated firm in the crypto sphere. Its status allows it to gain zero-cost funding from various institutions and introduced a lending product called SEN leverage.
The firm's innovative business model has significantly increased its revenue growth over the past year. Its year-over-year revenue growth is almost 98%, which is a staggering number in the current business environment. It will likely take advantage of higher interest rates, which should have an incredible impact on its top and bottom lines.
On the date of publication, Muslim Farooque did not have (either directly or indirectly) any positions in the securities mentioned in this article. The opinions expressed in this article are those of the writer, subject to the InvestorPlace.com Publishing Guidelines.