Editor's note: "AI's Meteoric Rise Is a Trillion-Dollar Opportunity in the Making" was previously published in August 2023. It has since been updated to include the most relevant information available.
The world has been buzzing about artificial intelligence (AI) since OpenAI first introduced ChatGPT back in November 2022.
And initially, investors were skeptical of the hype surrounding this new tech. But ChatGPT's debut made clear that the AI Revolution has not only arrived; it is rocketing forward at lightning speed.
Just consider the AI-driven chatbot's unprecedented rate of adoption.
Within five days of its release, ChatGPT amassed 1 million active users. In 40 days, it attracted 40 million users. And in just two months, it surpassed 100 million active users.
By comparison, it took TikTok – the most viral social media app of all time – nine months (or 4.5X as long) to reach 100 million users.
ChatGPT is the fastest-growing consumer technology application of all time.
But its meteoric rise is about so much more than just a buzzy conversational chatbot. We believe it marks the tipping point for the AI Revolution, just as the iPhone's introduction did for the digital economy's explosive growth.
And if you invest in the best artificial intelligence stocks right now, you'll be prepared to reap the epic rewards that follow AI's "iPhone Moment."
AI Just Had Its "iPhone Moment"
ChatGPT launched in late November. Since then:
And just last month, on August 23, leading AI chipmaker Nvidia (NVDA) reported grand-slam earnings results, powered by seemingly unstoppable demand for its AI chips. Revenues topped expectations by more than 20%. Earnings topped expectations by more than 30%. And management said that in the upcoming quarter, revenues will be about $16 billion – more than the company made during the entirety of 2020.
Following the release of those blockbuster earnings, Wedbush Securities analyst Dan Ives wrote:
"…Investors now recognize crystal clear [that] this AI demand story is as REAL as any tech trend we have seen in the last 30 years, only comparable to the internet in 1995 and Apple's iPhone launch in 2007."
The AI Revolution is sprinting forward full-steam ahead.
It seems ChatGPT started a movement.
And it did so because of accessibility.
A Staggering Technological Shift Is Underway
When it comes to major technological paradigm shifts, the world doesn't truly recognize their value – and they don't truly go mainstream and change the world – until they become accessible to the masses.
The World Wide Web was invented in 1989 and went public in 1993. Most Americans were online by 2005. But we weren't really using the internet and taking full advantage of all it had to offer until 2007 – when Apple launched the iPhone.
That device put the power of the internet in everyone's hands for $600. It made the internet accessible. It unlocked a whole new degree of freedom and flexibility to experiment with the internet, learn about it, understand its value, and leverage it in beneficial ways.
Over the next decade, thousands of apps were created and launched across billions of phones, creating an entire Digital Economy that is now worth trillions of dollars.
It all started with the iPhone – the internet's first truly accessible technology.
In the 15 years between the dawn of the internet and the iPhone's launch, tech titans Amazon, Alphabet, and Microsoft aggregated a total combined market value of about $500 billion.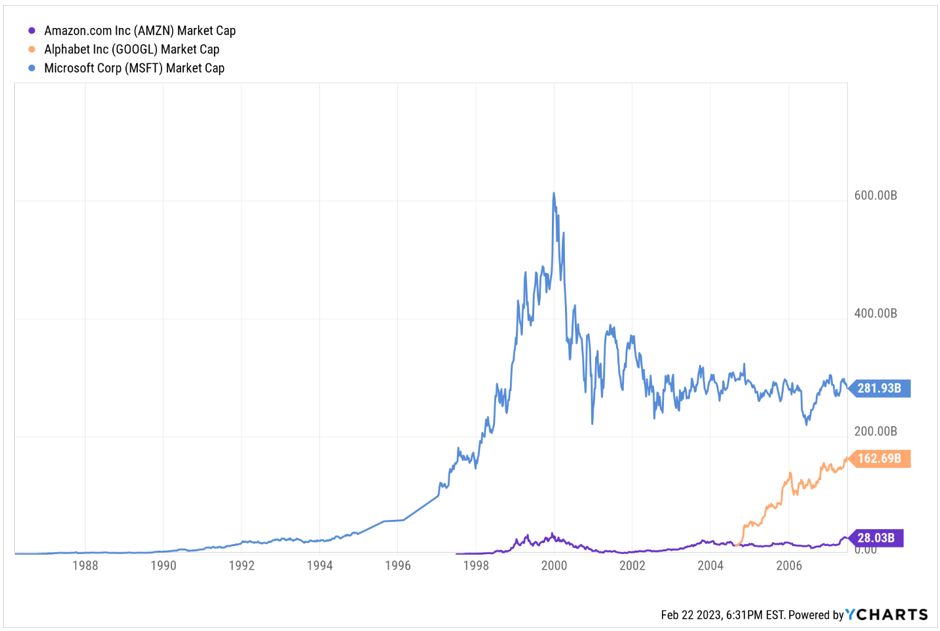 Today, those three internet giants have a combined market value of about $5.3 trillion.
That means, in the 15 years since the iPhone launch, they've created $5 trillion worth of economic value. That's 10X the total value they created before the iPhone's release.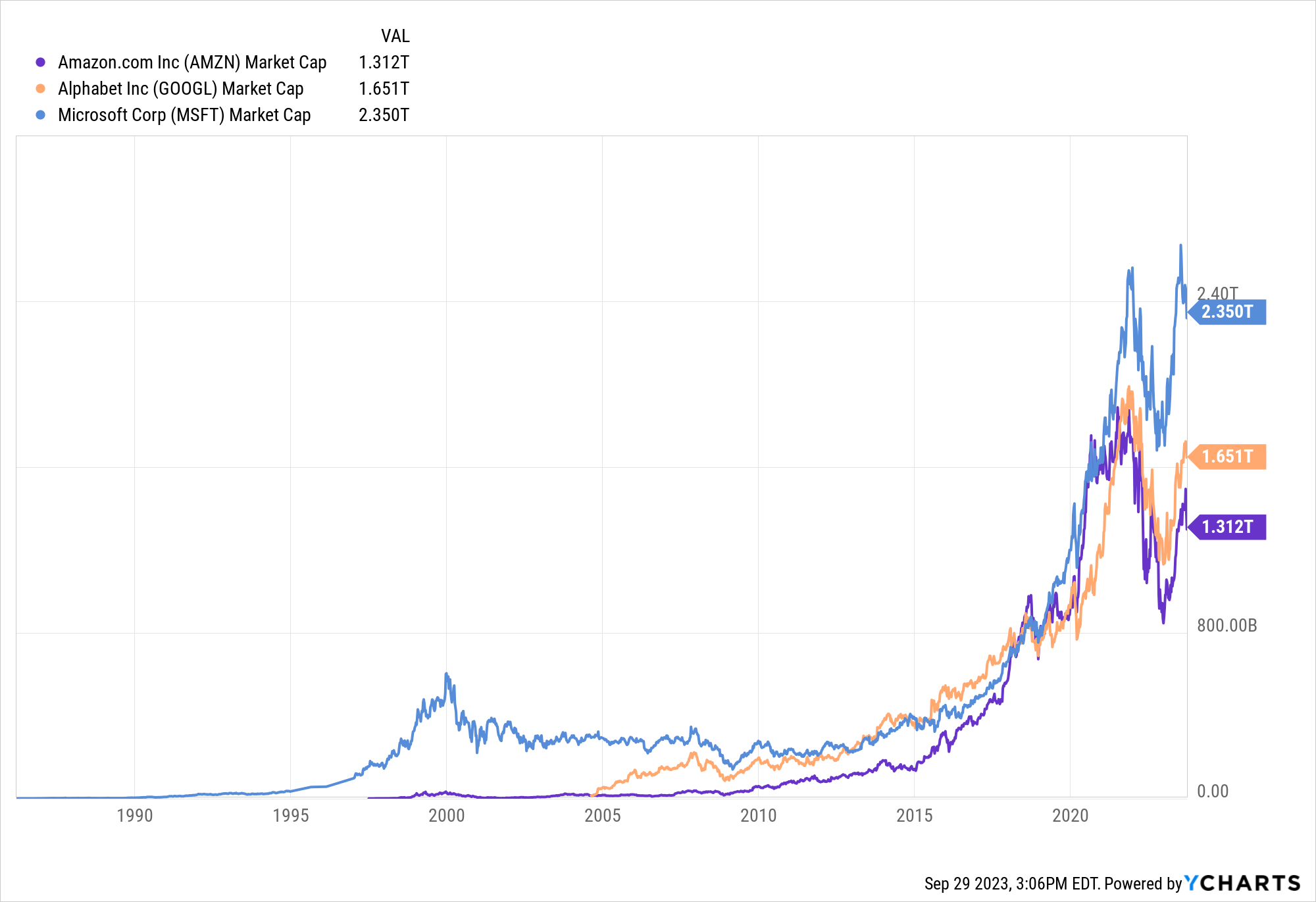 By being the internet's first truly accessible technology, the iPhone injected steroids into the already powerful Internet Revolution.
And right now, with the meteoric rise of artificial intelligence, history is repeating itself before our very eyes.
The Final Word on Profiting in the Age of AI
Before ChatGPT, sophisticated AI was a merely a science fiction concept that VC investors were throwing money at and engineers were busy working toward in Silicon Valley labs. It wasn't accessible to Main Street.
Sure, we had Siri on our iPhones, maybe Alexa and Google Assistant in our homes. But let's face it; those were pretty "dumb AI" – not impressive, blow-you-away AI. And they didn't start an AI frenzy on Main Street and Wall Street.
They weren't ChatGPT.
We are presently witnessing the iPhone moment for AI.
And that's pretty exciting because while the internet revolution was big, the AI Revolution will be much, much bigger.
As I like to say, the internet revolution made millionaires out of investors and billionaires out of entrepreneurs. The AI Revolution will likely make billionaires out of investors and trillionaires out of entrepreneurs.
It will take the magnitude of wealth-creation potential up to a whole new level.
It's the opportunity of a lifetime.
And what better way to invest in the AI Revolution than by investing in the firm that started it all?
Since OpenAI launched ChatGPT in late 2022, the firm's valuation has doubled. And it has scored huge partnerships with Intuit, Moody's, and more.
But because the startup isn't publicly traded, most retail investors missed out on OpenAI's explosive rise over the past few months.
Miss out no more.
I discovered a loophole that allows you to invest in OpenAI right now.
Like investing in Apple (AAPL) in the 1980s or Amazon in the 1990s, this is an opportunity you can't afford to miss.
Take advantage of this loophole today.
On the date of publication, Luke Lango did not have (either directly or indirectly) any positions in the securities mentioned in this article.