Editor's note: "Wall Street's Favorite AI Stock Is About to Plummet" was previously published in October 2023. It has since been updated to include the most relevant information available.
We're confident that the stock market is on the cusp of a critical turning point. And if you position yourself correctly, you could make enormous sums of profits.
If you don't, you could see your portfolio crash and burn.
And in fact, it all has to do with one stock – arguably the most important stock in the market right now. It has been one of the most talked about and celebrated stocks of 2023. And most investors own it in their portfolios.
What stock am I talking about? Nvidia (NVDA).
It's likely on the cusp of a major breakdown.
The Qualcomm of AI Stocks
Now, let me first state that I'm not one of those Nvidia perma-bears that's been screaming the sky is falling on this tech titan for years. Quite the opposite, actually.
In our flagship research service, Innovation Investor, we have benefitted from this boom. We owned NVDA stock in our "Core Portfolio" for several years. At its peak, the position was up more than 1,000% for us.
But recently, we parted ways with our entire position in the AI darling.
And it's definitely not because the AI Boom is dying.
Rather, it's because the AI Boom is shifting out of Nvidia's favor.
NVDA stock was the No. 1 AI stock to buy in 2023. Now we think it could turn into the No. 1 AI stock to sell.
The story here is pretty simple.
Nvidia has benefitted from a huge demand surge in 2023, primarily because Big Tech firms were looking to build new AI models with its GPUs. But that surge will prove temporary because those same Big Tech firms that have been fueling the surge are now moving away from Nvidia to develop their own chips.
Have you heard of Dojo?
Dojo is Tesla's (TSLA) supercomputer. Think of it as the "brain" behind Tesla's self-driving operations. Right now, there are millions of Teslas on the road, and all of that driving data from all of those Teslas are fed into Dojo. Dojo crunches through all of that data and develops self-driving algorithms that power the autonomous vehicle capabilities in Tesla cars.
Reliance on Nvidia AI Chips Is Dwindling
Dojo is Tesla's AI…
And Dojo doesn't use Nvidia GPUs.
Tesla used to power all of its self-driving operations with a large Nvidia GPU-based supercomputer. But Dojo is set to replace that.
In other words, while Tesla previously relied on Nvidia's GPUs, the firm has now developed its own Dojo supercomputer that uses its own custom-built GPUs.
And that gets to the crux of the problem here: customization.
Nvidia won big in the early innings of the "AI Boom" by supplying advanced-but- general-use GPUs to companies developing broad AI models.
But as the AI Race has matured, those companies are now looking to develop more sophisticated and specialized AI models. And for that, they need custom-built GPUs. And economically speaking, it doesn't make sense for Nvidia to create custom-built GPUs for every single one of its customers.
So, the largest customers are developing their own custom-built GPUs to meet their own specialized AI needs.
Tesla and its Dojo supercomputer are just one example.
Ditching Common for Custom
Every Big Tech firm that formerly relied on Nvidia is now developing their own custom-built AI chips.
Amazon (AMZN) has developed two AI chips customized specifically to building AI models on its cloud service, AWS. One is for high-performance inference (AWS Inferentia) and the other is for deep-learning training (AWS Trainium). Amazon believes that together, these two chips could power all of AWS' AI functions in the future.
Amazon also just poured $4 billion into top AI startup Anthropic. And the deal stipulates that Anthropic's AI models should be built on top of Amazon-made chips – not Nvidia chips.
Meanwhile, Alphabet (GOOGL) is already on the fifth generation of its custom Tensor Processing Units (TPUs) for neural network development.
Microsoft (MSFT) has reportedly invested heavily in its own secretive AI chip development project, codenamed Athena. And news broke earlier this year that Meta (META) is developing its own custom AI chip – the Meta Training and Inference Accelerator (MTIA) chip.
Big Tech has made their move. They're going all-in on AI. And they are not going to depend on Nvidia to help them win the "AI Race."
They all want to do it themselves.
This will create huge problems for Nvidia.
Did you know that 39% of Nvidia's second-quarter revenues came from just two customers? While 32% of its first-half revenues came from that same cohort.
Nvidia reported $13.5 billion in revenues last quarter. Two customers accounted for nearly 40% of those revenues, meaning two firms spent over $5 billion on Nvidia chips in three months.
Who has that kind of money?
Only Big Tech.
And Big Tech is now pivoting away from Nvidia.
Just connect those dots.
Big Tech fueled Nvidia's 2023 growth surge. And now Big Tech is pivoting away from Nvidia. That growth surge will fall flat in 2024. Once it does, richly valued NVDA stock will come crashing back to Earth.
It is time to sell NVDA stock.
The Final Word
Insider shareholders have been dumping Nvidia stock like crazy this year, and you should follow suit.
They've been dumping Nvidia stock like crazy this year. They see the writing on the wall, and they want to profit off NVDA – while it is still the hottest name on Wall Street.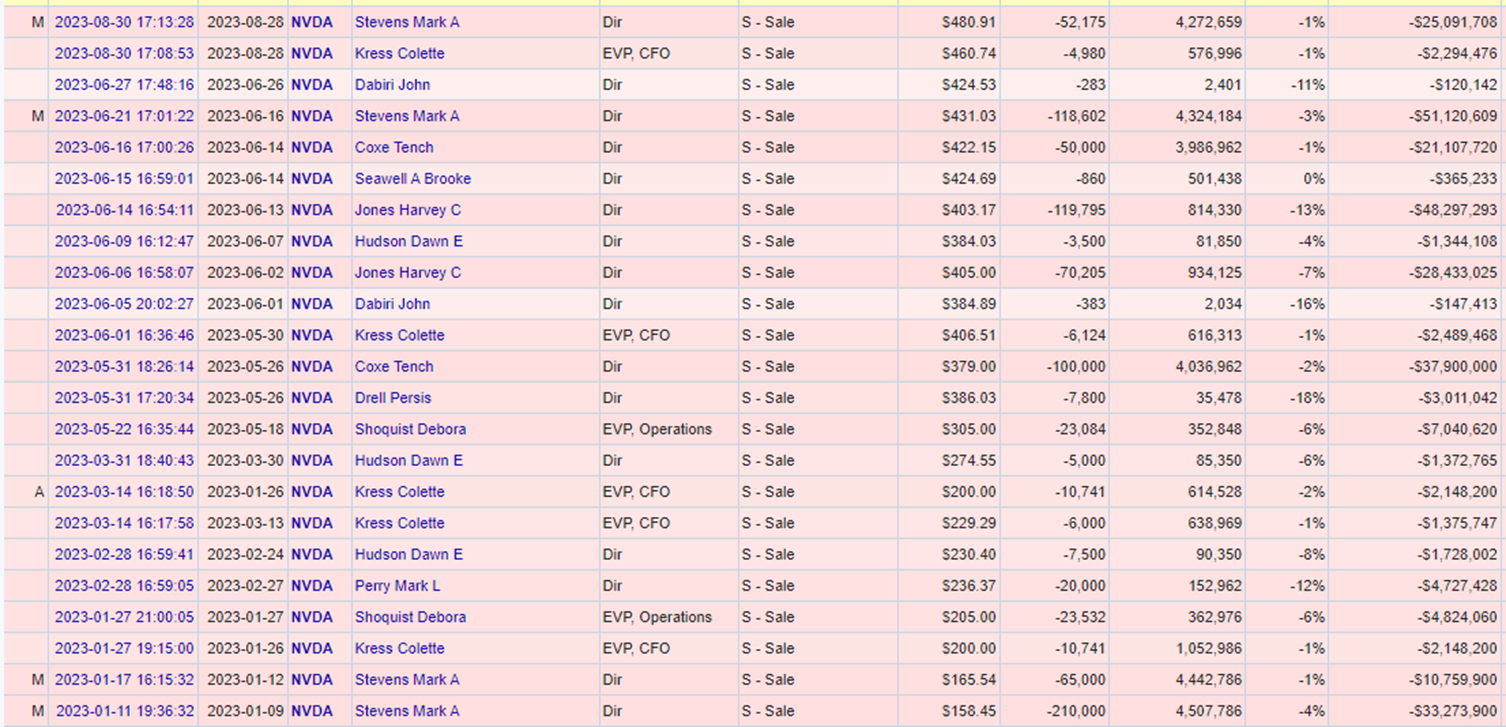 We think it'd be foolish not to join them.
That's why we finally sold our NVDA position in our Innovation Investor service for a ~1,000% return. If you're a subscriber, you can access the site here.
We're looking to take those profits and roll them into the next batch of top AI stocks to buy.
You see – all the money that was being spent on Nvidia chips won't go away in 2024. It will just be spent on different, more customizable AI chip makers.
That means that next year, Nvidia's pain will be someone else's gain.
This is the AI Turning Point – the critical shift that will define what stocks win and lose next year.
So… which stocks should you be buying right now? And which should you be selling?
Those are the billion-dollar questions we need to answer now if we want to make big money from top AI stocks in 2024.
And this Wednesday evening, Nov. 1 at 8 p.m. Eastern, I will be sitting down to answer those very questions. I'll even give you the name and ticker symbol of the No. 1 stock to buy to profit from this AI Turning Point. And it's a stock I've never recommended in any of my services.
Reserve your seat now for this must-watch event of the year.
On the date of publication, Luke Lango did not have (either directly or indirectly) any positions in the securities mentioned in this article.