I placed my pre order the first day I could.
Tesla (NASDAQ:TSLA) unveiled its Cybertruck on November 21, 2019, and the next morning I told my InvestorPlace colleagues I already had my order in.
I'm all about the future, and the Cybertruck is as futuristic looking a vehicle as I think I've ever seen, so I look forward to the day it will be delivered. That could be later this year or more likely in 2022.
A lot has already changed in the 15 months since I registered.
Not with the Cybertruck … but with how I will be able to pay for it.
Tesla announced two days ago that it bought $1.5 billion worth of bitcoin to "further diversify and maximize returns on our cash." The company went big, as that $1.5 billion is nearly 8% of the $19 billion in cash and cash equivalents it had on hand at the end of last year.
But that wasn't all. The company also announced it will begin to accept bitcoin as payment for its products and services, making it the first big automaker to take that step.
If you're a regular MoneyWire reader, you know that I own bitcoin, so this could be a serious option for me when I get my Cybertruck.
Even more serious is the growing opportunity in bitcoin and other cryptocurrencies as doors continue to fly open to their use in everyday life …
I wrote one week ago today that Tesla CEO Elon Musk is perhaps the most innovative businessman on the planet right now.
I've respected him for a long time … and I've taken some flak for it. Ten years ago, when I would be interviewed on Fox Business about electric vehicles, my co-hosts would make fun of me for having a "man crush" on Musk.
I'm not sure that's what I'd call it. But the man is a genius. He's always out in front of the trends, even if sometimes controversial and maybe a little crazy along the way.
He's built the leader in electric vehicles (EVs) in Tesla, which the market values more highly than any other automaker at $772 billion.
Tesla's SolarCity subsidiary is one of the leading solar installation companies in the United States.
Musk's SpaceX has achieved multiple firsts for a private company in the space industry. It is now working on satellite internet service, and the ultimate goal is the colonization of Mars. That one may be a bit out there, but if Musk is involved, we can't write it off.
Knowing his ability to see into the future, Musk's recent statements and actions in cryptocurrencies command our attention.
And a lot of other folks', too. Bitcoin spiked to a new all-time high on the news, which followed other bullish comments on bitcoin and cryptos from Musk. Of course, that followed multiple new all-time highs just since mid-December when bitcoin broke convincingly through $20,000.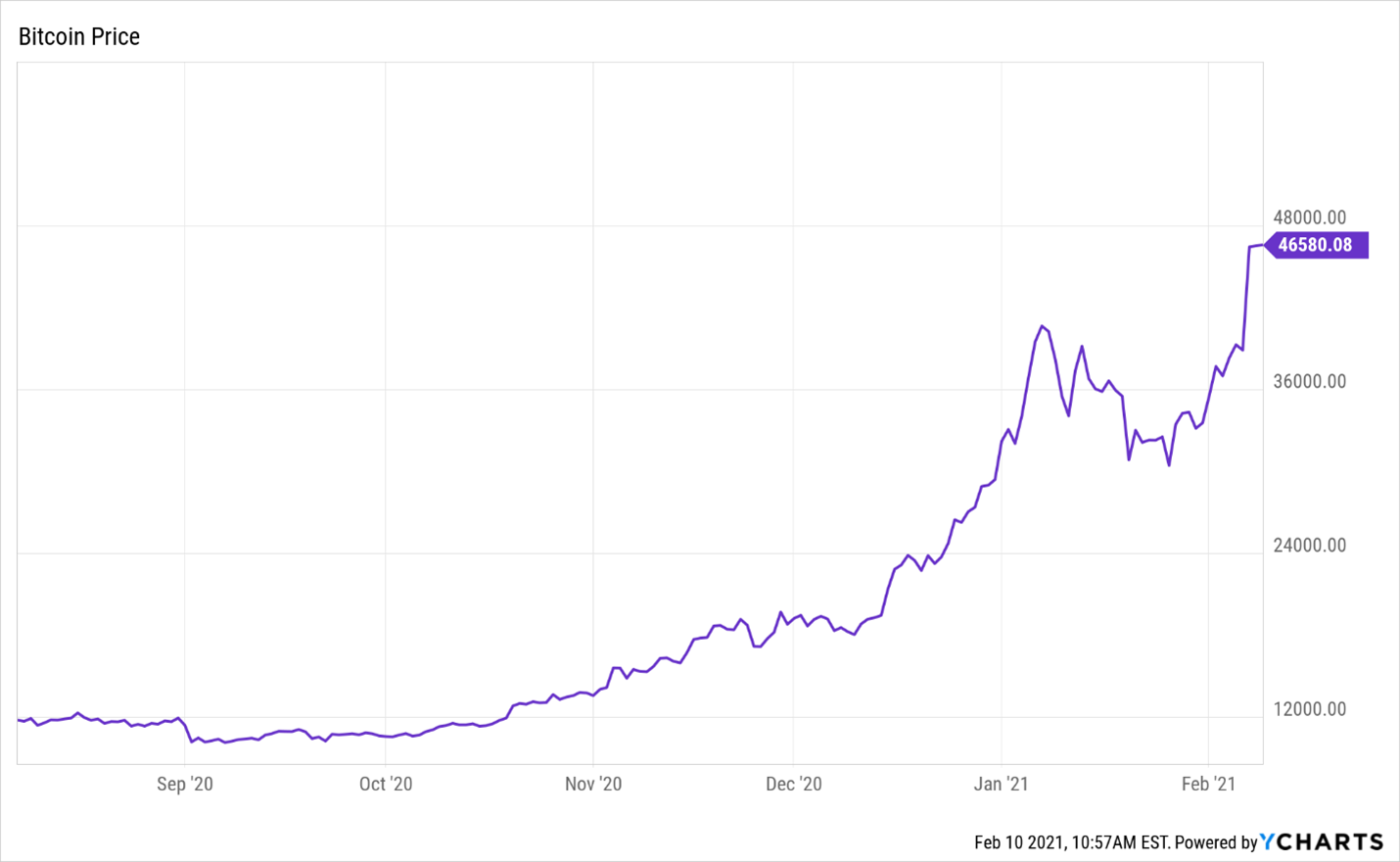 With much of the attention understandably focused on bitcoin, a lot of investors are missing the fact that other cryptocurrencies — called "altcoins," or any coin other than bitcoin — also hit new all-time highs.
Ethereum, the second-largest crypto behind bitcoin, just hit a new high … and it's up about 700% in the last year.
Cardano, the fourth-largest crypto, also popped to new highs. It more than doubled in the last month and has surged over 1,100% in the last year.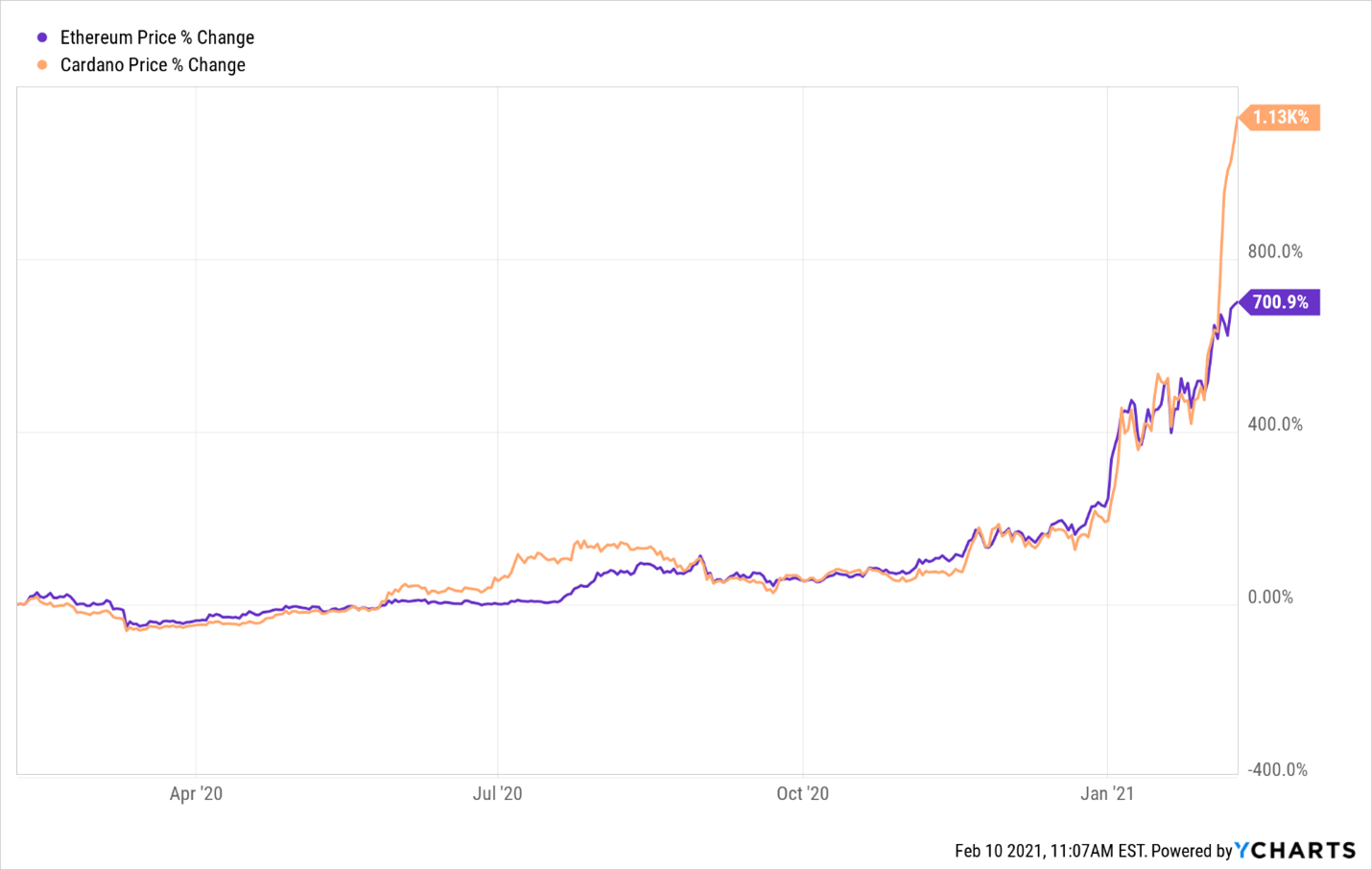 I could go on, but what I want you to see is that Tesla's bold crypto move is the next step in the blockchain transformation happening right in front of us.
And as great an opportunity as bitcoin is, select altcoins have truly massive upside potential. Ethereum and Cardano have easily outperformed bitcoin's 370% rise over the last 12 months.
So has our Ultimate Crypto portfolio, with a spectacular average return of 474% in a little over a year.
This scenario is playing out over and over again. I call it "Altseason," but the longer name you may hear from others is "altcoin season."
It is a season of price surges and wealth creation.
It's a season I highly recommend you understand and take advantage of.
Altseason is for those who invest in smaller, lesser-known cryptocurrencies, which are really the software programs of the future. They may be smaller than bitcoin, but they can make much bigger price moves.
We've seen this before after the supply of new bitcoin gets cut in half, which is something written in the coin's code. The last "halvening" was in May. Both prior times, select altcoins went on huge runs and generated massive profits.
There's another factor to consider that could make this Altseason the biggest one yet. It's what we've talked about today …
The big money is coming in.
Corporations are making the move, like Tesla and Microstrategy (NASDAQ:MSTR).
Financial companies are jumping in. The amount of bitcoin being bought by large firms such as Square (NYSE:SQ), PayPal (NASDAQ:PYPL), and Grayscale is higher than ever.
Even Visa (NYSE:V), which stayed away for a long time, is moving full speed ahead. The largest payment network in the world has partnered with 35 cryptocurrency platforms over the last few years and just announced plans to allow buying and trading of cryptos with its own software program.
And then there is investment money. A massive amount is flowing into cryptocurrencies right now as bitcoin and altcoins cannot be ignored by large firms anymore. We're seeing more money managers, hedge funds (like Paul Tudor Jones), and large institutions turn to cryptocurrencies and the blockchain technology that they run on.
This big money realizes that if they don't adopt a plan today, they will be left behind.
Ignoring cryptocurrencies and the blockchain would be similar to ignoring the advent of the internet.
The technology that bitcoin and altcoins are built on — the blockchain — is the future. It's going to touch virtually every industry on Earth.
Sending money around the world will take seconds and cost mere pennies (like when buying a Tesla Cybertruck). Buying a home will take days, not weeks — and the transaction will cost a small percentage of what it does today. Tracking a vaccine from the time it was created to the needle going into your arm will be done on the blockchain.
It blows my mind to think about what's coming, and this transformation is already underway. This massive disruption creates a once-in-a-lifetime financial opportunity for smart investors who act today.
Blockchain technology is the software of the Roaring 2020s.
And the best way to build wealth from this huge trend is through the best and strongest altcoins.
On the date of publication, Matthew McCall did not have (either directly or indirectly) any positions in the securities mentioned in this article.
Matthew McCall left Wall Street to actually help investors — by getting them into the world's biggest, most revolutionary trends BEFORE anyone else. Click here to see what Matt has up his sleeve now.