The forecast continues to look chilly for Oracle Corporation (NYSE:ORCL) both off and on the price chart. And for investors seeing further downside in Oracle stock's future, a long put strategy looks built for the occasion. Let me explain.
Over the past couple weeks things have gone from bad to worse for ORCL stock. Some of Trump's anti-Silicon Valley agenda might, off the cuff, be thought as a prime suspect. However, the reality is the Oracle price chart doesn't support those concerns.
In the immediate aftermath of the Trump victory, ORCL rallied while large cap peers like Amazon.com, Inc. (NASDAQ:AMZN), Apple Inc. (NASDAQ:AAPL) and Alphabet Inc (NASDAQ:GOOG, NASDAQ:GOOGL) got hammered.
But since Dec. 1, the trading in Oracle stock has become decidedly Grinch-like. That day shares of ORCL stumbled nearly 4%. The irony is an investor would have to be an Oracle to figure out a catalyst for the bearish move. Trust me, I tried.
Then there's Oracle stock's recent earnings disappointment from late last week. And trust me, you don't have to be a wizard of stock market logic to figure out what went wrong.
Oracle's corporate confessional met Street profit views of 55 cents, but saw investors fleeing this past Friday as Oracle doled out light revenues.
Particular disappointment came from the company's lackluster sales growth within its cloud business which competes against Amazon. CEO Larry Ellison had previously promised investors Oracle's offering would displace the tech disruptor's service.
Following the report Oracle stock gapped and sank by 4% to finish near session lows. Worse yet for trendline watchers, ORCL shares broke both 50 and 200-day simple moving average supports as part of that day's technical weakness.
Bearish contrarians might also appreciate ORCL's price action flies in the face of Oracle cozying up to the incoming Trump administration. As part of the earnings festivities, Co-CEO Safra Catz announced her acceptance of a role within the executive committee of Trump's transition team.
Now, one longstanding and key Oracle staffer has walked the walk in resigning from Oracle in protest of Ms. Catz's move. At the same time, bears also appear to be resigning themselves to walking the walk in Oracle stock.
Oracle Stock Daily Chart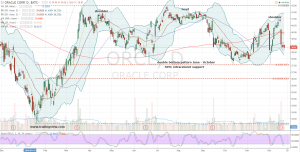 Click to Enlarge It doesn't take much of a chartist or an Oracle for that matter to see shares of ORCL have been largely left behind during the current rally. An extended weekly view of the last couple years is equally non-flattering for Oracle stock bulls.
All markets correct, of course. But our technical assessment is ORCL stock hasn't finished being dragged through the proverbial mud. It's our view Oracle shares are actually readying for lower prices as we enter 2017, rather than setting up as a bullish "catch-up" trade tied to its current relative weakness.
My bearish conclusion is supported by a price chart that's looking more and more like a bearish head and shoulder top or a failing double bottom pattern. Choose your poison, but either portrait should provide downside momentum and profits for bearish Oracle stock traders.