U.S. equities managed a tepid, half-hearted recovery on Thursday as odds of an impeachment of President Trump fell slightly in betting markets.
Dip-buyers were encouraged by the distribution of a video of Congressional testimony by former FBI director James Comey stating Trump hadn't interfered with the investigation into alleged ties between Trump's campaign and Russian officials.
This took some of the string out of Wednesday's revelation in the press that Comey had, in a private note after meeting with Trump, written that the president had expressed "hope" that the investigation into ties to Russia and Turkey by former national security advisor Michael Flynn would be dropped.
It also mostly outplayed a fresh report by Reuters on contacts between Trump's campaign and Russian officials (which, admittedly, highlighted no evidence of wrongdoing).
In the end, the Dow Jones Industrial Average gained 0.3%, the S&P 500 gained 0.4%, the Nasdaq Composite gained 0.7% and the Russell 2000 added 0.4%. Treasury bonds were little changed, the dollar was mostly stronger, gold lost 0.5% snapping a six-day winning streak and oil gained 0.6%.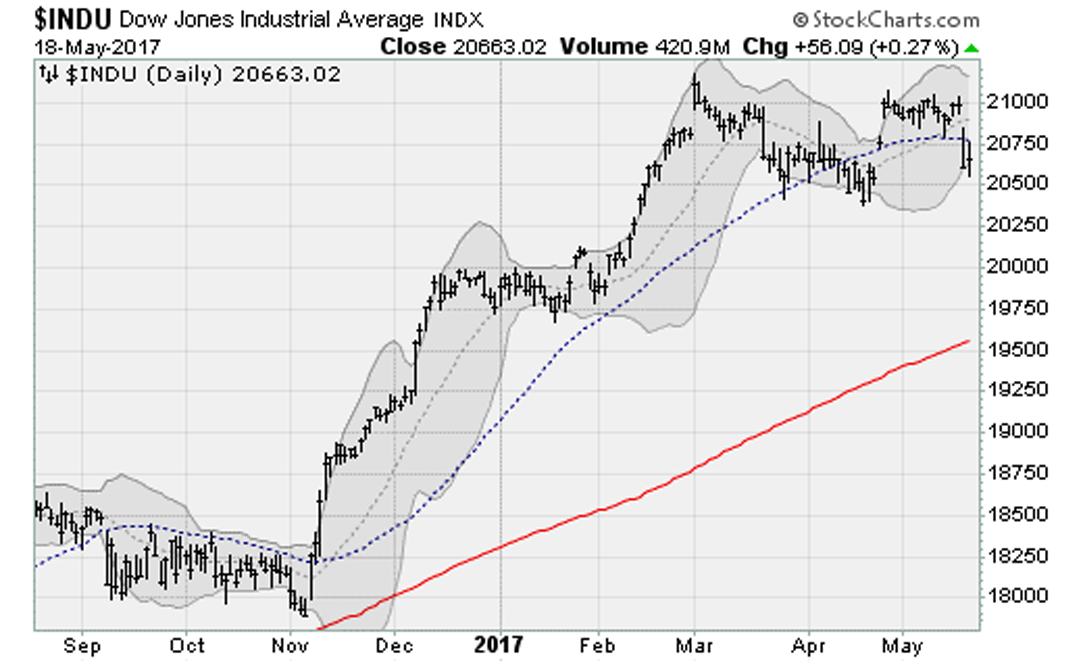 Breadth was mixed and volume strong, at 114% of the NYSE's 30-day average. Trading had a defensive air, with telecoms leading the way with a 1.2% gain while energy was the laggard, down 0.1%.
Pandora Media Inc (NYSE:P) gained 5.4% on reports Sirius XM (NASDAQ:SIRI) had restarted acquisition talks with the company. Wal-Mart Stores Inc (NYSE:WMT) gained 3.2% — a rare spot of brightness in a beleaguered retail sector — after reporting better-than-expected Q1 results with same-store sales up 1.4%.
On the downside, Cisco Systems, Inc. (NASDAQ:CSCO) fell 7.2% despite a quarterly beat on weak revenue guidance amid warnings about emerging market and U.S. public sector activity. Jack in the Box Inc. (NASDAQ:JACK) lost 3.4% on analyst downgrades from Telsey Advisory Group and KeyBanc on competitive pressures.
While the dip buyers are making a play, the technical and fundamental outlook remains challenging. Headwinds have been building for months, since stocks peaked in March (well, outside of the tech-heavy Nasdaq). Market breadth is rolling over.
The appointment of a special council by the Department of Justice on Wednesday suggests this "Trump & Russia" story isn't going anywhere anytime soon.
Bank stocks in particular are looking vulnerable here as they have been the leading beneficiaries of the "Trump-flation" trade following election day. The Financials Select SPDR (NYSEARCA:XLF) surged nearly a third from its pre-election low on hopes of higher profits on wider net interest margins, higher long-term interest rates, and a possible deregulation push from President Trump.
On Wednesday, amid the selling carnage, they were among the hardest hit.
Things are looking particularly bad for the likes of Bank of America (NYSE:BAC), with shares threatening to drop down and out of a massive six-month trading range. I have recommended the June $23 BAC puts to my Edge Pro subscribers.
With "Sell in May" seasonality in the air, Jeff Hirsch of the Stock Trader's Almanac notes that the S&P 500's last 10% correction ended on February 11, 2016 (when oil price bottomed on rumors of an OPEC oil production freeze), ending a 14.2% decline.
But a full-on wipeout of the 20 percent post-election gain isn't out of the question either, given that post-election gains in the U.S. dollar and in the 10-year yield have already been fully reversed.
Anthony Mirhaydari is founder of the Edge (ETFs) and Edge Pro (Options) investment advisory newsletters. A two-week and four-week free trial offer has been extended to Investorplace readers. Redeem by clicking the links above.