Dow Jones Industrial Average constituent and the country's second largest financial institution, Bank of America Corp (NYSE:BAC) reports earnings Tuesday morning.
Let's take a look at recent announcements for BAC stock, pricing within BAC's options market and come up with a better understanding or clues as to what traders can, or think they can, expect from Bank of America.
BAC Stock Earnings Picture
Ahead of Bank of America's Tuesday morning second-quarter earnings release, analysts are forecasting profits of 44 cents per share. Range estimates are from 40 cents to 50 cents. Street expectations for BofA imply an increase of 22% in earnings growth over last year's same-quarter result of 36 cents and a sequential increase of 6% from Q1's 41 cents.
Revenues are estimated to grow by 7.8% to $22 billion compared to 2016's sales of $20.4 billion. Sequentially, BAC is forecast to contract modestly (by less than 1%) from last quarter's rake of $22.2 billion.
BAC Stock Ratings
Analysts are fairly upbeat on BAC stock, with 17 buys, 5 outperforms, 8 holds and one "sell" recommendation. Moreover, the median price target rests 11% above at $27 with a range low of $20 and high estimate of $32.
On the qualitative periphery, Citigroup Inc (NYSE:C), JPMorgan Chase & Co. (NYSE:JPM) and Wells Fargo & Co (NYSE:WFC) all issued results this past Friday which failed, initially at least, to impress investors despite uniform earnings beats. Specific to BAC stock, Miller Tabak noted support from the banks stress test results and shareholder-friendly activities of late. Shares of BofA were however noted as needing some help technically before becoming more bullish.
BAC Stock Short-Term Trading Record
BAC has established a consistent pattern of beating Street profit views by topping estimates in 10 of its previous 12 reports. Investor reaction responsible for the bottom line on the BAC stock chart has proven a bit more modest with moderate gains in four of the previous six announcements immediately following earnings.
Working backward, shares of BAC have moved -0.44%, 0.39%, 0.31%, 3.32%, 2.57% and -1.54% on a close-to-close basis. The net reaction has produced an average gain of 0.76% in the first full session of trading.
Variability of 1.83% based on a one standard deviation reading yields an estimated range of -1.05% to 2.60%.
BAC's seven-day stock performance has proven a bit more bullish, albeit not without volatility. The average gain has been 1.94%. At the same time, a fairly high standard deviation of 5.82% sets up a fairly wide expected range of -3.88% to 7.76%.
BAC Stock Daily Chart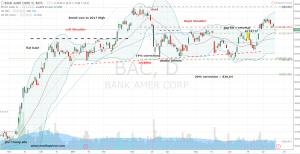 Click to Enlarge Taking a look at BAC stock on the price chart since the beginning of 2017, it's easy to appreciate the past several months have been dictated by false starts for both bulls and bears.
Most recently, and following the successful breaking of a large bearish head and shoulders pattern, BAC stock has worked its way lower and into a position of testing prior resistance for support.