Whenever the markets are in disarray, Warren Buffett always takes center stage as the pillar of value investing. Just this week, for instance, Buffett appeared on CNBC to talk everything from specific Berkshire Hathaway (BRK.A, BRK.B) stock picks to the economy's growth rate and looming Federal Reserve rate hike. Naturally, a plethora of headlines followed, and investors hung on to every word.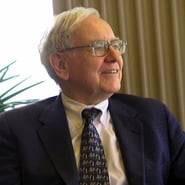 That sort of reputation didn't just land in his lap, Buffett earned his stripes as the go-to man of all things investing by being near perfect at it. Quite simply, the man is a tried-and-true stock market subject matter expert.
Which is why investors seek out the Oracle of Omaha whenever they need reassurance or a voice to filter some sense out of the noise in the markets.
It's an open secret that the key to Warren Buffett's success is that he's a value investor. Sounds easy, but it takes nerves of steel.
Value investors liken selloffs like the one we just experienced to bargains, which translate into shopping sprees for the disciplined (as evidenced by the fact that Buffett said he plans to sink around $32 billion in the market over the course of the next few months).
Buffett's aphorism of being "fearful when others are greedy, and greedy when others are fearful," couldn't be more apt than it is today, as the fear is so thick you could bottle it.
But our worship of Warren sometimes overlooks the fact that, while he finds opportunities in selloffs, he sure isn't immune to them. From mid-July to the end of August, Berkshire lost around $11 billion. During the Great Recession, it lost almost 32% in one year. Head further back on the timeline, and Berkshire Hathaway lost almost half its value in 1974 — twice as much as the damage suffered by the S&P 500.
Even the year after that beating, Berkshire Hathaway barely turned a profit and dramatically lagged the broader market.
But the year after that? It came roaring back — growing 130% while the S&P 500 straggled around 20%.
That showcases what truly sets Buffett apart — discipline.
Warren has a laundry list of rules, from restricting himself to his "circle of competence" (the reason he avoids a large number of tech stocks), to focusing on companies with transparent management, and he sticks to them even when things are stormy.
Warren Buffett is the gold standard for patience and discipline, and is proof that those traits pay off. (Despite the dips, he's averaged a 22% compounded annual gain vs. 10% for the S&P 500 since 1977).
Where Warren Buffett Makes His Millions
With the importance of discipline in mind, let's revisit where Buffett's money is going lately. One particularly high-profile pick made headlines when Berkshire Hathaway recently disclosed a $4.48 billion stake in Phillips 66 (PSX) — large enough to make the oil refiner Berkshire's sixth largest holding. It's especially notable since Buffett had cut back on his ownership of PSX in recent years.
The classic favorites of Warren Buffett, however, still belong to Wells Fargo (WFC), Kraft (KRFT), Coca-Cola (KO), IBM (IBM) and American Express (AXP). Of that list, IBM is particularly notable as Buffett just snatched up even more shares of the tech stalwart. He's been adding to his position steadily since first investing in the company back in 2011, and still believes IBM's long-term prospects are strong.
Finally, Buffett also noted during his CNBC interview that he is supportive of Bank of America (BAC) management, despite recent criticism of the company's dual-role chairman and CEO and despite the fact that Buffett only owns non-voting shares of the company.
Considering Buffett's outsized importance during the currently rocky market, even a vocal vote of confidence is good news, though.
When the going gets tough, the tough turn to Buffett.
Alyssa Oursler is based in San Francisco and writes about technology, investing, gender and entrepreneurship. Her work has appeared on Forbes, Business Insider, MSN Money and more. You can follow her on Twitter here or check out her personal site here. As of this writing, she was long AAPL.
More From InvestorPlace