After years of dreadful returns, the U.S. Federal Reserve just gave precious metals a lifeline. In a sudden shift of fortune, gold prices this year have been surging while the broader markets are still trying to find their footing.
Other rare commodities, including platinum and palladium, have hitched a ride up, while silver prices have seen a dramatic rise from multiyear lows.
Unlike previous rallies, however, there are strong fundamentals in play that should continue to buoy precious metals throughout this year — and possibly beyond.
The first major concession came from a stepping back in tone of the Fed's monetary policy. In sharp contrast to Fed chairwoman Janet Yellen's insistence on a hawkish strategy, the world's most powerful central bank kept benchmark interest rates unchanged during a recent meeting.
More significantly, the Fed announced a 50% haircut in the amount of rate hikes it expected to implement this year. That tells us two things — the economy isn't as great as initially advertised, and the Fed is running out of ideas to solve the former.
The second concession is the international currency markets pressuring the U.S. dollar, which will impact gold prices, and most likely, precious metal stocks. Japanese fund managers dumped significant amounts of U.S. Treasuries along with other foreign bonds earlier this year.
This is a typical tactic during periods of economic uncertainty that tends to reinforce the notion of the Japanese yen as a safe-haven asset. Consequently, that places inflationary pressure on the dollar — bad for the consumer, but great for gold prices and precious metals.
Best of all, where we are in the markets indicates that the rally in the metals is far from a fluke. The individual indices that measure the performances of the dollar and the yen are at polar opposites. Tellingly, the peak in dollar strength and the trough in yen weakness are well outside of their respective long-term averages. It's only natural to assume that this unusual breach in equilibrium will find a way to correct itself.
If it does, both gold and silver prices could have a banner year in 2016. Also, the inflationary pressures resultant from currency dynamics are just as bullish for platinum and palladium.
Here are three companies specializing in precious metals that can take advantage of this momentum shift.
Precious Metals Stocks to Buy: Royal Gold, Inc (USA)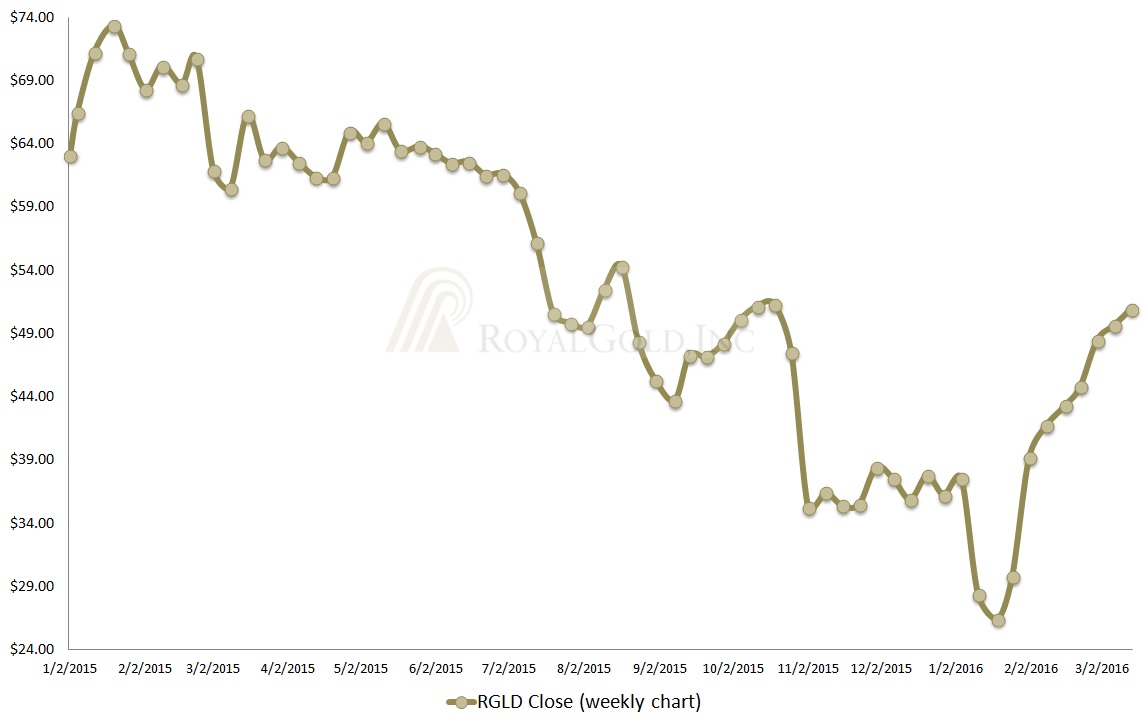 Gold prices were at one point at great risk of falling off the radar, but the new year has been a transformative period for the precious metals and the mining sector.
Against a year-to-date basis, the benchmark exchange-traded fund SPDR Gold Trust ETF (GLD) is up more than 18%, posting strong gains throughout the past two-and-a-half months. The sudden reversal in sentiment for the gold markets was a much-needed confidence boost for mining companies like Royal Gold, Inc (USA) (RGLD), which are desperate to reverse the damage done in 2015.
Just how big of a deal is the recovery in gold prices for RGLD? Last year, RGLD stock posted a loss of 43%, with a good chunk of the bearishness occurring over a single day in November.
But for 2016, RGLD is up 43% — and that includes a precipitous drop in January. Since the first day of February, however, Royal Gold saw mostly clear skies, eventually blowing past its longer-term moving average price points.
Those worried about the inherent volatility in mining stocks will find some comfort in the fundamentals for RGLD. The decline in precious metals that began in 2011 severely affected the mining industry's profit margins. But in the case of Royal Gold, management has been able to keep costs relatively in check, and therefore, still deliver positive earnings. If RGLD could survive under the harshest of market conditions, their ability to advantage a rise in the precious metals should be a non-issue.
Admittedly, mining stocks have been a wasteland in previous years. However, the financial stability of Royal Gold, combined with a broad tailwind in precious metals, makes RGLD a must-watch stock.
Precious Metals Stocks to Buy: Silver Wheaton Corp. (USA)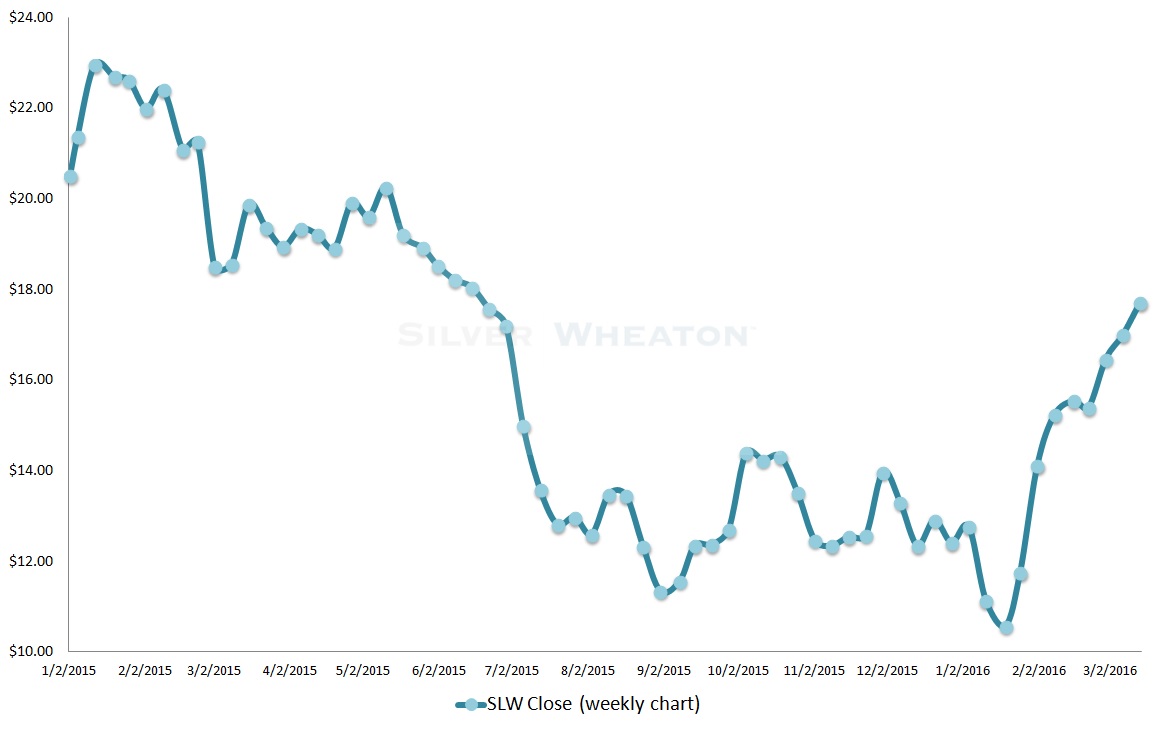 Silver Wheaton Corp. (USA) (SLW) — the biggest precious metals streaming company in the world — has been having one heck of a year. After suffering a disastrous time in the markets last year, sentiment has picked up tremendously.
SLW did itself a lot of good when it posted an earnings beat for its fourth quarter of fiscal year 2015 results, as well as topping revenue expectations by more than 12% to $200.5 million.
Moving forward, higher silver prices should be a nice tailwind for SLW. Because of its streaming business model, SLW was better able to absorb deflationary silver prices due to its fixed cost arrangements with mining and production companies. But with the sudden bull market in precious metals, the margin between SLW's fixed cost and current silver prices has become much more profitable.
Wall Street certainly likes what it sees. On a YTD basis, SLW is up more than 44%, with a majority of those gains coming from a spectacular month in February.
This doesn't appear to be a one-time deal. While the markets have taken a bit of a breather, SLW is still churning strongly, up more than 16% against the current month.
Those still contemplating a play on SLW might be swayed by the benchmark iShares Silver Trust (ETF) (SLV), which just jumped to a high for the year.
While mining companies are speculative affairs, SLW is backed by a proven business model and a favorable cycle within the precious metals.
Precious Metals Stocks to Buy: Stillwater Mining Company (SWC)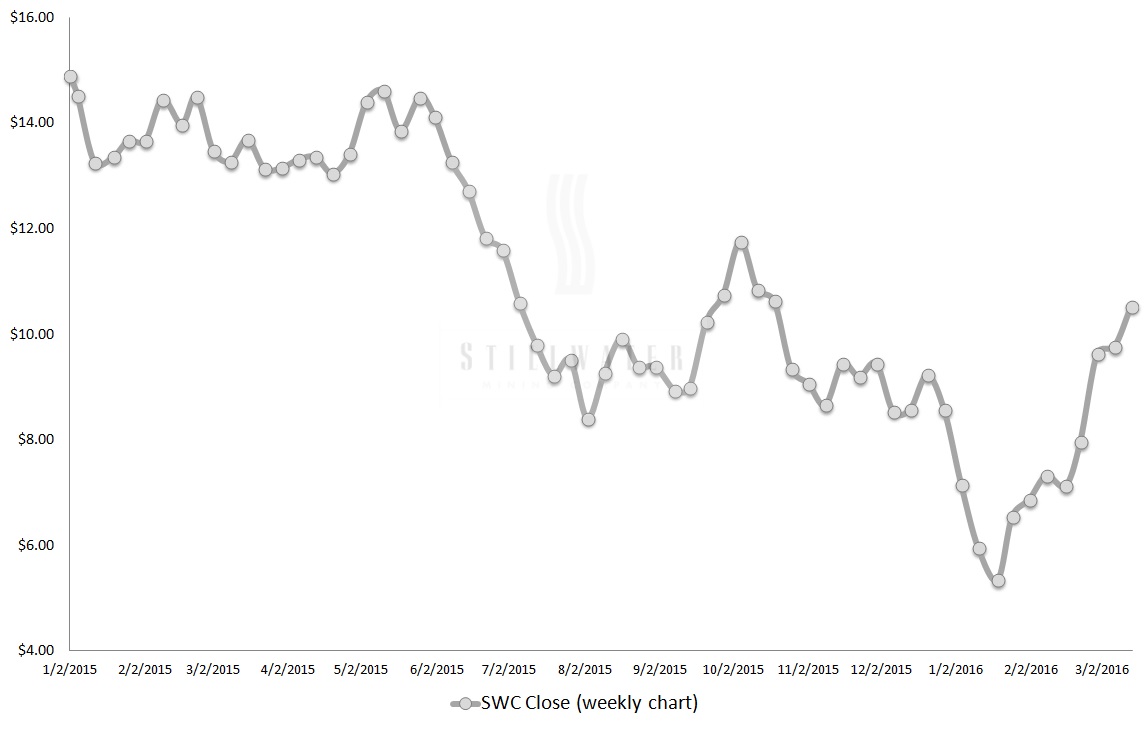 Most discussion on precious metals tend to focus on gold and silver for reasons of culture, history and practicality. However, ignoring the other two precious metals — platinum and palladium — would be a mistake.
For starters, both platinum and palladium are rarer than gold. In addition, strong industrial demand, particularly for palladium, makes a compelling case for Stillwater Mining Company (SWC), which specializes in the extraction and refinement of these extra-precious metals.
One of the biggest draws for SWC — aside from the recent run up in the commodity markets — is the geopolitical instability in which most of the world's platinum and palladium is found. South Africa is the leader in platinum production, which puts global supplies at risk whenever labor disputes arise in its rich mining grounds.
Palladium, on the other hand, is mostly produced in Russia — need I say more? Sheer rarity and difficulty of extraction make the assets of SWC a worthwhile investment.
Most importantly, the bullish fundamentals are translating into big gains for SWC stock. Stillwater is up 27% YTD, which is somewhat low among the miners. However, against its January bottom, SWC has virtually doubled its value in the markets.
In addition, the company is the strongest performer in the current month among the featured mining stocks. Over the past two days, SWC has tacked on more than 10%, indicating that it still has more room to run.
Arguably, Stillwater is one of the more speculative mining stocks due to the extremely volatile nature of platinum and palladium markets. At the same time, this is what gives SWC a tremendously explosive potential.
As of this writing, Josh Enomoto did not hold a position in any of the aforementioned securities.