It's been a little over a week, yet the news has yet to fully sink in for many folks. Donald Trump — the mogul, the mastermind, the most interesting man in the world (according to Donald Trump) — will be the next president of the United States. It's an astonishing period in both American and world history that is without parallel. His election has rewritten the rules in politics, and in turn, breathes new life into troubled industries, like Big Pharma stocks.
One sector that very clearly dodged a magnum-sized bullet is healthcare. The industry was put on high alert last year as prominent democrats criticized "greedy" pharmaceutical companies for price-gouging. Most notably, former presidential nominee Bernie Sanders called pharmaceuticals a "major health hazard to the American people." Not surprisingly, pharma stocks tumbled after such unusually harsh rhetoric.
What made 2016 an especially treacherous time for the industry was Hillary Clinton. One could easily make the argument that she had a more radicalized view toward pharma stocks. During primary season, the former Secretary of State remarked that pharma stocks were high on her hit list, next to Iran, the National Rifle Association and republicans. When she eventually secured her party's nomination, the exchange-traded fund VanEck Vectors Pharmaceutical ETF (NASDAQ:PPH) soured considerably.
Trump's victory single handedly resulted in a sharp rally among pharma stocks, to no surprise. But to be fair, Donald Trump supports porposals that aren't necessarily favorable to pharmaceutical companies, such as allowing Medicare to negotiate drug prices. However, he has been far less vocal about criticisms toward pharmaceuticals. In addition, Trump has to be careful not to overstep his boundaries. In order to fulfill his promise to make America great again, he needs the industry to be strong, not weak.
With such an incredible tailwind, look for these ten pharma stocks to write a prescription for profits!
Pharma Stocks to Buy: Pfizer (PFE)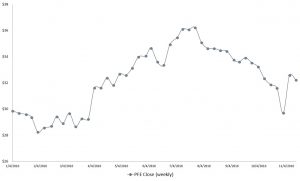 Click to Enlarge With the dramatic election of Donald Trump, the markets have definitely taken a risk-on posture for pharma stocks. This in turn has attracted foreign investments and boosted capital valuations, setting the stage for possible mergers and acquisitions.
The dearth of M&A activity among pharmaceuticals has been a bum note in the industry, with rare exceptions provided by Pfizer Inc. (NYSE:PFE). Now that the Republican Party has full control of the government, this only enhances the acquisitiveness of PFE.
For one thing, even a giant like PFE can always use some help. After Hillary Clinton officially became the democratic nominee for president, PFE suffered a prolonged drop off. From the first of August until election day, Pfizer shed 18% in the markets. But once it was announced that Trump had pulled off an upset, shares jumped 7%. It also caused PFE to move into positive territory for the year.
The shifting political dynamic should be a net positive for the company's M&A ambitions. Pfizer had a very public failure in securing Allergan plc (NYSE:AGN), a deal which was eventually rejected by federal regulators. Although it's too early to tell how a Trump administration will truly affect pharma stocks, there's confidence that he would allow a more free market approach. Thus, it's reasonable to assume that Pfizer will encounter less resistance to its buyout proposals.
As one of the most well-known pharmaceuticals in the world, PFE should see "big league" changes under President-elect Donald Trump.
Pharma Stocks to Buy: Merck (MRK)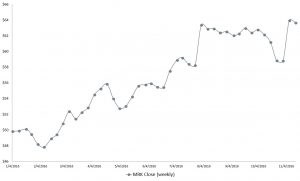 Click to Enlarge It's fair to say that Merck & Co., Inc. (NYSE:MRK) was always going to have a good year, regardless of what happened during the election. MRK stock has a string of consecutive earnings beats going back to the first quarter of fiscal year 2014.
Since then, shares have gained 18% in the markets despite some rough challenges in the second half of 2015. However, positive results from Keytruda — a non-small cell lung cancer treatment by MRK — has been the difference maker.
Year-to-date, MRK stock is up 21%. Shares have been sharply climbing since mid-February, which indicates a broader distribution of bullishness. That's one of the key attributes that you want to see among pharma stocks — there's nothing worse than buying simply on the basis of isolated news. For MRK specifically, it has a diverse range of specialties from the always lucrative oncology sector to its HIV research division.
With all its strengths, I believe that MRK viewed the election as an afterthought. Regardless of the actual truth of the matter, the company did get their candidate of choice. On Nov. 9, MRK stock gapped up 6%, blowing past its 50 day moving average. With a Trump presidency implying less onerous regulations, the only thing that can stop Merck is itself.
As all the pieces have fallen into place, look for MRK to have a standout year in 2017.
Pharma Stocks to Buy: Bristol-Myers (BMY)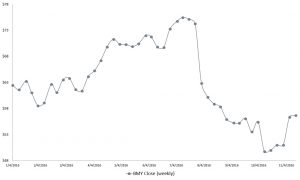 Click to Enlarge Many of the major pharma stocks don't need much help to justify their market valuation. Bristol-Myers Squibb Co (NYSE:BMY) is not one of them. On a YTD basis, BMY stock has fallen 18%, almost the inverse of fierce rival Merck. Even worse, BMY has dropped below multiple technical support levels. If things get any uglier, there's a real chance that the company could fall to multi-year lows.
There are two main ways to look at this. First, and the most obvious, is to run — and run fast! Most of the volatility has been caused by BMY heavily banking on its cancer-fighting drug, Opdivo. This is fine, so long as the clinical trials back up the optimism. However, Opdivo performed as well as the "blue firewall" of battleground states did for Hillary Clinton. In other words, it was a disaster for BMY, causing the company to lose significant ground to MRK, who is competing in the same space.
However, the Trump victory could change things for investors. No one — even those who have had doubts about BMY stock — is going to argue that Bristol-Meyers is a worthless company. It has a solid oncology pipeline that's the envy of other pharma stocks. And with its robust burst following the election results, we may have seen the bottom fade away.
While still risky, many value investors were looking for a clear buying signal for BMY stock. Donald Trump may have just provided the answer.
Pharma Stocks to Buy: Valeant (VRX)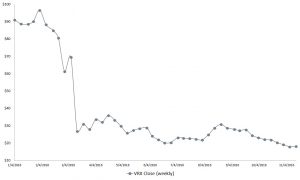 Click to Enlarge The rule of thumb for any pharmaceutical company is to never insert yourself into the political discourse. In some cases, you're the target of public scorn. In other cases, you're the spotlight of pity. Either way, it's an unfortunate workload for the public relations department.
But failing to avoid political scrutiny, you must mitigate damages by not falling victim to the 2016 election cycle. Unfortunately, Valeant Pharmaceuticals Intl Inc (NYSE:VRX) did not get the memo.
The young fireball of the Democratic Party, Senator Bernie Sanders and Representative Elijah Cummings blasted VRX for raising the price of Isuprel, a drug that treats heart-rhythm problems. That was back in August of last year, when VRX stock was trading around $246 per share. By the end of 2015, shares were trading at a little over $100. Today, VRX is a few bucks shy of a Jackson.
Valeant Pharmaceuticals is a mess, and we don't really need to rehash the pain. However, for those that can stomach the risk of volatility, VRX makes a compelling speculative bet. For one thing, the media attention is all on Donald Trump. Bernie Sanders is an afterthought, and the democrats are spending their time soul searching. Moving forward, VRX can expect a more friendly environment. At the very least, their name won't end up on a Clinton hit list.
No single person can overcome all the problems afflicting VRX. However, a Trump administration does give them a fighting chance.
Pharma Stocks to Buy: Eli Lilly (LLY)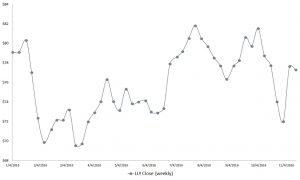 Click to Enlarge Several pharma stocks may be feeling that they got away with one when Donald Trump secured the White House. Finally, the political headlines are all centered on politics, and not the pharmaceutical industry.
Few are more relieved than Eli Lilly and Co (NYSE:LLY), which was called out by Bernie Sanders for perceived price gouging of its insulin product, Humalog. The unwanted attention merely added to what has been a volatile final act of the year for LLY.
So worried about the Sanders effect that technical analysts warned of a bearish signal that flashed for LLY stock. Even in hindsight, the warnings were well founded. Eli Lilly was struggling to gain traction. Trump looked to be his own worst enemy as embarrassing controversies came to light. Sanders' former rival Hillary Clinton looked to be ahead in most major polls. With the senator's no-holds-barred approach, and Clinton's hit list, LLY was all but guaranteed to absorb a crushing blow.
But out of that chaos came Donald Trump. The polls couldn't read him, so why would technical analysis be successful? He was the one-man wrecking machine that upended the democrats, and breathed new life to stigmatized industries. Sure, LLY stock jumped on the news due to the implied tailwinds for pharmaceuticals. But an even bigger point is that they're no longer in the crosshairs.
LLY can now concentrate on what it does best — making drugs and convincing shareholders that the turbulence is over.
Pharma Stocks to Buy: Eagle Pharmaceuticals (EGRX)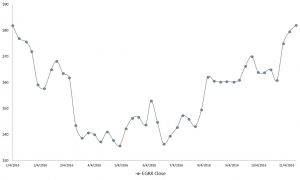 Click to Enlarge The Trump-inspired rally isn't just impacting the heavily-capitalized pharma stocks — lesser known firms are seeing some love as well. In fact, due to their more speculative nature, smaller capitalization pharmaceuticals have been handsomely rewarded from the surprise election result. Case in point is Eagle Pharmaceuticals Inc (NASDAQ:EGRX), which specializes in injectable treatments for critical care and oncology.
One could make the argument that from an industry perspective, EGRX doesn't need outside political help. Of the few analysts that are covering EGRX stock, most are bullish on the company. They're primarily optimistic on its oncology pipeline, particularly for breast cancer, which of course is a high visibility disease. EGRX is also rumored to shift towards the heat stroke and hypothermia market, potentially adding another layer to its portfolio.
So no, Eagle Pharmaceuticals will do just fine with or without the political drama. Nevertheless, it's undeniable that EGRX did pop up a whopping 12% the day after the election. For the month so far, Eagle shares have gained 43% — and that's no typo!. In just two weeks, EGRX has gained more than most S&P 500 companies do in an entire year.
That, apparently, is the power of the Trump card — and EGRX will happily take it.
Pharma Stocks to Buy: Heron Therapeutics (HRTX)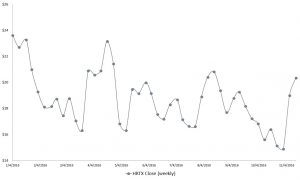 Click to Enlarge As long-time investors of Heron Therapeutics Inc (NASDAQ:HRTX) might say, never underestimate the power of a good distraction. Fortunately for HRTX, they got a "yuge" distraction at a most ideal time.
For its third-quarter FY2016 earnings report, Heron again came up short, missing consensus forecast by a 6% margin. This marked another year of disappointing performances, with its last honest-to-goodness beat coming almost a year ago.
Under normal circumstances, this would be a cause for concern. If you're gonna miss, however, you might as well miss on the most improbable election night in American history. That's exactly what HRTX did. The day after, Heron shares jumped 11% — one of the better post-election spikes among pharma stocks. Not only that, HRTX continued to charge higher, breaking past its 200 day moving average. Presently, shares stand another 14% higher than its post-election close.
As with so many other pharmaceuticals, the Trump win is a means to an end. For Heron, it had attracted mainstream attention for its "Sustol" injection, which was approved by regulatory agencies. This treatment helps prevent nausea and vomiting for patients undergoing chemotherapy. Any current or former cancer patient, as well as caregivers, can confirm the devastating side-effects of chemotherapy. Thus, any approved treatment in this area is a considerable achievement.
HRTX has this, and many other drugs in its pipeline. Look for this relatively unheralded name to make a big impact in 2017.
Pharma Stocks to Buy: Alder Biopharmaceuticals Inc (ALDR)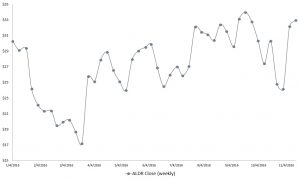 Click to Enlarge I'm sure the irony isn't lost for investors of Alder Biopharmaceuticals Inc (NASDAQ:ALDR). As makers of the calcitonin gene-related peptide inhibitor ALD403, which is used for migraine treatment, ALDR knows a thing or two about headaches.
The treatment met advanced stage clinical standards, setting the stage for retail release. Then along came Amgen, Inc. (NASDAQ:AMGN), which released very favorable Phase 3 trial results for its own migraine treatment.
There was no way that ALDR could go toe-to-toe with Amgen, one of the biggest drug manufacturers in the world. Following the pharmaceutical titan's news release, ALDR began a perilous descent. From the end of September through Halloween, Alder shares lost 26% of value in the markets. The selloff was a troubling sign, particularly from a technical standpoint, as ALDR slipped below its 50- and 200-day MAs.
If anyone would have said that the end was near for Alder, I wouldn't have disagreed. However, sentiment rapidly changed in November. After Election Day, ALDR stock jumped over 13%. It has never looked back, producing four consecutive up days. Most importantly, it has regained its technical posture. Halfway into the month, ALDR is looking at a 34% run up. That's a remarkable tally, even among small-cap pharmaceuticals.
For ALDR, the headache caused by its competitors found the perfect remedy — Donald Trump.
Pharma Stocks to Buy: Sage Therapeutics (SAGE)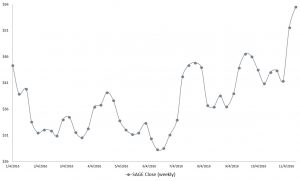 Click to Enlarge For obvious reasons, millions of Americans have concerns about a Trump presidency. However, one of the positive aspects of his administration should be a looser business environment.
While democrats may object to that notion, and instead call for tougher regulations, excessive oversight can unnecessarily stymie essential progress. One clear example of this is the ground-breaking work performed by Sage Therapeutics Inc (NASDAQ:SAGE).
According to its company profile, SAGE is "committed to developing and commercializing novel medicines to treat life-threatening, rare central nervous system, or CNS, disorders." CNS covers a wide range of disorders, from Alzheimer's to epilepsy to Tourette's syndrome. The broad definition also includes "non-physical" conditions, such as bipolar disorder and schizophrenia. Given the sheer number of people who suffer from CNS disorders, any progress made in one of these subfields can contribute to the greater whole.
That's the potential that SAGE wields, and is one that is opened up by a Trump presidency. Upon his election, SAGE stock jumped 9%. It has continued to move higher since then, gaining 20% so far in November. That's an encouraging sign that came not a moment too soon. Earlier this summer, SAGE stock was flirting with levels not seen since its initial public offering in the middle of 2014.
But with the election slowly fading out of our memory, SAGE has a clean slate heading into the new year.
Pharma Stocks to Buy: Sorrento Therapeutics (SRNE)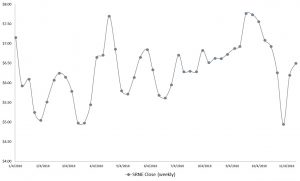 Click to Enlarge Speculating on volatile pharma stocks is always risky business. I will go so far as to say that it's riskier than mining stocks. At least with the latter, the companies tend to trade like the underlying commodity. That commodity, in turn, trades according to the laws of supply and demand. But there's often no reliable forecast with small-cap pharma stocks — either they're on or they're off. For those that prefer this rough and tumble ride, I give you Sorrento Therapeutics Inc (NASDAQ:SRNE).
SRNE is in the cancer-fighting business, and there's not a person alive that wouldn't wish them well in their endeavor. SRNE was particularly active for much of last year, resulting in a share price north of $24 at its peak. To put that into perspective, SRNE jumped nearly 350% in the one-year period following July 2014. But as with any bubble, the ride wasn't sustainable. Plus, we have to consider the human factor of employees cashing out their SRNE stock options — I would.
Now valuations are back at normal levels. The question is, is there another crazy run left in SRNE stock? Sorrento is supported by a top-notch crew of exceptionally smart and talented professionals. The company is also led by Dr. Henry Ji, an eccentric personality with a natural gift for business. All things considered, it's not entirely out of the question.
With the political shift at hand, if there's a time to take a risk on a company like SRNE, it would be now.
As of this writing, Josh Enomoto did not hold a position in any of the aforementioned securities.