Genius is a funny thing — we often don't recognize nor appreciate it until it's gone. Case in point is Nikola Tesla. The innovative scientist — from whom Tesla Motors Inc (NASDAQ:TSLA) gets its name — was on a path toward inventing a free global power generator when he discovered the "Tesla coil."
This system was the first one where electricity could be transmitted wirelessly. Although Tesla never achieved his dream of providing free energy, his groundbreaking work set the stage for today's technologies.
Indeed, while Wall Street has clamored over Tesla stock in recent years, many would be surprised to learn that TSLA did not invent the electric vehicle. In fact, the very first EV was developed well before TSLA CEO Elon Musk — or even his parents — were born. The first crude prototypes were introduced during the early nineteenth century. However, it wasn't until the 1890s that the EV entered its original heyday.
The Backdrop of Tesla stock
In 1893, electric-powered cars were exhibited in Chicago. Four years later, electric taxis were ferrying people around busy New York City streets. By the dawn of the twentieth century, EVs were actually on the verge of automotive domination. In 1900, a whopping 28% of automobiles were powered by electricity. A year earlier, Thomas Edison of General Electric Company (NYSE:GE) fame began a massive investment into EV battery technologies.
Of course, it was Henry Ford and the eventual Ford Motor Company (NYSE:F) that killed the EV's momentum. Mass production of the iconic Model T offered the public practical transportation at a substantial discount to its electric counterparts. As further advancements made gasoline-powered cars increasingly convenient, the EV platform was quickly abandoned, and not to be revisited seriously until TSLA entered the scene.
The eventual success of Tesla stock resulted from a primary vulnerability of fossil-fueled autos — dependence on crude oil. That not only drew the ire of price-gouged drivers, it also directly shed human blood. World wars have been fought over oil. And it's absolutely no conspiracy to say that much of our foreign policy is centered on "black gold."
I'm not suggesting that Tesla stock is some kind of philanthropic investment. Rather, TSLA is an investment in the future that has been a long-time coming. Anybody that's anybody — Alphabet Inc (NASDAQ:GOOG, GOOGL), Microsoft Corporation (NASDAQ:MSFT), Amazon.com, Inc. (NASDAQ:AMZN) — are all gearing up aggressively for digitization and "next-gen" computing. To assume that our transportation mechanisms will continue to be tethered to archaic fossil fuels is to believe in the flat earth.
I would go so far as to say that the bear case for Tesla stock should only be limited to a clearly defined framework. Otherwise, TSLA is one of the few investments I confidently trust.
Fears Surrounding Tesla's Viability
That's not to say that Tesla isn't without faults. From a gut reaction, shares are pricey. After all, Tesla stock was trading for around $30 a pop four years ago. At well over $200 today, that's a big percentage and psychological jump. Naturally, investors will question whether they've missed the boat.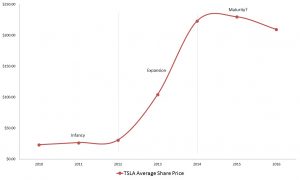 Click to Enlarge Drawing up a long-term technical chart of Tesla stock does not help matters. When assessing the publicly traded history of TSLA stock, you can't help but notice a sharp resemblance to the business S-curve.
In short, the S-curve is a graphical representation of the three main phases of a business or industry — infancy, expansion and maturity. The concern here is that Tesla stock has gone through an accelerated version of the S-curve, and is now sitting in the maturity phase.
Adding to those fears are the financials. Let's be honest — they don't look great. Free cash flow is always running in the red, profitability margins are stressed and Tesla stock is overvalued against forward earnings. Short interest for TSLA stock has also increased significantly since the second-half of this year.
Finally, as awesome as these folks are, they're not immune to making dumb mistakes. The buyout of SolarCity is an embarrassing example.
Moving Forward With Tesla Stock
Listen — Tesla stock isn't for everybody. But I'd like to leave you with this last statistic. Presently, everyone is talking about the EV revolution — which TSLA helped catapult — as if it's unprecedented. Yet the market penetration for EVs is only 3%. The mass excitement centers around forecasts calling for 7% penetration by the year 2020.
That's nice, but that's just scratching the surface. Assuming the forecast is accurate, that's only a quarter of what was achieved in 1900. With technology advancing at a clip rate, it's more likely than not that TSLA will end up on the right side of history.
The bottom line here is to not let the bumps in the road dissuade you from Tesla stock. It's risky, it's pricey, but it has all the right components working in its favor.
As of this writing, Josh Enomoto did not hold a position in any of the aforementioned securities.