U.S. equities moved lower again on Tuesday as General Electric Company (NYSE:GE) — one of the largest and best-known stocks in the market — fell another 5.9% after announcing a dividend cut this week as investors lose faith in the plan by new management to streamline the industrial conglomerate. Shares lost more than 7% on Monday.
In the end, the Dow Jones Industrial Average lost 0.1%, the S&P 500 lost 0.2%, the Nasdaq Composite lost 0.3% and the Russell 2000 lost 0.3%. Treasury bonds were stronger with more curve flattening, the dollar was under pressure, gold gained 0.3%, and crude oil fell 1.9%.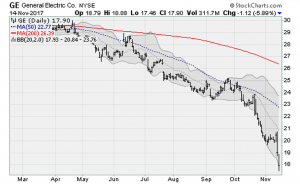 Click to Enlarge Breadth was negative, with 1.5 decliners for every advancing issue with volume in-line with the NYSE's 30-day average. Utilities led the way with a 1.2% gain while energy was the laggard, down 1.6%.
Buffalo Wild Wings (NASDAQ:BWLD) gained 24% after the WSH reported the company received a $2.3 billion takeover offer valuing the company at $150 a share (a 28% premium to Monday's close) from private equity firm Roark Capital.
Advance Auto Parts, Inc. (NYSE:AAP) gained 15.9% after Q3 earnings and margins beat estimates on light revenues. Jack in the Box Inc. (NASDAQ:JACK) gained 4.4% on a 1.3 million share position initiation by Jana Partners.
On the downside, Dick's Sporting Goods Inc. (NYSE:DKS) lost 4.8% after reporting better-than-expected earnings and revenues on a 3% decline in gross margins on heavy promotional activity. TJX Companies Inc. (NYSE:TJX) lost 4% on flat comp-store sales. And grocer Supervalu Inc.(NYSE:SVU) lost 3.5% after Goldman Sachs initiated coverage with a sell rating on intense competitive pressures, high prices, and underinvestment in stores.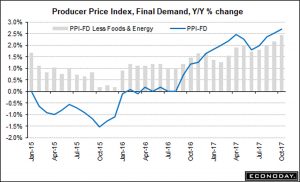 Click to Enlarge On the economic front, the big news was a pickup in producer price inflation with the year-over-year rate increasing to 2.8%. That's the highest since February 2012. And it's a worry for the market — as inflation is the kryptonite of the central bank bubble — since it will encourage a more aggressive pace of policy tightening from the Federal Reserve.
An update on consumer prices will be released on Wednesday.
And finally, machinations continued surrounding the tax reform legislation working through Congress with an ongoing focus on the level of corporate taxation, the fate of the state and local tax deduction, and whether Obamacare's individual mandate will be killed.
Conclusion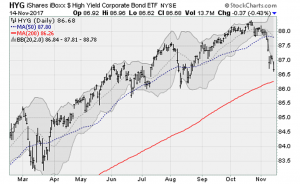 Click to Enlarge High-yield credit took it on the chin again today, with the iShares High Yield Corporate Bond ETF (NYSEARCA:HYG) falling another 0.4% to hit levels not seen since August amid concerns about higher inflation, higher default rate, and higher interest rates.
Equities have disconnected from this action in credit, with multiple mid-day ramps in stocks that look artificial: Focusing on selling the CBOE Volatility Index and the Japanese yen, encouraging machine-trading buying.
A hot CPI inflation report would likely force stocks to stop the charade, and correct down to high yield bonds. As a reminder: It's been more than a year since the last major market pullback. We're way overdue for a bout of panic selling.
Check out Serge Berger's Trade of the Day for Nov. 15.
Today's Trading Landscape
To see a list of the companies reporting earnings today, click here.
For a list of this week's economic reports due out, click here.

Tell us what you think about this article! Drop us an email at editor@investorplace.com, chat with us on Twitter at @InvestorPlace or comment on the post on Facebook. Read more about our comments policy here.
Anthony Mirhaydari is the founder of the Edge (ETFs) and Edge Pro (Options) investment advisory newsletters. Free two- and four-week trial offers have been extended to InvestorPlace readers.