U.S. equities finished mixed on Wednesday as the GOP's tax reform legislation continues to work its way through the legislative process. Like sausage making, best not to look too closely.
There were plenty of fireworks to witness, with tech stocks getting hammered in what looks like rotation selling run amok, with the "FAANGs" and semiconductor stocks (leading issues for the market in 2017) suffering their worst falls in months.
Bitcoin was wild, rising above $11,000, dropping to an $8,000 handle, then closing with a modest recovery. Other dynamics included rising talk of a possible government shutdown and yesterday's North Korean missile launch.
In the end, the Dow Jones Industrial Average gained 0.4%, the S&P 500 lost a fraction, the Nasdaq Composite lost 1.3% and the Russell 2000 lost 0.4%. Treasury bonds were weaker, the dollar gained, gold lost 1%, and crude oil fell 1.2% ahead of tomorrow's OPEC production-cut meeting.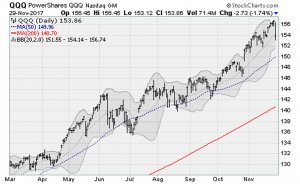 Click to Enlarge Breadth was mixed and volume heavy, with NYSE activity at 113% of its 30-day average. Defensive telecom stocks led the way with a 2.7% gain while technology was the laggard, down 2.6%.
Chipotle Mexican Grill, Inc. (NYSE:CMG) gained 5.6% after it announced founder Steve Ellis will step down from the CEO position — opening the door for fresh ideas and new management.
Domino's Pizza, Inc. (NYSE:DPZ) gained 4% after being upgraded to buy at Nomura citing valuation tailwinds. And Regal Entertainment Group (NYSE:RGC) gained 2.8% after it confirmed it is in discussions to be acquired.
On the downside, there was plenty of red in the tech space with Alphabet Inc (NASDAQ:GOOG, NASDAQ:GOOGL) down 2.4%, Facebook Inc. (NASDAQ:FB) down 4%, Amazon.com, Inc. (NASDAQ:AMZN) down 2.7% and Microsoft Corporation (NASDAQ:MSFT) down 1.8%.
On the economic front, Federal Reserve Board Chair Janet Yellen appeared before Congress' Joint Economic Conference where she talked up the strength of the U.S. economy, continued to ponder "subdued" inflation and said that higher interest rates were warranted to prevent financial market overheating.
Watch for more on taxes later today with the Senate expected to open 20 hours of debate on the bill with multiple amendments proposed. Recent discussions have focused on things like a revenue "trigger" to raise taxes if economic growth doesn't perform as hoped, increased relief for small businesses, and more.
Conclusion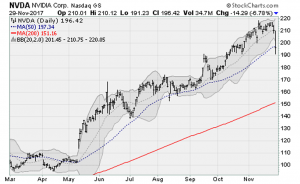 Click to Enlarge Feel that? It's volatility.
Major moves in both directions today, with tech obviously a loser but others such as transportation stocks enjoying a lift. Possible end-of-year position squaring underway. In fact, it was the best day for the Dow Transports since November 2011.
The calm, easy gains the bulls have enjoyed since last November seem to be ending. This is put-up-or-shut-up time for President Trump and Republicans in Congress, with no major legislative progress accomplished but the market inflated on expectations for tax cuts, infrastructure spending, and more.
Moreover, with GDP surprising to the upside the Fed is on track for another rate hike this month and more tightening in 2018.
Most likely outcome at this point: A narrow defeat for the GOP tax bill, based on prediction market odds, combined with a Fed hike and a possible government shutdown heading into the holiday break.
All this, combined with the fact the market hasn't suffered a major pullback in more than a year, means prices are fragile and sentiment is ripe for a bout of fear and panic.
Check out Serge Berger's Trade of the Day for Nov. 30.
Today's Trading Landscape
To see a list of the companies reporting earnings today, click here.
For a list of this week's economic reports due out, click here.
Tell us what you think about this article! Drop us an email at editor@investorplace.com, chat with us on Twitter at @InvestorPlace or comment on the post on Facebook. Read more about our comments policy here.
Anthony Mirhaydari is the founder of the Edge (ETFs) and Edge Pro (Options) investment advisory newsletters. Free two- and four-week trial offers have been extended to InvestorPlace readers.