Deal or no deal, the force is largely on the side of Walt Disney Co (NYSE:DIS) investors off and on the price chart. As with any epic battle though, it pays to choose the right weapon to guard against the villainous threats. And in Walt Disney stock, that means the clever use of the butterfly spread, which appears well-suited for the occasion.
Let me explain.
DIS stock has been on a tear the past month since buzz of merger talks with Twenty-First Century Fox Inc (NASDAQ:FOX, NASDAQ:FOXA) turned into corporate vows of "I do" for a reported $52.4 billion in an all-stock transaction.
The deal would be another feather in the quiver of Disney's vast content library and continue to widen the gap between the company and its media rivals. But while a happy ending is expected, dilution, debt and 'The Donald' are minor threats Disney stock now faces.
Regarding the last prickly enemy, 'The Donald' isn't a reference to the cartoon character Donald Duck. It's the regulatory red tape of the Trump administration, which has shown a willingness to block mega mergers like AT&T Inc. (NYSE:T) and Time Warner Inc (NYSE:TWX), as well as T-Mobile US Inc (NASDAQ:TMUS) and Sprint Corp (NYSE:S).
But as InvestorPlace's Will Healy noted on Tuesday, Disney remains well-positioned for the long-term to prosper regardless of how the deal plays out. And if traders take a look at the DIS stock price chart, "the force" appears to be manifesting itself within Disney's bullish investors.
Walt Disney Stock Daily Chart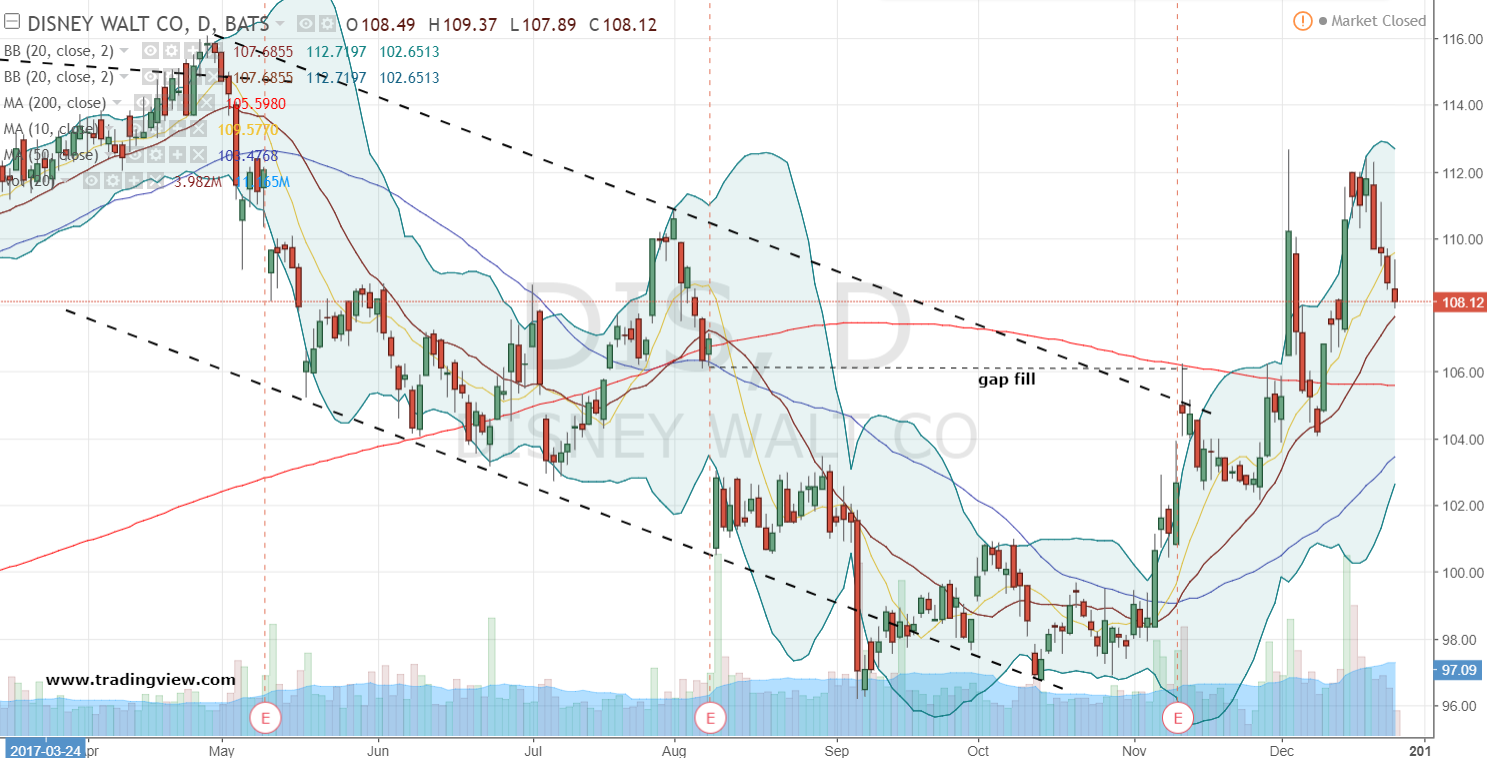 It has been just over a month since I last wrote about Disney stock — and technically speaking, bullish investors no longer need a wish upon a star to request better days ahead, but simply look to the DIS stock price chart for staunch support.
Bottom-line, after surging out of a consolidation pattern in late November, bulls have continued to build the case for Disney stock by breaking above key channel resistance, then clearing the 200-day simple moving average to enter bull territory and lastly, building a new uptrend with a series of higher highs and lows.
Disney Stock Bullishly Positioned Long Butterfly
Last month, I outlined a simple out-of-the-money bull put spread. The position offered a way to collect income with limited-risk exposure, while enjoying a worst case scenario discounted purchase price of $99.30 in Disney stock. The passage of time and firmer share price has allowed the vertical to collapse to 5 cents and net the position a nice 65 cent profit.
Looking at Disney's options board Monday evening and shares in a stronger technical position, but also not expected to simply surge higher by leaps and bounds, I like a moderately bullish-positioned long call butterfly. One favored combination is the February $110 / $115 / $120 call butterfly for 90 cents.
The spread offers an attractive profit range from $110.90 to $119.10 with a maximum payout of $4.10 if shares landed squarely at $115 on expiration in February. And for less than 1% DIS stock risk, the butterfly allows bullish traders to keep the proverbial powder dry to buy stock at lower prices, should a simple pullback turn a bit deeper and longer within the existing uptrend.
Disclosure: Investment accounts under Christopher Tyler's management do not currently own positions in any securities mentioned in this article. The information offered is based upon Christopher Tyler's observations and strictly intended for educational purposes only; the use of which is the responsibility of the individual. . For additional market insights and related musings, follow Chris on Twitter @Options_CAT and StockTwits.