It may not fully own the title of being the next "blockbuster" for bears, but other investors are betting that way in GameStop Corp. (NYSE:GME). Backed by hard-to-ignore trends off and on the GME stock chart, this strategist believes it's time to join the "dark side" with a reduced and limited-risk bear put spread.
Back in 1981 the song, "Video Killed The Radio Star" launched MTV, the first 24-hour video music channel. The cable station was a huge deal. And as a teenager at the time, I have no problem saying I loved the new cutting-edge medium artists such as Rod Stewart and Duran Duran brought to the forefront of the music industry. Those days are long since gone, of course.
In today's world, a timely update of The Buggles song would tell the tale of how streaming video on demand, or SVOD, has crushed the now old technology of digital discs. The once massive Blockbuster video rental chain has been the biggest loser of this seismic shift in the past few years. And now the trend is quickly catching up with GameStop stock off and on the price chart.
Bottom line, investors believing GME stock is different as evidenced by its recent earnings beat — or maybe because gaming enthusiasts can use GameStop's trade-in policy to exchange used games for new ones at a discount — are still and at the end of the day, fighting a losing battle in an industry that has changed as virally as radio once MTV came along.
GME Stock Daily Stock Chart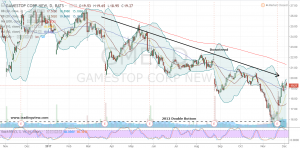 Click to Enlarge Hope springs eternal when it comes to meaty double bottom patterns. And GME stock's recent version of this timeless classic, and more than five years in-the-making, proved its worth.
However, following a strong gain and in appreciating the bearish 33% short interest in shares, I'm inclined to go with the other obvious trend on the price chart and that backs the other bearish force GME stock faces with technology.
GME Stock Bear Put Spread
Reviewing GameStop stock's options and shares at $19.27, the use of a bearish out-of-the-money vertical is favored. This preference is due to the spread's ability to reduce and limit risk to a defined amount while offering terrific profit potential and flexibility to adjust along the way.
One combination that looks attractive is the April $16/$13 put spread for 25 cents. The price keeps risk at about 1.5% compared to shorting GME outright. This acts as a nice insurance policy in the event that we're wrong about the company's ultimate path.
Bottom Line on GME Stock
Looking forward and lower, if we're somewhat correct on GME stock declining in price by April expiration, the vertical is stationed nicely for a breakdown of the current bottoming pattern.
Essentially this spread breaks even on a retest at expiration, but could do a good deal better in building up profits if the move occurs sooner rather than later. If the bears really turn GME stock back into a "game-on" type situation, a non-adjusted max payout of $2.75, below $13 a share in GameStop, would buy a lot of SVOD games for the kiddos.
Disclosure: Investment accounts under Christopher Tyler's management do not currently own positions in any of the securities or their derivatives mentioned in this article. The information offered is based upon Christopher Tyler's observations and strictly intended for educational purposes only; the use of which is the responsibility of the individual. For additional market insights and related musings, follow Chris on Twitter @Options_CAT and StockTwits.