GoPro Inc (NASDAQ:GPRO) is beginning to look like the market's temptress. At one point, the long-embattled action-camera maker was up 32.5% in 2017. But after contextually disappointing sales results and lingering doubts about staying relevant, the GPRO stock price quickly tanked. Currently, GPRO shares are down nearly 1% for the year, a far cry from just a few months ago.
I was earnestly hoping that GoPro would turn itself around. GPRO stock looked like it had hit an all-time bottom this year.
In July, shares stabilized in a relatively tight trading range. Suddenly, near the beginning of August, shares skyrocketed to the moon. Another burst in September gave the impression that management finally found the right formula.
But a painful drop in October, followed by further negative confirmation in November, left the GPRO stock price treading water.
As InvestorPlace contributor Ian Bezek noted, although GoPro posted outstanding numbers on paper for its third quarter earnings report, the company downgraded guidance for Q4. That didn't impress Wall Street, which wanted GoPro to maintain its momentum after a long dry spell.
For the record, Bezek remains optimistic about GPRO stock, and I don't disagree with his reasoning. He states that GoPro is a "great brand." To back up his claim, he writes, "It clocks in with more than 13 million followers on Instagram, 10 million on Facebook, Inc. (NASDAQ:FB), and 5 million plus on Alphabet Inc's (NASDAQ:GOOG, NASDAQ:GOOGL) YouTube."
Another underappreciated factor is the company's potential takeover, with Bezek mentioning Apple Inc. (NASDAQ:AAPL) as a "natural acquirer."
While valid points, management needs to parlay these advantages into reasserting its brand. Years ago, no one could get enough of GPRO, striking fear into companies like Sony Corp (ADR) (NYSE:SNE). Today, GoPro seems like an afterthought. Can it regain its mojo?
Product Woes Dog GPRO stock
Immediately, I see two problems that will stymie the consumer tech firm's progress. First, the action-camera market, though putting up better-than-expected sales figures, is saturated. Furthermore, that trend will likely heighten in the future. Thus, in order for GoPro to leverage its first-to-market advantage, it needs to stand out against the competition.
Unfortunately, the company is standing out for all the wrong reasons. Its latest Hero6 camera, according to multiple user complaints, is extremely buggy and underperforms in critical functions. This flagship camera retails for $500, which is pricey for a specialized device (when it actually works).
Will GoPro branding be enough for consumers to flock to the Hero6? At this point, I'm hesitant to say yes. Between 2010 to the end of 2014 was the action camera's "sweet spot." Unit wise, action cameras' global sales growth rates averaged 154.5%. But in 2015 and 2016, average sales growth dipped to 31.4%.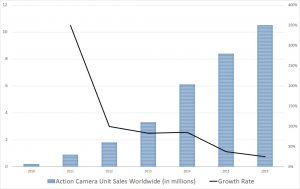 Click to EnlargeIs it any coincidence that the GPRO stock price had its best year in 2014? I think not.
The second problem is GoPro's Karma drone. Like its Hero lineup, I anticipated that fans would eagerly buy into the company's foray into drones. I was wrong. From both user and professional reviews, I gather that the Karma isn't half bad. Obviously, though, half bad isn't going to cut it.
In this sphere, I'm worried about competition from DJI and its flagship Mavic Pro. Not only has the Mavic Pro proven to be the better product, it's also cheaper feature for feature. The only way buyers get a discount on the Karma relative to the Mavic Pro is if they already have a compatible GoPro camera.
Given all this information, I don't blame traders for dumping GPRO stock.
Speculate on GPRO Stock at Your Own Risk!
The safe bet is to avoid GPRO stock. GoPro is a vibrant company with an exciting brand. Unfortunately, it is losing its relevance. It may also be too big considering that it's losing its grip in its core market.
However, if you can stomach the risk, the GPRO stock price may indeed have hit bottom. I'm just basing this on the fact that shares have yet to breach prior lows. And to Bezek's point earlier, this stability at low prices makes GoPro all the more attractive as a buyout.
Just be careful speculating too heavily on GPRO stock. During the late summer months, Rite Aid Corporation (NYSE:RAD) — which itself received buyout attention — appeared to hit a bottom. However, the bottom fell out in late September. So just because you think you see an absolute low doesn't mean that it will hold.
As of this writing, Josh Enomoto is long SNE.