It's been a tough year for J C Penney Company Inc (NYSE:JCP), which is down 63% in 2017. Given the woes in retail this year, some investors may be surprised by the fourth quarter strength in the sector. The JCP stock price has been no exception, rallying 14% this quarter. At its highs, its quarterly gains were 30%. Is the bottom in for JCP?
Unfortunately, I don't think so. Materially speaking, Nothing has changed at JCPenney to warrant the rebound in its share price. While JCP is no Sears Holdings Corp (NASDAQ:SHLD), it's still not a safe buy-and-hold stock.
A Closer Look at JCPenney
Is JCPenney heading toward bankruptcy? I hate to throw the "B-word" around, but it's possible. Retail has been going through monumental changes at a very rapid pace. Those that have failed to adapt — Toys "R" Us, Radio Shack, HHGregg, Payless Shoes — were forced into some sort of bankruptcy protection in an effort to restructure.
If JCPenney doesn't file for bankruptcy protection, I would imagine some sort of restructuring will ensue. How could it not? The retailer continues to bleed as its net income has been negative for years. The one exception? Last year, when it generated a measly $1 million in net income.
On the plus side, though, analysts expect positive earnings per share this year and next year, albeit barely. Further, JCP does have positive free cash flow, generating $120 million in free cash flow over the past 12 months. That said, JCP is still carrying $4.25 billion in long-term debt, while trading with a market cap just south of $1 billion.
In a nutshell, Amazon.com, Inc. (NASDAQ:AMZN) and the rest of e-commerce continues to make life difficult for retailers. Further, it fuels competition within the sector. Macy's Inc (NYSE:M), Kohl's Corporation (NYSE:KSS), Target Corporation (NYSE:TGT) and others are adapting to the new world of retail and bolstering their omni-channel operations. JCP is trying too, highlighted by its recent partnership with Bombfell.
Unfortunately, I don't think it's enough, as its competition continues to squeeze the life out of JCPenney and JCP stock.
Trading JCP Stock
The JCP stock price has been in a serious downtrend for more than a year. Look no further than the 50-day moving average (blue line). This shows just how poor JCP stock has been trading in 2017.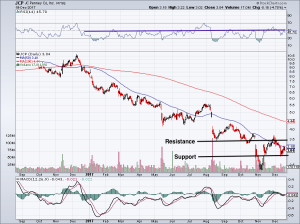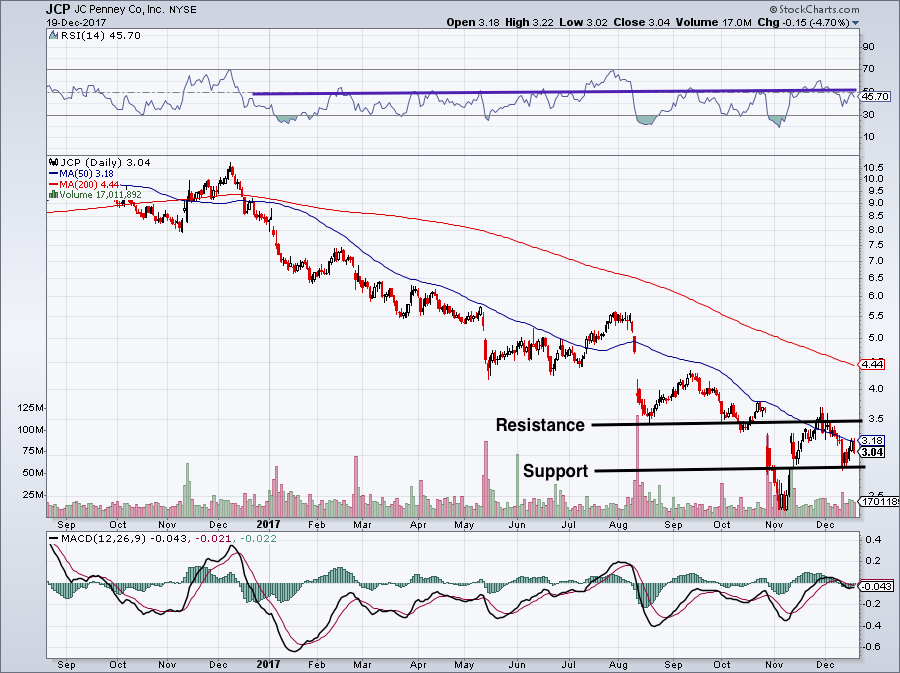 Click to Enlarge
I will point out a few things on the chart, though. First, the relative strength index (RSI) at the top of the chart (purple line) measures how overbought or oversold a stock is. In this case, we can see an RSI reading of 50 has generally been resistance for JCP stock. With the RSI currently near 50 again, JCP stock could be heading lower soon.
Further, there's support around $2.90. Bullish investors have to see this level hold. If it fails, the JCP stock price is likely to retest its lows near $2.35. If that play pans out, we're looking at a fall of about 23% from current levels.
In October, we suggested shares could hit new lows, and ultimately, they did a few weeks later. Honestly, I wouldn't be surprised to see this happen again.
Maybe the company's fourth quarter results will give JCP stock a temporary bump. But beyond the holiday season, what catalyst exists to take JCP higher? Ultimately, that's why I think JCP retesting its lows is a likely outcome.
However, for the bulls to come out on top, JCP stock needs to reclaim the $3.50 level. If that happens, then the tides may be turning. A recognizable bottom would be in place, and JCP stock may begin to move higher. We'll revisit the stock if that happens.
Bottom Line on JCP
JCP stock has no momentum, income and yield. If investors feel compelled to invest in the mall space, why not go with Macy's or Kohl's? At least these companies likely have a future. Plus, they have stronger free cash flow, better margins and dividend yields over 4%.
From a fundamental perspective, JCPenney comes up short. From a technical perspective, JCP stock isn't out of its downtrend yet. Until it is, investors need to avoid it. For those that disagree, the same bull case could have been made at $10, $7, $5 and $3. All of those prices have been hit in the past 12 months!
Simply put, short of a rally over $3.50, there's no reason to buy into JCP stock yet. Strong holiday season or not, there are too many question marks with this one.
Bret Kenwell is the manager and author of Future Blue Chips and is on Twitter @BretKenwell. As of this writing, Bret Kenwell did not hold a position in any of the aforementioned securities.