Bank stocks have been red hot to start the year and Bank of America Corporation (NYSE:BAC) is leading the way. But I think it's time to be a bit more cautious on BAC stock moving forward.
Make no mistake, I have been a big advocate of BAC since I began writing at InvestorPlace almost a year ago. The catalysts just made it far too attractive. In fact, these catalysts weren't necessarily BAC-specific. Let's be honest, the low valuation, increasing capital returns, decreasing regulations and improving banking business have been a sector-wide victory.
It shows too, with banks like Goldman Sachs Group Inc (NYSE:GS), JPMorgan Chase & Co (NYSE:JPM), Wells Fargo & Co (NYSE:WFC), Morgan Stanley (NYSE:MS), KeyCorp (NYSE:KEY) and so many others hitting new all-time highs over the past week.
So, why then is it time to bet against BAC stock? Well, it's not, really. BAC stock is not a short sale. In fact, even selling an entire position isn't necessarily wise, given that many of these catalysts still apply to BAC. I can't blame someone for taking some profits or selling a few upside calls against their position. But I simply feel that BAC stock is not a buy at current levels. Maybe I will be wrong looking back, but this cautious approach seems prudent with the market so hot right now.
A Closer Look at BAC Stock
Here's the problem with BAC stock. While many of its positive catalysts still exist, the risk-reward has shifted. The stock is up almost 40% over the past 12 months and has nearly doubled in the 14 months since the election. That's a massive move! But not one that should necessarily be sold.
Over the past year, Bank of America has generally traded with a price-to-earnings ratio (P/E) of 14 to 16. BAC stock now trades at 20 times its last year of earnings. However, on a forward P/E basis, BAC stock remains quite attractive, trading at just 13 times 2018 earnings estimates.
Although analysts are forecasting about 4% sales growth over the next two years, earnings growth should far outpace that. Estimates call for 35% earnings growth this year and another 15% in 2019. This is exactly why I've have been calling for a continuous rise in BAC stock all through the low-$20s.
BAC stock has a price-to-book value of 1.35. That's up 35% from where it was last quarter, so clearly Bank of America stock is trading at a premium. At the same time, though, the business is better, so one could argue it's worth more.
Shares yield 1.5% and that figure is sure to increase. It would be much higher if the Federal Reserve did not have such tight capital reserve requirements. I won't get into the merits of that debate; I'll only say that the banks should continue generating plenty of cash and will be upping their payouts.
Additionally, Bank of America has a large U.S. presence and should benefit from the new tax laws and an improving economy. Further, higher interest rates should also benefit BofA.
Trading Bank of America Stock
We're using a weekly 17-year chart, which may seem extreme. Admittedly, the $32 level, not seen since 2008, may no longer be relevant. But as you can tell, from 2003 through 2008, this level played a significant role in both support and resistance — and it could once again.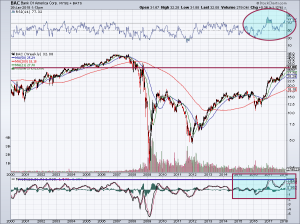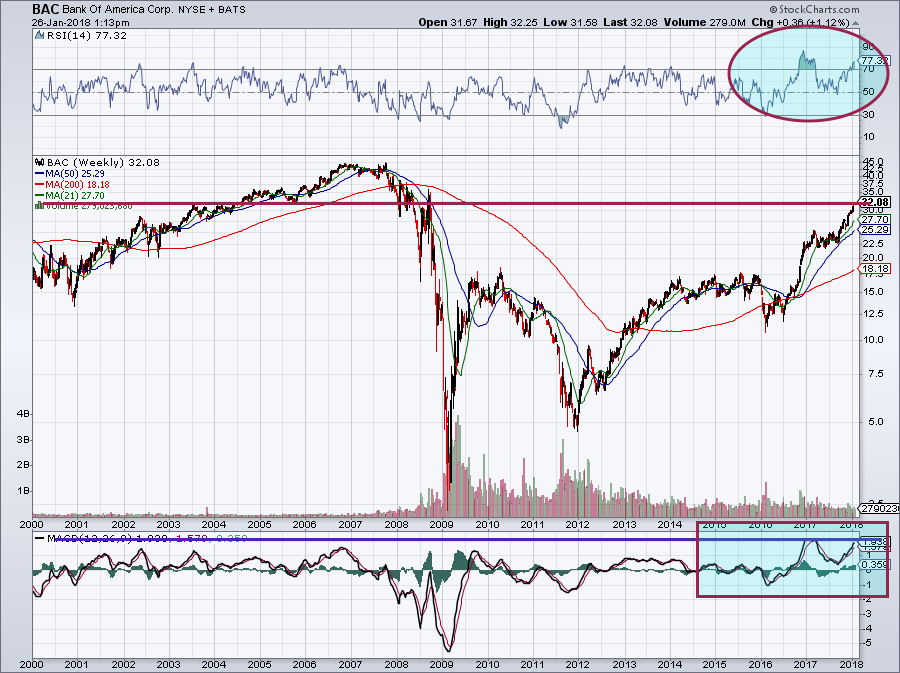 Click to Enlarge
Further, look how extended Bank of America stock has become. The Relative Strength Index (RSI) measures how overbought or oversold a stock is. A reading over 70 is considered overbought. The RSI (blue circle) now sports a reading of 77 — that's the second-highest level in 17 years.
The only time it got higher? After its massive post-election run. Note how the stock didn't go anywhere for roughly 9 months after that move as well.
Finally, there's the MACD, which measures momentum. The MACD (blue rectangle) is again approaching levels seen only once in the last 17 years. It's now approaching its post-election highs, just like the RSI.
Does this mean BAC stock will crater? No. It didn't in 2017 after a monster run. There's no reason Bank of America stock can't consolidate between $28 and $32 for the next few months or quarters. Once it chills out a bit, I would again be a buyer of BAC.
While BAC can power higher, odds are stacking against the risk/reward of buying now.
Bret Kenwell is the manager and author of Future Blue Chips and is on Twitter @BretKenwell. As of this writing, Bret Kenwell did not hold a position in any of the aforementioned securities.