[Editor's note: This story will be updated each week with new stocks and analysis. Please check back often for Mark's latest take on marijuana stocks.]
In financial markets, there are certain levels that are more important than others with regards to the amount of supply and demand that exists at them. In addition, in financial markets, prices are always doing one of three things. They are going up, going down or staying the same.
When understood and applied correctly, technical analysis of the marijuana stocks should be an illustration of these dynamics in this sector.
But technical analysis has a bad reputation and I can understand why. Most technical analysts don't seem to understand what they are supposed do. They mindlessly look at markets and try to identify patterns without understanding what they are supposed to mean.
Even worse, some analysts are proponents of strange methods like Elliot waves and Gann theory. These methods are like Bigfoot. They are fun to talk about, but they aren't real.
Knowing where the important levels are can help you profit. For example, suppose you want to buy a stock when it gets to $5 a share. If there is support at $6 and you don't realize it, the stock could drop to $6 and then rally. You would have missed a nice profit for one dollar because you didn't know about the support.
Marijuana Stocks to Watch: Canopy Growth (CGC)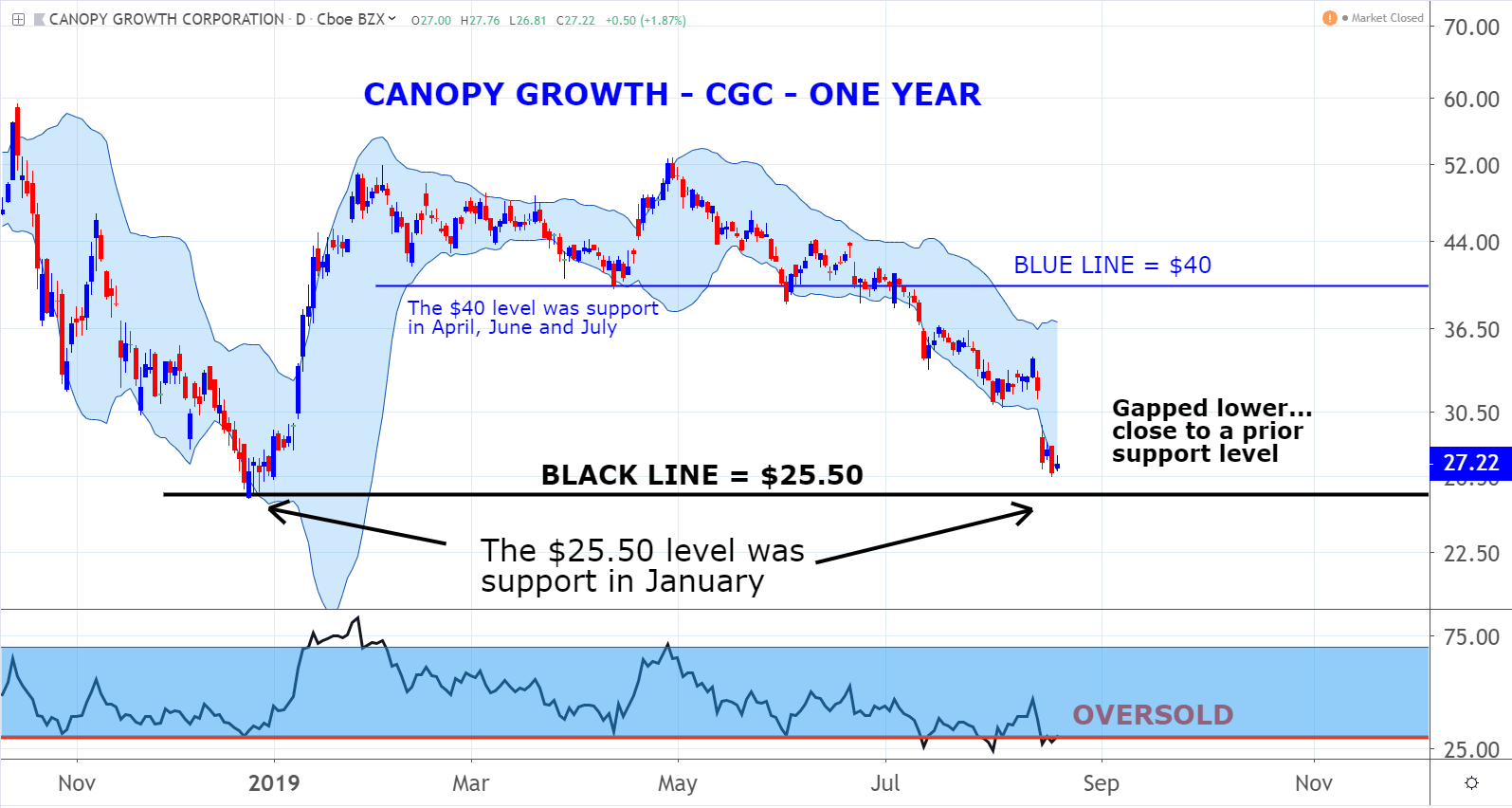 Canopy Growth (NYSE:CGC) has been trending lower since the end of April. Since then, the CGC stock share price has dropped by 50%.
Even getting rid of idealistic Co-CEO Bruce Linton didn't convince investors that things would turn around. The bottom line here is that Canopy loses a lot of money and shareholders are starting realize this. The latest earnings report showed them posting a loss of CA$257 million.
After that earnings report, the stock dropped from $32 to $28 and it has been trending lower since then.
If it trades down to the $25.50 level, it may rebound a bit. That is where it found support in December and it is currently oversold.
Cronos Group (CRON)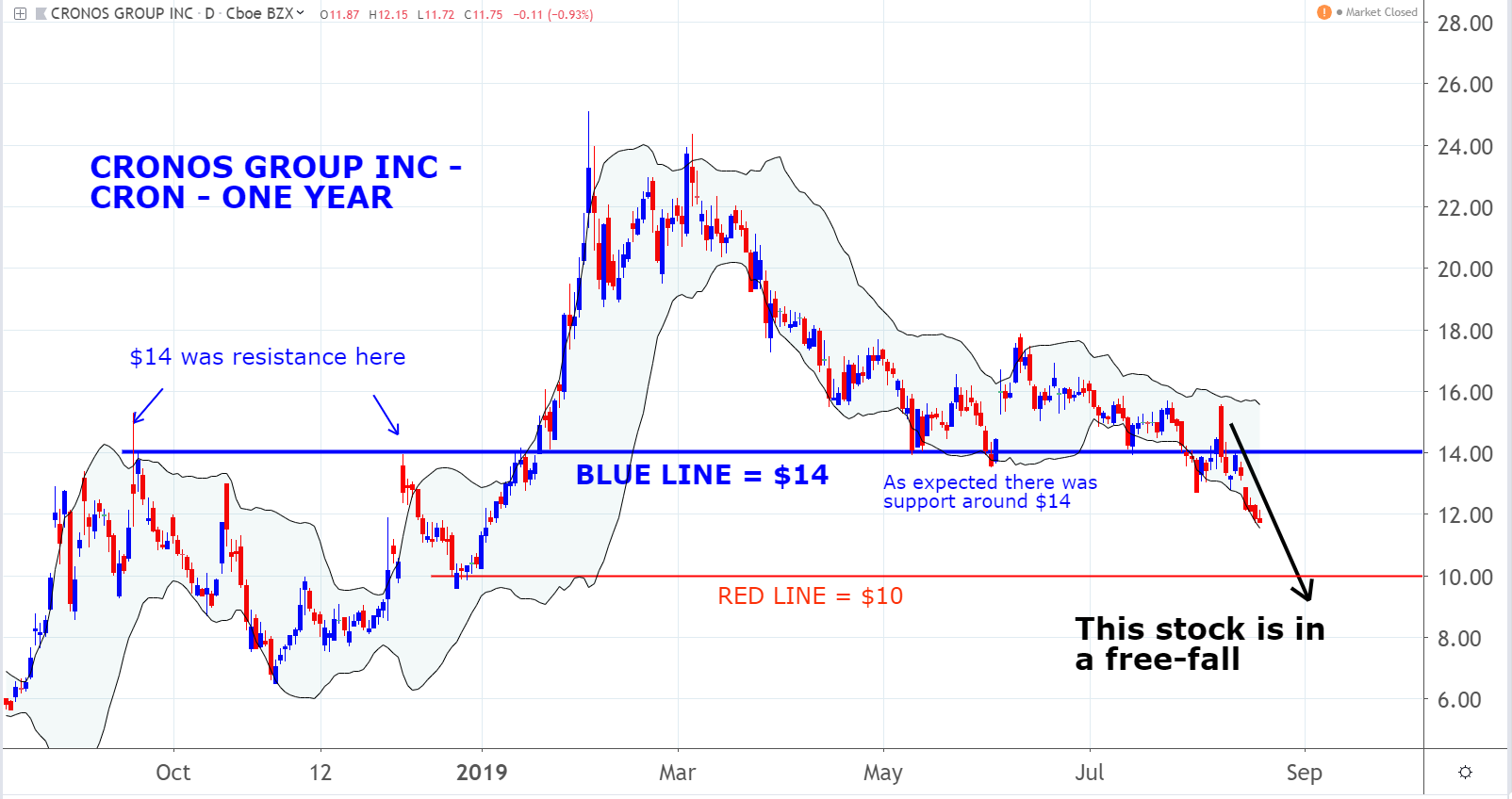 Cronos Group (NASDAQ:CRON) grows and sells marijuana.
After failing to break resistance around the $14 level, CRON stock has dropped by about 15%. It may keep going lower, because I don't see any well-defined support levels.
This stock shows how resistance levels become support and then support becomes resistance. This is an amazing phenomena that few consider.
Clearly the $14 level is important here. Those who sold it at $14 in September and December were happy when it went lower. But then, when it went higher, these sellers believe that they have made a mistake. They tell themselves that if it comes back to $14, they will buy it back. This demand will create support.
Support becomes resistance because when the stock goes lower, those who bought it at the support level are now losing money. They tell themselves that if it trades back up to the level, they will sell it to break even. This supply of stock at the level creates resistance.
Aurora Cannabis (ACB)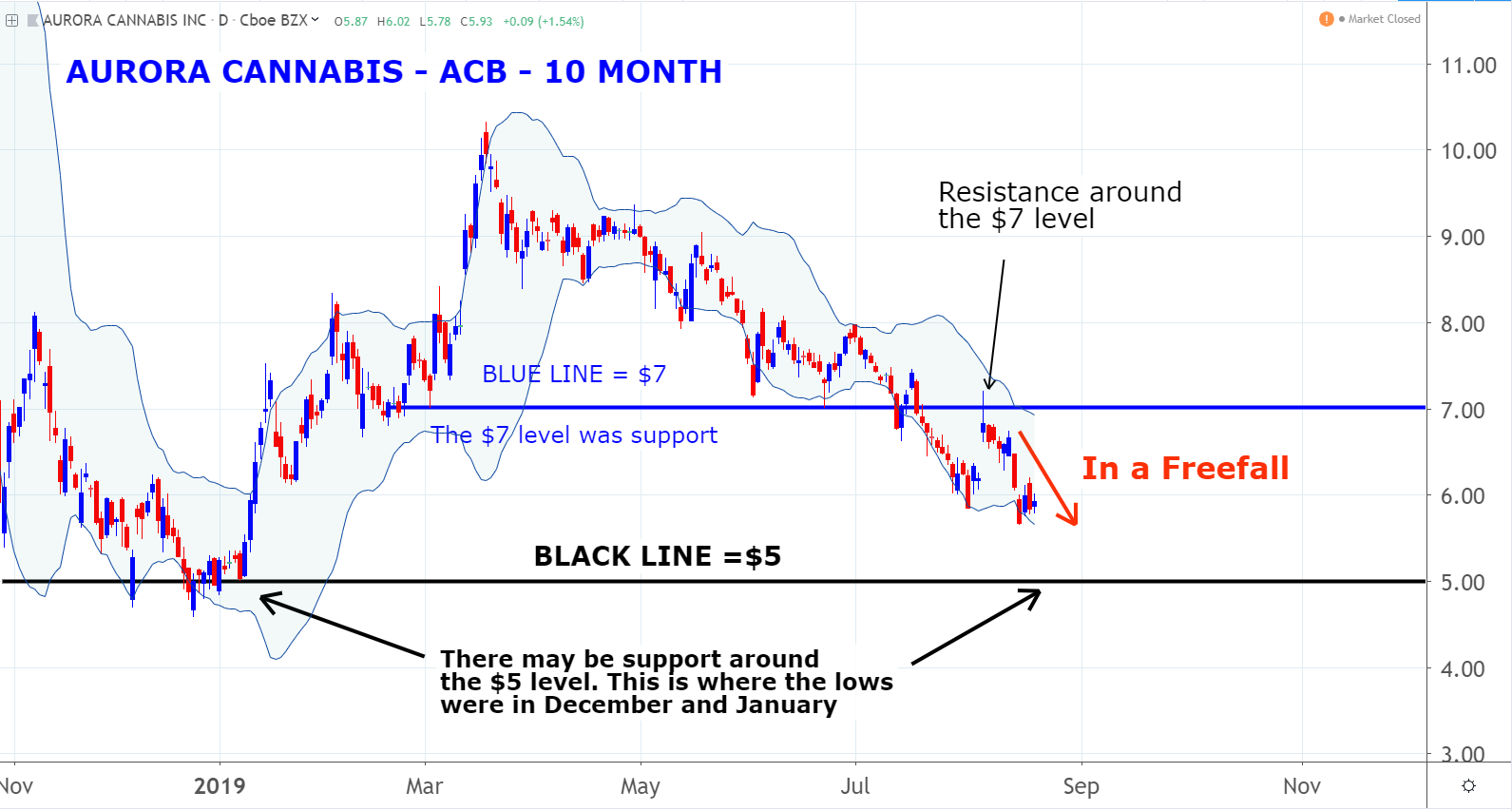 Aurora Cannabis (NYSE:ACB) is a Canadian-based company that grows and sells medical cannabis.
Since failing at resistance at the $7 level, ACB stock has trended lower. There is resistance around this level because it was support in June. It the stock rallies back to $7, that level will probably be resistance again.
If it continues to trend lower, it may find support around the $5 level. This is because this level was support in November and December.
I believe that this company will continue to have difficulties. A large part of the valuation is Goodwill and intangibles assets. This is an issue because these values are extremely hard to calculate, and companies tend to overestimate them. In my opinion that is the case here.
CannTrust Holdings (CTST)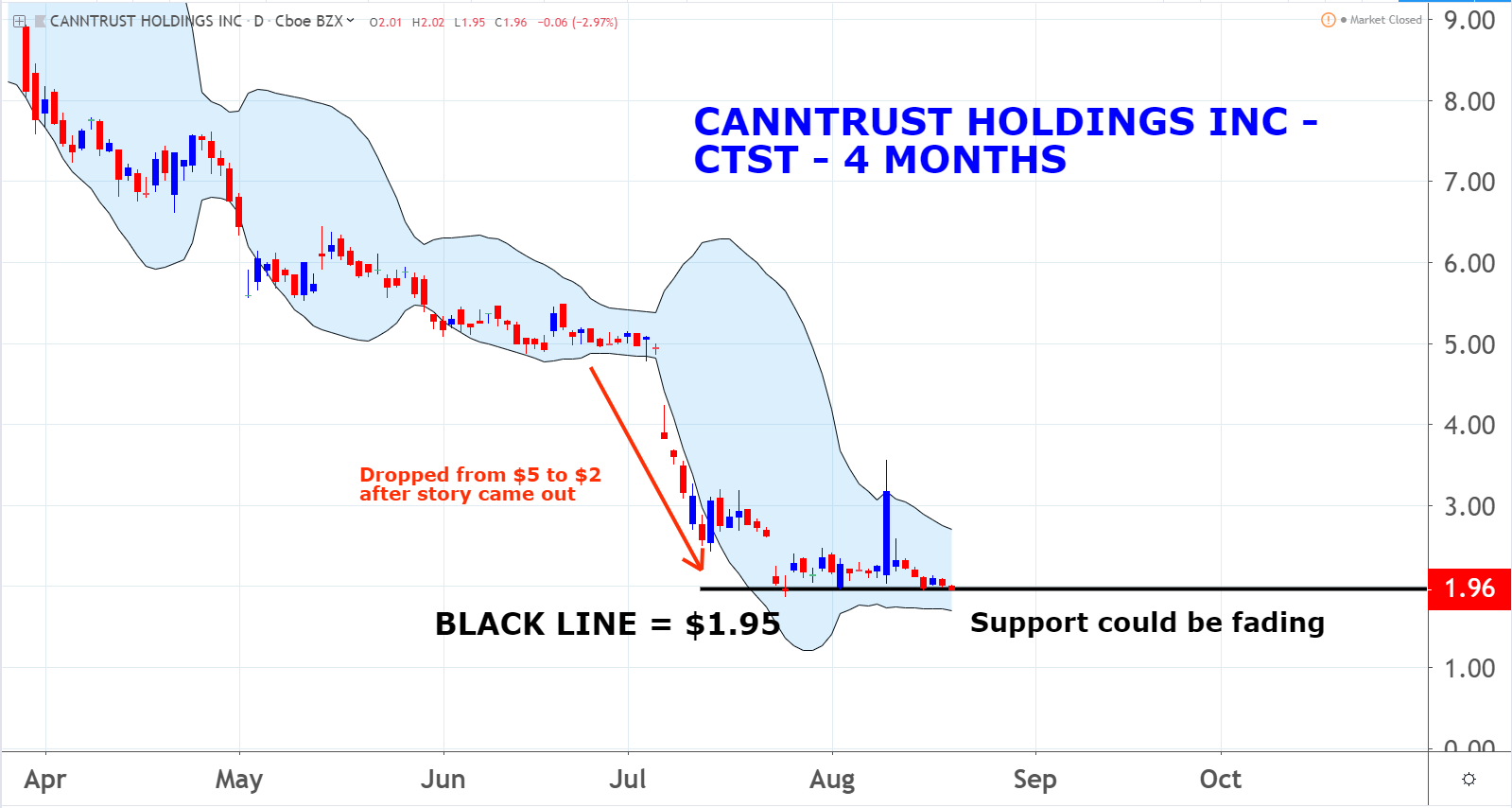 CannTrust Holdings (NYSE:CTST) is involved in the production and distribution of medical cannabis.
Over the past month, there has been support around the $2 level. However, this level seems to be breaking, and this company is facing the very real prospect of bankruptcy. It is currently undertaking a strategic review.
This company is now known on Wall Street as Can't Trust Holdings. CTST was recently found to be growing cannabis in unlicensed grow rooms that were literally hidden behind fake walls.
Even worse, not only was the senior management aware of this, they seemed to be encouraging it. We know this because they were stupid enough to put it in emails that the Canadian Authorities have seized.
Since then, the company has had to accept product returns and will soon be facing a series of lawsuits by investors who were defrauded. My guess is that other companies are also engaged in this type of illicit activity, and if so we will soon be hearing about them as well.
Aphria (APHA)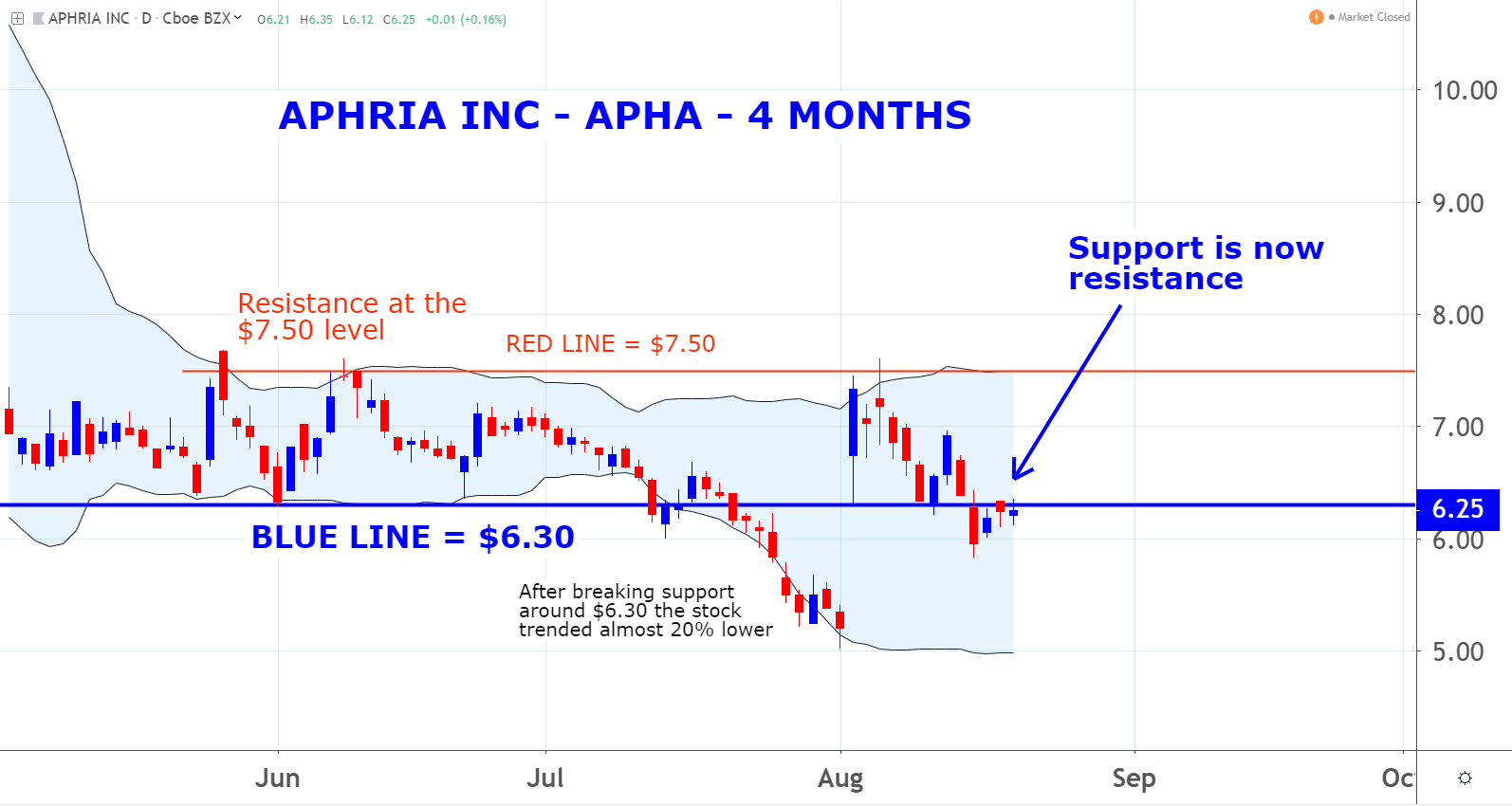 Aphria (NYSE:APHA) produces and sell medical cannabis.
Investors should watch for resistance around the $6.30 level. That is because is was a support level from May through July. Remember, those who bought it at $6.30 are losing money, so they decide to sell it if it gets back to the level.
However, this level may not be too significant, because it was recently broken to the downside before ACB stock went rallying back up through it. Once a level is broken, it can lose its some of its importance.
If it does rally, there will probably be resistance again around the $7.50 level. This level was support in May and June, and then again earlier this month when the stock rallied on what was considered a good earnings release.
Supreme Cannabis (SPRWF)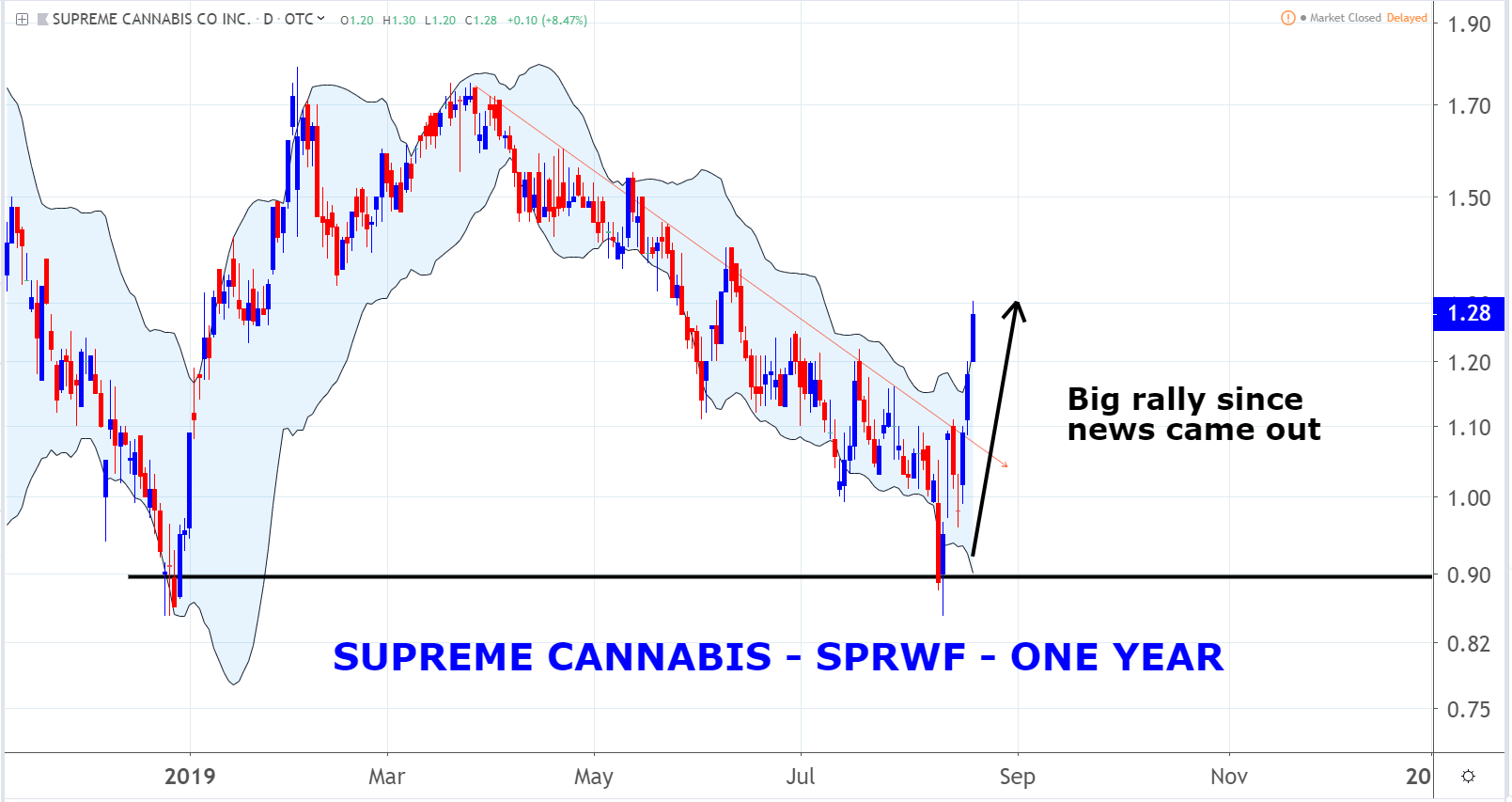 Supreme Cannabis (OTCMKTS:SPRWF) produces and sells medical cannabis.
SPRWF stock recently found support around the 90-cent level. This level was also support at the end of December.
I like this company because its cannabis is sun grown, as opposed to being grown with artificial lights. This method is cheaper and results in a higher-quality product.
The company has rallied by over 30% since updating its guidance. The numbers were very impressive. Full year 2020 revenue should be $150 million-180 million CAD. Prior estimates were around $130 million CAD.
For the fourth quarter, the company sees revenue of $19 million CAD versus $3.5 million CAD a year ago. The Street was looking for around $13 million CAD.
CURE Pharmaceutical(CURR)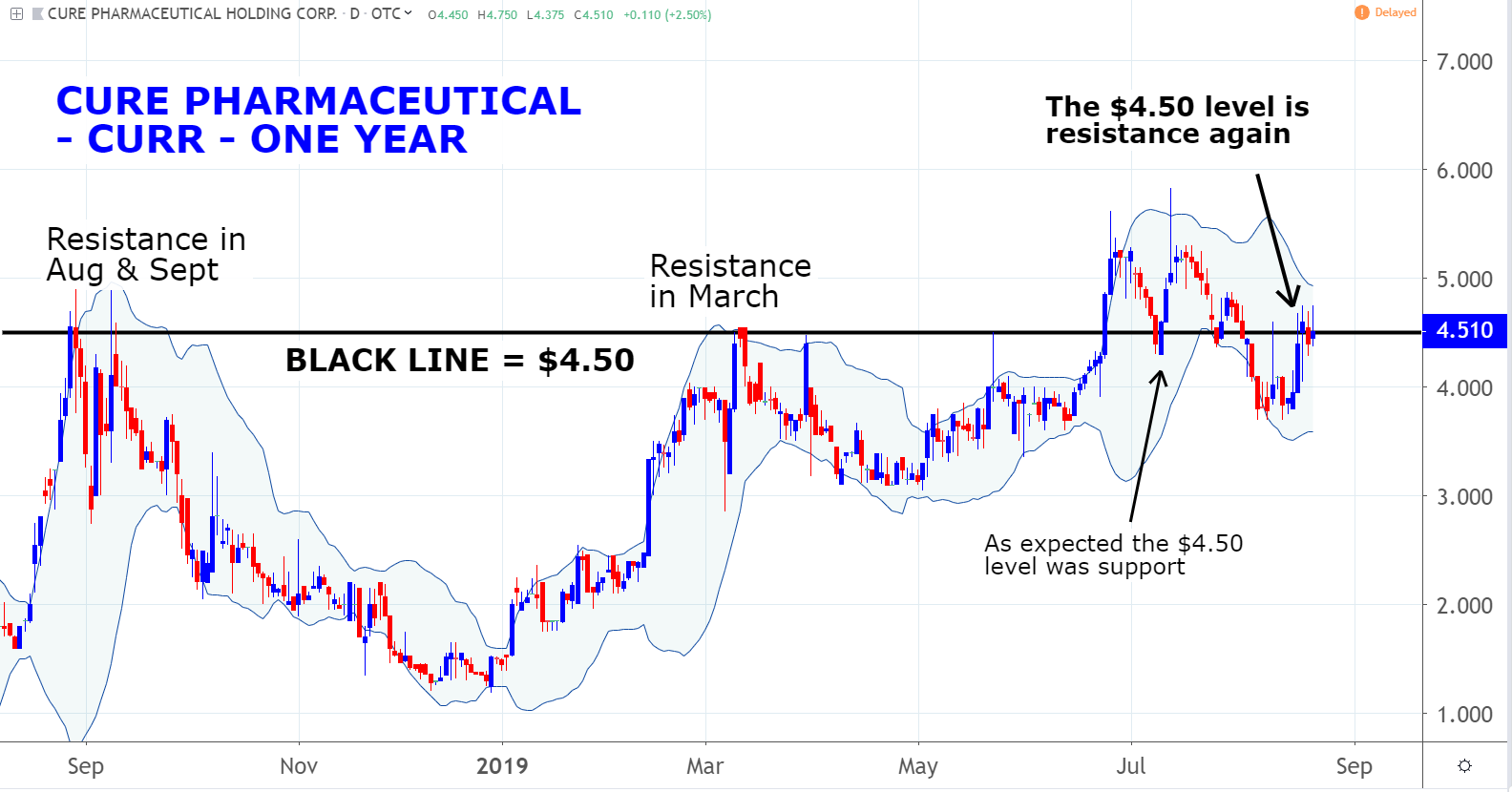 CURE Pharmaceutical (OTCMKTS:CURR) develops and manufactures drug formulation and drug delivery technologies.
You don't need to be a Market Guru or Master Trader to see that the $4.50 level is important for CURR stock. It was resistance a year ago in August and September, and then again in March.
After breaking to the upside in July, it became a support level. Now that the stock has traded lower, it has become a resistance level again.
Knowing that there is resistance at this level could help you with your trading decisions. For example, suppose you want to sell it at $5. You need to be aware that it may not get there.
Watch how the stock trades around the $4.50 level over the next few days. If it looks like its breaking to the upside, then it could get to your level and it makes sense to be patient. Conversely, if it looks like it is going to fail at this level you may want to sell it because there is a good chance it could go much lower.
As of this writing, Mark Putrino did not hold a position in any of the aforementioned securities.