You may have already taken some of what Vroom (NYSE:VRM) is selling for a test drive. But is Vroom stock best left to idle before investors make a big and always-discretionary big ticket purchase decision? Let's take a look at what's happening off and on the price chart before reviewing a risk-adjusted way to position more smartly in VRM.
Being neck deep into the novel coronavirus and its resulting social lockdown, most of us know about some of the market's success stories that have capitalized during this strange, new, socially distanced normal. Zoom Video (NASDAQ:ZM) and Teladoc Health (NYSE:TDOC) are two companies which consumers like you and me are using and whose businesses and stocks have benefited in a big way.
Another name that's now on the radar of investors and stands to profit from this trend is VRM. Vroom's stock went public in early June at a price of $22 a share.
VRM is an e-commerce platform for would-be buyers and sellers of automobiles in the U.S. The outfit is backed by Microsoft (NASDAQ:MSFT) founder Bill Gates' Cascade Investment, which owns a 7.2% stake, and also has online travel giant Priceline's former CEO at the helm to lend Vroom some solid street cred.
Hassle Eliminator
Buying, selling or trading in that old vehicle or looking for a new ride? Vroom can help. And VRM is doing that in a big way through the promise of no haggling, competitive rates, door-to-door delivery and a "7-day to decide" policy to kick the proverbial tires with no questions asked. Moreover, people are doing more than just listening to what VRM is offering.
Quarterly sales jumped roughly 60% year-over-year in the first quarter and just as stay-at-home mandates and other necessary social distancing practices were entering the equation. Sounds good, right? It is, but more importantly, VRM's e-commerce business which holds the real promise of socially distanced tailwinds grew significantly stronger with gains of 159%. What's more, e-commerce penetration of the retail auto market stands at just 16% of a total industry valued at nearly $850 billion. No question about it, that is good news.
The bottom line — or more like the lack of, since VRM is still mired in red ink — top-line growth is being realized in a big way and the potential for sizable room to build upon its business is there as well. To be sure, there is competition from the likes of a much larger Carvana (NYSE:CVNA) or CarMax (NYSE:KMX). And while either might be seen as an 800 lb. gorilla, neither is a $1.0 trillion whale, which, right now at least, Amazon (NASDAQ:AMZN) is still busy in other markets.
All told, sporting a market cap of $6.26 billion and an estimated 3x next year's sales according to one positioned analyst on Seeking Alpha, VRM looks cheap. The stock should have plenty of fuel in the tank to make investors glad they made that big ticket purchase decision. But first things, first.
Vroom Stock Daily Price Chart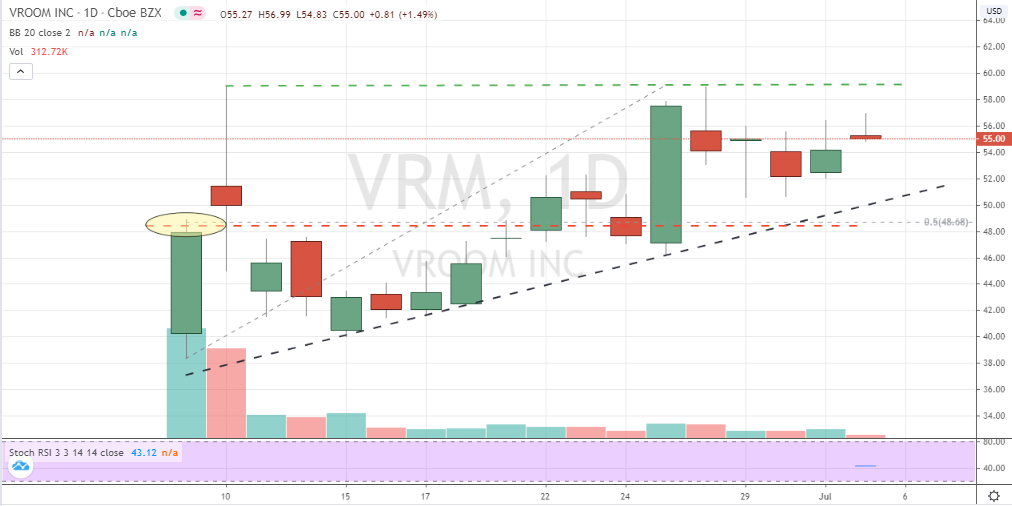 Source:
Charts by TradingView
Down the road I expect VRM will be making today's investors happy. And I've touched on some of the growth that plays into that optimism. As well, many stocks go on to provide their largest returns during the first few years after going public. That's another check mark on a list of reasons to look at shares favorably.
But as the growth-focused analysts at Investor's Business Daily stress, the value of staying patient as a stock comes onto the scene is important. VRM is no exception. The moral of the story is to wait for a stock to prove its strength by forming and breaking out of a base. If that's the case, right now investors may want to idle nearby.
Technically and after delivering more than a double to Vroom's IPO investors, shares are back where they were on day two of public company life. The volatile up-and-down price action has ultimately established a bullish ascending triangle base.
Investors looking to get on board further growth momentum off and on the price chart should be watching VRM for a breakout entry through $59. But rather than that very big ticket purchase, my recommendation would be to buy to an intermediate-dated and slightly out-of-the-money bull call spread. One such vertical which fits the bill and looks to offer a safer ride and equipped to rev up portfolios is the October $65 / $80 call combination.
Disclosure: Investment accounts under Christopher Tyler's management do not currently own positions in securities mentioned in this article. The information offered is based upon Christopher Tyler's observations and strictly intended for educational purposes only; the use of which is the responsibility of the individual. For additional market insights and related musings, follow Chris on Twitter @Options_CAT and StockTwits.