Cannabis stocks have been riding high in recent months. But when it comes to Hexo (NYSE:HEXO), does today offer a good spot for buyers to score a deal? Let's look at what's happening off and on the price chart of HEXO stock, then offer a risk-adjusted determination aligned with those findings.
It's been a fertile environment for pot investors. From top producer Canopy Growth (NYSE:CGC) to fertilizer company Scott's Miracle-Gro (NYSE:SMG), landlord Innovative Industrial Properties (NASDAQ:IIPR) or medicinal-focused Aphria (NASDAQ:APHA), it's been a swift upward trajectory for cannabis-related stocks since late October. And you can include HEXO among those beneficiaries.
Thank a prescient Wall Street. Investors collectively ignited a broad-based cannabis rally in front of November's election. With support from a Biden White House and democratic majority on Capitol Hill, the industry is in position for favorable banking legislation, broader legalization, and reform to come. But Hexo has also enjoyed company-specific news that puts the outfit in an increasingly strong position within this budding market.
This month Truss CBD, a joint venture between brewing giant Molson Coors (NYSE:TAP) and the cannabis grow outfit, rolled out its first cannabidiol (CBD)-infused beverage in the U.S. "Veryvell" is the result of that collaboration. It's a lineup of sparkling CBD drinks now available in Colorado brick-and-mortar stores and for sale online.
HEXO's Veryvell is developed from hemp and doesn't contain THC, the psychoactive compounds found in marijuana. What's more, there's zero calories and no sugar in the sparkling beverage. And with Molson's vast distribution, consumers outside Colorado can expect to see Veryvell on a store shelfs across the country as today's increasingly receptive regulatory environment opens up further.
There's more to today's Hexo narrative as well. Stepping back just slightly while also looking ahead, HEXO stock has other items worth being upbeat about too.
A Record Q1
Last month a one-to-four reverse stock split was a necessary shot in the arm to keep shares on the NYSE based on listing policies. And that's good news? In general, a "share consolidation" of this kind isn't the type of price re-orchestration investors are happy being a part of. It means your stock has been an eyesore and has likely failed to meet share listing requirements determined by the exchange. HEXO was no exception.
Shares of HEXO traded as low as 35 cents in 2020. Further, as recent as the end of October the stock could still be purchased (with fingers pinching one's nose of course), for less than 60 cents. And that was certain trouble for remaining listed on the NYSE. But sometimes Wall Street gets it stubbornly wrong.
As InvestorPlace's David Moadel explains, Hexo's record breaking Q1 results out shortly in front of the split actually hinted at a company on solid footing financially, stock traders be damned. Now with a reverse split in hand and an even firmer technical toehold for bulls, it's time to make a play on HEXO stock.
HEXO Stock Daily Price Chart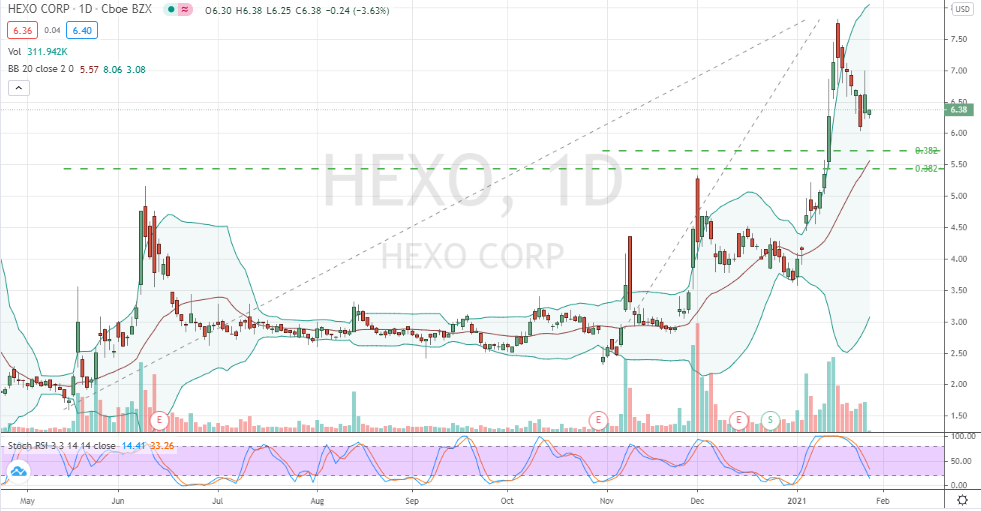 Source:
Charts by TradingView
It's not alone of course. As indicated earlier, all things cannabis-related have made hay of late. But technically, HEXO stock's emerging bull market has signaled a smaller countertrend reaction is finished. And the pattern off Hexo's January highs could be worth buying into.
Specifically, Tuesday's supportive-looking volume and price action has established a bullish candlestick pivot low following five trading sessions of lower-highs in HEXO. Some call this kind of formation a "simple pullback," as the shorter consolidation allows a stock to unwind excessive bullishness before resuming its rally.
So it's a buy, right? By pullback standards, entertaining a buy decision today in HEXO stock makes sense. What's less enticing is Hexo's stochastics indicator. It's near oversold territory, but hasn't yet flattened, or more ideally, signaled a bullish crossover. Still, life is rarely if ever perfect.
My advice? Given what's been discussed as well as the realization Hexo is a smaller company with a long road ahead of it, albeit with a strong partner in Molson Coors to help it navigate those challenges, I'd look to gain exposure using an out-of-the-money call vertical that's one to maybe a couple months out.
Bottom-line, I like what I'm seeing overall in this up-and-comer. But Hexo isn't yet the type of stock that demands our interest and money if more persistent price weakness prevails. As much, leveraged upside with very modest downside risk using this type of spread is a good fit, off and on the price chart, when it comes to HEXO stock.
On the date of publication, Chris Tyler does not hold, directly or indirectly, positions in any securities mentioned in this article.
Chris Tyler is a former floor-based, derivatives market maker on the American and Pacific exchanges. The information offered is based on his professional experience but strictly intended for educational purposes only. Any use of this information is 100% the responsibility of the individual. For additional market insights and related musings, follow Chris on Twitter @Options_CAT and StockTwits.