A year ago this week the Invesco QQQ Trust (NASDAQ:QQQ) put together one of the market's top buying opportunities of a lifetime. Today though, could QQQ stock be setting itself up as a vehicle ready to crash? Let's look at what's happening off and on the price chart, then offer a well-aligned, risk-adjusted determination for positioning.
What a difference a year can make. In 2020 on March 23, the large-cap, tech-heavy QQQ, alongside most risk assets, bottomed. But it took the prior four-plus weeks of panicked trading and a market-leading loss of nearly 31% in the index's value to get there.
It was by all accounts, one of Wall Street's more memorable, record-breaking bear market cycles.
Apple (NASDAQ:AAPL). Microsoft (NASDAQ:MSFT). Amazon (NASDAQ:AMZN). Alphabet (NASDAQ:GOOGL). Not one of the Trump's or rather the QQQ's most-heavily weighted constituents and members of the exclusive "trillion-dollar club" were spared in the carnage.
Blink and You Missed It
As anyone with money in the stock market and even those looking in from the sidelines are aware, the bottom in the QQQ also failed to last long.
Dire warnings of the technical damage done to share prices or the risk to the economy amid a Covid-19 pandemic just barely underway in the U.S., were certain to mean a long and painful process of rebuilding the stock market. But in fact, the consensus was dead wrong. And once again it was the QQQ which led the way.
Without requiring hindsight, we know "the why" behind the Nasdaq's massive relative and absolute outperformance of 43% by the time we put on our social distanced party hats on New Year's Eve. Technology, especially large-cap tech services and products made life at both home and work, which may very well have meant working from home, not only bearable, but possible and even enjoyable.
Amazon. Zoom Video (NASDAQ:ZM). Peloton (NASDAQ:PTON). More than ever, each company and others tech outfits like them, became part of the essential goods and services necessary for navigating the pandemic. Of course, and in ironic twist amid lockdown orders and much less need for getting behind the wheel, there was Tesla's (NASDAQ:TSLA) turbo-charged rally of nearly 700% that drove the QQQ even more determinedly higher.
But it's time to let bygones be bygones of what was and how we got there. Today it's time to ask the question, has QQQ gone too far, too quickly one year later with herd immunity potentially closer to home than an open invitation July 4 BBQ party?
QQQ Stock Weekly Price Chart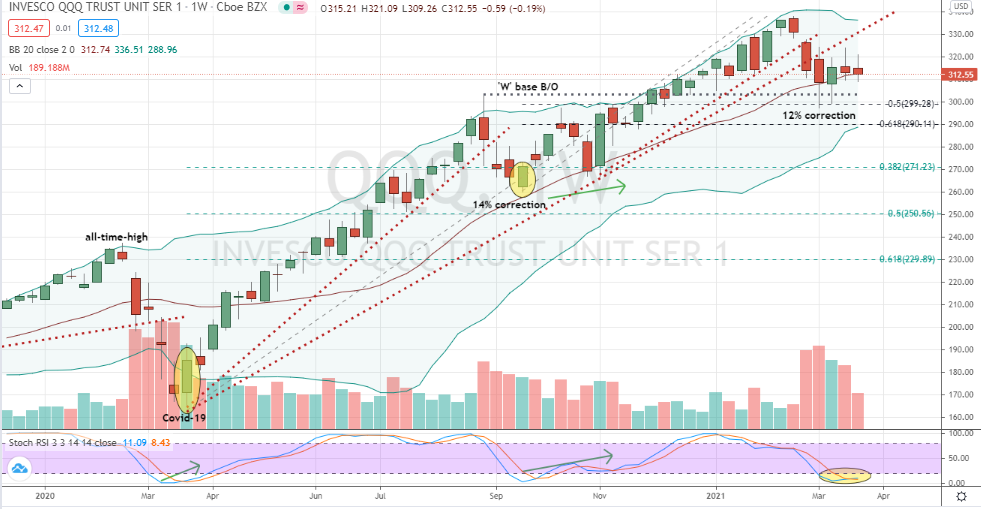 Source:
Charts by TradingView
Wall Street lore says investors can only successfully nail a bottom or a top once. But if you missed last year's historic low, now is not the time to think getting even would be a great idea by shorting the QQQ with reckless abandon.
Are multiples historically high? Yup. Are inflation fears rearing their ugly little head? Yeah. Have one or more trendlines been broken. Affirmative. Those worries aren't the entire story, though.
For one, the QQQ is working on a five-week long correction of about 12% which has found some worthwhile Fibonacci and pattern support at its recent lows. The provided weekly view of the Nasdaq shows that well enough. There's also that other market saying, "don't fight the Fed." Readers don't need me to tell them that type of government support is still very much alive and well. Then there's market sentiment.
The VIX, often referred to as the market's fear gauge, has spiked above 30% a handful of times this year. Most recently and since the QQQ hit an all-time-high on Feb. 16, it's occurred twice. And historically those kind of elevated readings above 30% have been associated with most major corrective lows in the market.
To be fair, "most" isn't all and as last March proved when the VIX spiked to 85.5% or during the 2008 – 2009 financial crisis when levels climbed to 96%. But those were also outlier events. And if you're biding your time waiting for the next similar event, chances are you'll be in for a long sit. I'd also reckon when that day or rather period of panic does arrive, given the accompanying chorus of warnings, most will fail to take the appropriate action and buy QQQ stock on weakness.
The Bottom Line
Bottom line, if you want to participate in today's more common gray-like market with a bullish or optimistic lean, the evidence is staring you in the face. If like me, however, you want to act more authoritatively on those actions, a modified collar strategy such as the '07 May $330 call / ($300/$285 put) combination with QQQ stock looks well-qualified to help investors both off and on the price chart.
On the date of publication, Chris Tyler does not hold, directly or indirectly, positions in any securities mentioned in this article.
Chris Tyler is a former floor-based, derivatives market maker on the American and Pacific exchanges. The information offered is based on his professional experience but strictly intended for educational purposes only. Any use of this information is 100% the responsibility of the individual. For additional market insights and related musings, follow Chris on Twitter @Options_CAT and StockTwits.