We're told it's building a great business for the long haul. But when it comes to Pinterest (NYSE:PINS) in today's market and based on what the stock price chart is busy crafting, PINS stock isn't head-and-shoulders above the rest. And blindly buying shares without a great defense may prove costly both near and possibly longer-term. Let me explain.
Online visual discovery platform Pinterest has a lot going for it. And the bullish narrative goes beyond the company's novel coronavirus success with people from all walks of life simply having more time on their hands to make life a bit more fun, enjoyable, and useful while squirreled away indoors.
According to InvestorPlace's Luke Lango, the story for PINS on the other side of the pandemic is that it also serves as a terrific "reopening" trade.
Pinterest's Afterlife Happily Ever After
Luke's assumption is as more people travel and plan group gatherings, Pinterest's search, and idea generation capabilities from finding wardrobe ideas to great travel destinations will help continue to drive growth for what he enthusiastically describes as a "visual Google."
And given Pinterest's broad visual-based problem-solving abilities, as well as a commanding first-mover advantage with no competition to speak of, the thesis for PINS stock to become a huge long-term winner looks extremely attractive.
The story for PINS bulls doesn't end there either.
Unlike social media peers Facebook (NASDAQ:FB) or Twitter (NYSE:TWTR), there's no fear of political or monopolistic challenges that could damage PINS stock's positive attributes. Nice, right? And if we're to lean on Luke one more time, shares could be undervalued by almost 30%. His growth modeling points at a fair value target of $90 in 2021 compared to Monday's finish of $69.38.
Bearish Custody Battle
The argument to invest in PINS obviously has its appeal. However, in the spirit of walking the aisle, Pinterest also isn't without chinks in its armor, too.
A forward price multiple of nearly 87x earnings isn't cheap. And that's what PINS investors are facing today, as well as a fairly steep price-to-sales ratio of 25x. Moreover, Pinterest's $43.6 billion valuation is even more expensive-looking given today's less-forgiving market environment that's busy compressing growth multiples after 2020's dazzling run in tech stocks.
And Pinterest's sizable return in excess of 250% this past year hasn't proven immune to the more bearish shift in sentiment and price action.
Lastly, there's Luke's $90 target in PINS stock. And unfortunately, based on what's happening right now and what's already occurred on the price chart, as we'll see below, being supportive of a long position in Pinterest shares is tough business.
PINS Stock Price Daily Price Chart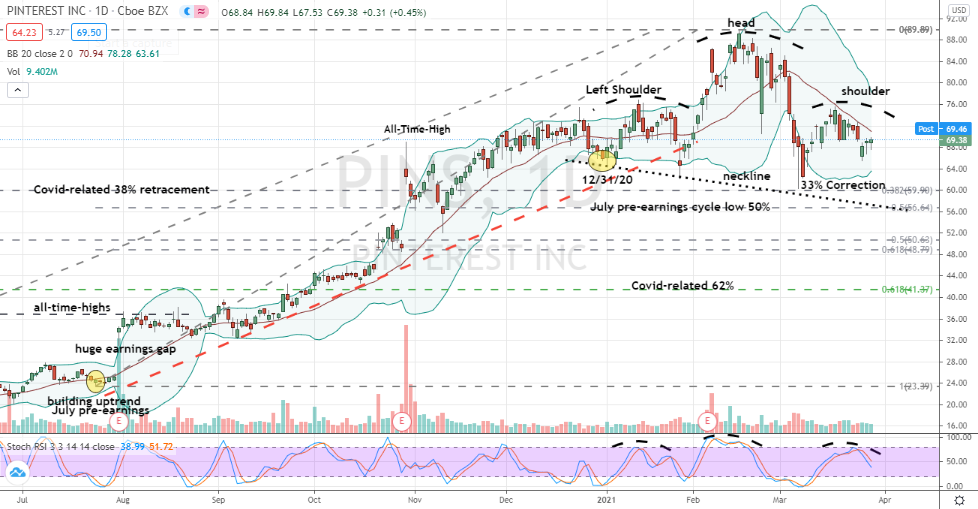 Source:
Charts by TradingView
All stocks, even the best growth stories like Apple (NASDAQ:AAPL) or an Amazon (NASDAQ:AMZN) have and will continue to see periodic corrective cycles. The good news in PINS is a haircut of 33% at this month's low is largely in keeping with corrections for a stock of Pinterest's caliber.
The bad news is during weaker market cycles, corrections, or cycle retracements as large as 62% can and often come into play. And right now, given the rotation out of higher multiple growth stocks, that possibility in PINS stock shouldn't be ignored.
Another issue is PINS price action in 2021. Shares already staged a run to Luke's $90 price target in February from a starting point of $65.90. Should we really expect another similar size rally to emerge in the coming days? While it's feasible, the technical picture is warning of something more dire as in the works.
Over the past three months, a bearish head-and-shoulders topping pattern has formed as a result of PINS' rally and subsequent correction. With the formation backed by similar pattern weakness from the stochastics indicator, a conservative measured move into the low $40's and test of PINS 62% from last March's Covid bottom looks possible.
PINS Positioning
If the mixed evidence presented hasn't dissuaded investors from being upbeat on PINS as a long-term prospect or with one's eyes gazing at a second rendezvous with $90 this year, I'd strongly suggest a hedged collar strategy.
If the PINS trend turns more friendly, this type of defined and reduced risk strategy can be adjusted over time to continue profiting from a higher share price. Even a rally that's considerably higher than Luke's target. The observation is a broken right shoulder in the near future could help with that type of reinvigorated bullish behavior.
Bottom line though, if today's pattern fears are realized, a collar will also greatly improve investors ability to buy and accumulate at even deeper value when others are finally tossing in their bedazzled towels.
On the date of publication, Chris Tyler does not hold, directly or indirectly, any positions in securities mentioned in this article.
Chris Tyler is a former floor-based, derivatives market maker on the American and Pacific exchanges. The information offered is based on his professional experience but strictly intended for educational purposes only. Any use of this information is 100% the responsibility of the individual. For additional market insights and related musings, follow Chris on Twitter @Options_CAT and StockTwits.