ChargePoint (NYSE:CHPT). It's crashed with the best of them in 2021. But does CHPT stock offer any upside fuel for today's buyers? Let's take a look at what's happening in shares both off and on the stock chart, then offer a risk-adjusted determination aligned with those findings.
It hasn't been an easy ride for CHPT shareholders the past few months. Following an electrifying rally in 2020's fourth-quarter to finish the year with returns of nearly 400%, shares of ChargePoint are off 42%. And at their recent worst in 2021, Wall Street's convinced plug pulling actions reached as much as 62%.
Without a doubt, it's been ugly. ChargePoint, of course, isn't alone in its misery. Churchill Capital (NYSE:CCIV). Fisker (NYSE:FSR). Velodyne (NASDAQ:VLDR). Blink Charging (NASDAQ:BLNK). The list for CHPT investors to commensurate with goes on and on. And it's not without cause.
CHPT Stock Faces a List of Factors
Higher interest rates. Semiconductor chip shortage fears. Nosebleed or simply incalculable valuations. A theme-based bubble that ran out of gas. Pick your choice or enjoy a combo meal. Bottom line, Wall Street's appetite for last year's must-own electric vehicle, special purpose acquisition company stocks, i.e. EV SPACs, has turned into an equally fierce bear market.
But could CHPT's current woes be a baby-with-the-bathwater opportunity to pick up ChargePoint shares at a compelling discount? Maybe. There is the fact that unlike many of its peers, ChargePoint isn't some fanciful vision of promotion and what one day might be. Today, CHPT is the largest EV charging play in the U.S. by a mile.
ChargePoint maintains more than 100,000 charging ports across the country. Further, the outfit's commanding market share of nearly 75% is well-diversified. ChargePoint is spread across retail locations.
As well, CHPT has key business alliances and partnerships with heavyweights like Salesforce (NYSE:CRM), Microsoft (NASDAQ:MSFT), General Motors (NYSE:GM) and BMW.
Poised to Prosper?
To say the least, ChargePoint's business looks well-positioned for success. However, CHPT's competitive threats aren't in the rearview mirror. And beyond what's occurred in EV SPACs since mid-February's broader risk-off campaign began, those are problems which have weighed on its investors since the start of a very unhappy new year.
Improving technology within the electric vehicle charging space is happening today. And ChargePoint isn't presently equipped to meet those challenges. Most notably, as InvestorPlace's Dana Blankenhorn writes, is today's demand for faster charging 480-Volt ports and double ChargePoint's 240-Volt standard.
Tesla (NASDAQ:TSLA) and its increasingly ubiquitous SuperChargers play into that issue. It's global, fast charging network is the world's largest at more than 20,000 and growing. But there's also the always lurking challenge of stronger non-electric vehicle technology on the horizon. But isn't the EV revolution just getting started? It is. Then again, how's Blockbuster and that VHS collection doing?
CHPT Stock Weekly Price Chart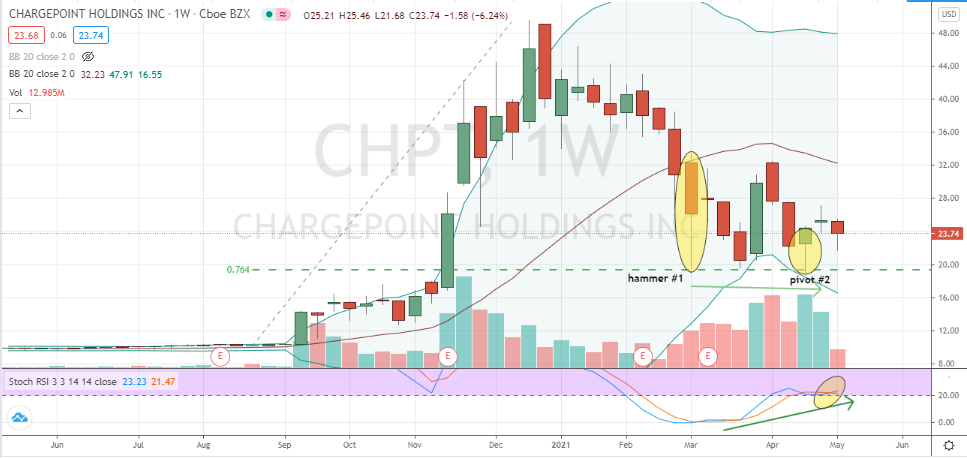 Source:
Charts by TradingView
While having a first-mover advantage of CHPT's scale is nice, as warned above, it's no guarantee of future success. Still and in the debris field of those type concerns and weakened sentiment towards EV SPACs, the price chart in ChargePoint is making the case for a bit of long exposure to the stock.
Since late March ChargePoint has formed a corrective double-bottom pattern that's successfully tested its 76% retracement level. Along with nearly nine weeks of inside consolidation work, the bullish structure looks even more durable. What's more, it's ready for buying today.
With shares still stationed at the high of the formation's second hammer pivot and sporting an extremely attractive, bullishly-divergent stochastics setup, bottom-line, CHPT stock has a lot working in its favor on the price chart.
A Strategy for ChargePoint Investors
For investors interested in gaining long exposure to CHPT and given some of the company's competitive threats, I'd forgo long-term parking of stock in one's trading account.
The suggestion is to purchase an intermediate-dated and slightly out-of-the-money bull call spread. This strategy smartly allows for capturing leveraged upside profits with less worry of another pattern failure and possibly much larger downside risks. One favored combination that fits in well with ChargePoint's price chart for about 7% to 8% risk is the August $25/$32 call vertical.
On the date of publication, Chris Tyler does not hold, directly or indirectly, positions in any securities mentioned in this article.
Chris Tyler is a former floor-based, derivatives market maker on the American and Pacific exchanges. The information offered is based on his professional experience but strictly intended for educational purposes only. Any use of this information is 100% the responsibility of the individual. For additional market insights and related musings, follow Chris on Twitter @Options_CAT and StockTwits.