It's been a hot start to summer for Microvision (NASDAQ:MVIS). But any which way you look at it, there's more to drive shares even higher. Let's examine what's happening off and on the MVIS stock chart, as well as one risk-adjusted determination for outsized, laser-like profits.
Not that MVIS is alone. Far from it. Clover Health (NASDAQ:CLOV). Blackberry (NYSE:BB). AMC (NYSE:AMC). Wendy's (NASDAQ:WEN). There's some old and some new names as 2021's popularized game of squeezing bearish shorts or simply cornering stocks ripe for bull raids are back with a vengeance.
Bearing those strategies in mind, investors could attribute MVIS' monthly gain of around 45% to Redditors on WallStreetBets or some other social media site. And collectively, they have been a certain short-term force behind the price action. But MVIS has a couple other drivers doing the heavy lifting as well.
A Laser Focus for MVIS Stock
Light Detection and Ranging or lidar for short. It's the technology which supports a longer-term, bullish outcome for Microvision. More precisely, MVIS' innovative laser beam scanning (LBS) PicoP technology may prove a cut above the rest in a burgeoning market critical to making autonomous vehicles a reality.
What exactly are we talking? According to Fortune Business Insights, the total global lidar market is forecasted to yield a compound annual growth rate of 22.7% and reach sales of $6.71 billion by 2026. And if we're to trust InvestorPlace's Louis Navellier and a guy who knows a thing or two about tenbagger stocks, there's little to say MVIS won't be a top player and recipient of that bullish action.
To be fair, sure there's more well-known competition. Velodyne Lidar (NASDAQ:VLDR) and Luminar Technologies (NASDAQ:LAZR) are two popular talking points. But here the price chart agrees, talk is cheap.
By comparison, both VLDR and LAZR stock are failing to find the same success right now. And if we can trust a forward-looking and bullish MVIS stock price chart, any which way you look at it, MVIS is built for going long.
Microvision Stock Weekly Price Chart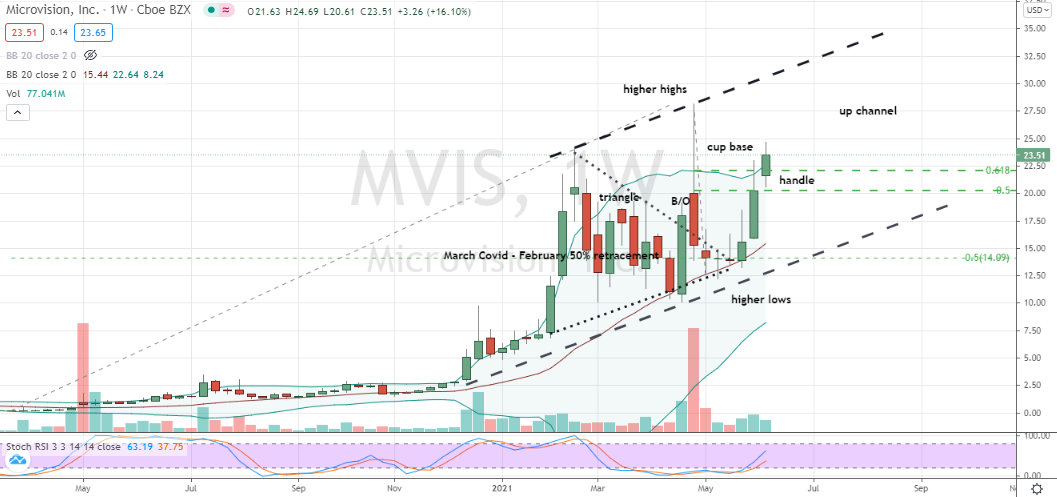 Source:
Charts by TradingView
It would be foolhardy not to give credit to Redditors and short interest of around 21% as helping drive MVIS' price action this month. And we are. But the bigger picture reveals a stock that's simply well-positioned to continue rallying and with or without those traders influence.
Technically, the MVIS stock weekly chart reveals a bullish up-channel. This channel hosts a smaller, but powerful cup base with a slightly short handle consolidation. Thursday's gains of about 10% took shares roughly 2% to 3% above the high of the smaller pattern to generate a buy decision.
Given the handle's construction also classically found support at the corrective cup's 50% retracement level and MVIS' weekly stochastics are trending nicely, there's even more evidence to be upbeat. And observably, I'm optimistic of an eventual cup breakout and trend persistence within or even above the existing channel will unfold in the months ahead.
A Precise Strategy for MVIS Stock
To play MVIS with laser-like precision, I'd recommend investors go with a fully-hedged, reduced risk and adjustable collar spread. At the moment, one favored vehicle of this type has the right kind of safety and performance qualities to navigate risks and rewards. The trade in MVIS stock is the August $23/$35 collar.
On the date of publication, Chris Tyler did not have (either directly or indirectly) any positions in the securities mentioned in this article. The opinions expressed in this article are those of the writer, subject to the InvestorPlace.com Publishing Guidelines.
Chris Tyler is a former floor-based, derivatives market maker on the American and Pacific exchanges. For additional market insights and related musings, follow Chris on Twitter @Options_CAT and StockTwits.