Following a notorious fling as a meme stock, Nano Dimension (NASDAQ:NNDM) may have what it takes to be one of the tech's next big things for other investors. Let's take a look at happening off and on the NNDM stock price chart, then offer a risk-adjusted determination on how to fabricate a more durable position for your portfolio.
NNDM stock. Big things were happening in this Israel-based 3D printing stock entering the year. Well, kinda sorta.
During the last couple months of 2020 and straight into the new year, shares were both a printing press and death trap for Redditors immersed in slinging various #NNDM hashtags, hype, cute pics and Nano Dimensions fear mongering on the WallStreetBets chat forum.
Reddit's cumulative efforts turned Nano Dimension into one the market's celebrated and subsequently hated meme stocks.
NNDM Stock Surges and Drops
Victoriously, shares surged nearly 1,000% from around $1.75 in late September to almost $18 a share four months later. By early May though, Reddit's attention turned toward other investment schemes like Dogecoin (CCC:DOGE-USD) or AMC's (NYSE:AMC) blockbuster sequel, NNMD shares tumbled almost 70%.
NNDM stock offered a combination of an easily pliable low stock price, smaller valuation, scant sell-side street coverage and slightly high short-interest of about 12% backing up the Reddit crowd's briefly won fortunes.
But there were – and remain – other larger and favorable factors at play as well.
Ark Invest Enters
The first and more notorious driver helping whet NNDM's fast-money traders' appetites was Cathie Wood's Ark Invest.
Last year's most-talked about go-go growth fund manager purchased NNDM stock for its Ark Autonomous Technology & Robotics ETF (NYSEARCA:ARKQ) and Ark Next Generation ETF (NYSEARCA:ARKW). And her funds are still in it to win it.
Ark Invest has just over 14 million NNDM shares split between the two funds with portfolio allocations of 2.20% and 1.17% respectively.
What's more, as an aggressive investment manager unafraid to assign upward of 10% to a single stock within its funds, there could be reason yet to be upbeat.
A Pivot
There's also Nano Dimensions business pivot under a newer management team. It's what caught Ark's attention in the first place. More specifically, the strategy to make NNDM into a broader application 3D printed technology device company continues to move in the right direction.
The outfit's recently launched next-gen DragonFly LDM 2.0 system is one such step. Further, as a well-capitalized venture positioned to exploit its 3D products globally and one cultivating relationships with governmental defense agencies keen on its highly differentiated technology, there's additional evidence supporting NNDM stock's bull case.
As well, InvestorPlace's Louis Navellier, a guy who's shown a knack for separating the wheat from the chaff to locate his share of tenbaggers, has shown his interest in NNDM. Recently, Louis and his team encouraged investors to keep their eye on Nano Dimension for further product updates and upgrades.
Could NNDM stock be one of the next big things in tech and offering investors exponential growth not unlike Ark Invest's top holding and huge fund winner, Tesla (NASDAQ:TSLA)?
NNDM Stock Monthly Price Chart
Time will tell if Nano Dimension has the actual business wherewithal to make that happen. However, based on the latest 'additive manufacturing upgrade' to NNDM's stock chart, a solid starting point for exploiting that type of opportunity could be here already.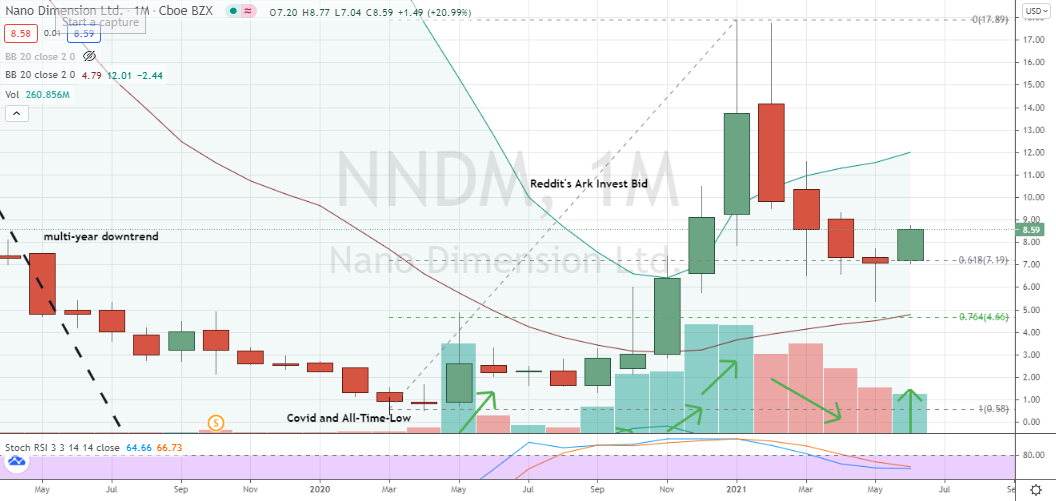 Source:
Charts by TradingView
With one week remaining in June, NNDM stock is showing solid indications it's turned the corner on this year's bearish corrective cycle. Foremost, the observation is supported by June's monthly confirmation of a May hammer bottoming candlestick formed in-between the 62% and 76% retracement levels.
Call June's nearly finished price action an additive manufacturing upgrade for NNDM stock's bulls.
The bullish stock action is further backed by good accumulation signs, as well as a neutralized stochastics that's on-the-cusp of signaling a bullish crossover.
All told, it's the kind of emerging pattern which could lead to a significant longer-term bottom and meaningful gains for NNDM investors.
Protect and Serve
Bottom line, if investors see what's happening off and on the price chart as sufficient evidence to make a purchase, I'd also recommend smartly hedging that enthusiasm just a bit.
One way to reduce downside exposure and position for an uptrend to take hold is a diagonalized collar. Today, a favored combination is to buy NNDM stock, along with the February $7.5 put / August $12.5 call. In our estimation and over time, that should help protect and serve investors better than Reddit ever could.
On the date of publication Chris Tyler holds positions in Ark Invest ETFs (ARKK and ARKG). The opinions expressed in this article are those of the writer, subject to the InvestorPlace.com Publishing Guidelines.
Chris Tyler is a former floor-based, derivatives market maker on the American and Pacific exchanges. For additional market insights and related musings, follow Chris on Twitter @Options_CAT and StockTwits.