It appears the show must go on in the market's most-revered blue-chips. But in ape-traded and celebrated most-shorted stocks, not so much. But is it really a "game over" scenario for one of Reddit's favored fast money investment schemes?
Apple (NASDAQ:AAPL). Microsoft (NASDAQ:MSFT). Amazon (NASDAQ:AMZN). It's been another terrific week, more often than not, for portfolios with exposure to the world's largest companies.
Inching toward this week's closing bell and shares of AAPL are up nearly 2% for the week, just off all-time-highs and adding to its top-spot status with a valuation of nearly $2.5.
Similarly, the planet's second largest publicly-traded, MSFT stock is up 1.36% after hitting record highs. And AMZN? Well, two out of three isn't bad.
Shares of the market's third biggest are off nearly 3.50%. Still and all else being equal, that's certainly better than Redditors' extremely well-traded, highest-profile and heftiest most-shorted stocks.
GameStop (NYSE:GME). AMC (NYSE:AMC). Neither needs an introduction at this point in 2021. And on the week GME and AMC are 0-2 for Reddit's bullish ape base.
GME stock is off nearly 9%, closing in on two-month lows and seeing its market cap shrink toward $12.5 billion on more than 14 million shares for the five-day period.
Similarly, AMC has seen its valuation tank to $18.75 billion with shares off about 19% with more than 575 million shares traded on the week.
But does 0-2 mean the ape's days as meme-trading bulls in the market's most-shorted stocks are over before hearing the game-time whistle? Let's look at the price charts of the market's "real" top three most-shorted stocks and determine if it's really time to head for the exits or stay prepared for extra innings.
Most-Shorted Stocks By Short Interest: Arcimoto (FUV)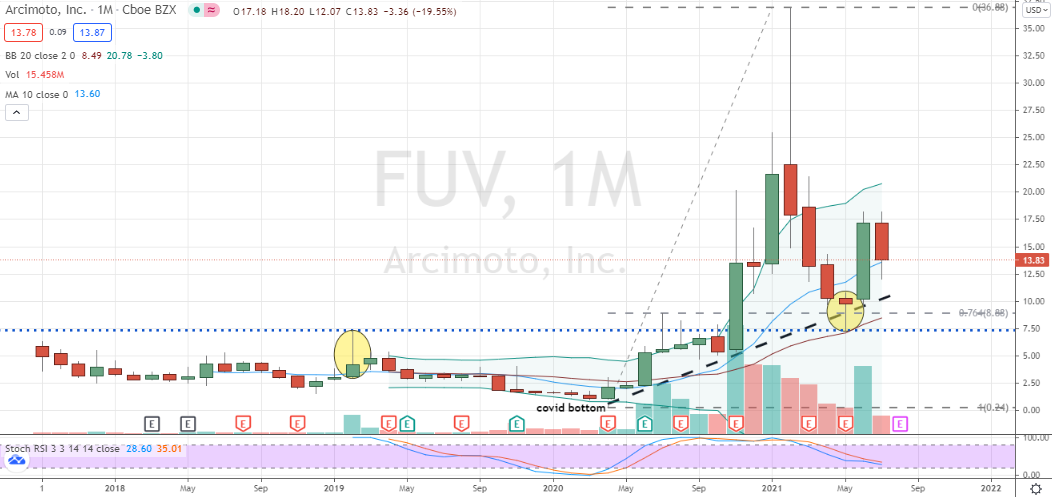 Source: Charts by TradingView
The first of our most-shorted stocks by high short interest is Arcimoto. FUV designs three-wheeled EVs for diversified markets ranging from consumer-focused, recreational, security and last-mile delivery.
Bears aren't buying the narrative with more than 39% of FUV stock's float sold short. And right now bullish apes aren't buying the story either. But that may not matter.
Half-way through July this most-shorted stock has seen its shares skid nearly 20%. The good news is the price chart still indicates the correction could turn into an important pullback and terrific buying opportunity.
Technically, this most-shorted stock's weekly price chart reveals a key monthly reversal hammer formed in May. Bullish confirmation off the pattern low in June went on to produce gains of nearly 70% before July's retreat.
For now, I'm looking for the game in FUV stock to go into extra innings for bulls, but maybe without Reddit's ape population.
If shares of FUV can continue to hold above trendline and Fibonacci support from roughly $8.75 to $10.50 and stochastics signals a bullish crossover, this most-shorted stock becomes a 'game on' play for investors.
Workhorse (WKHS)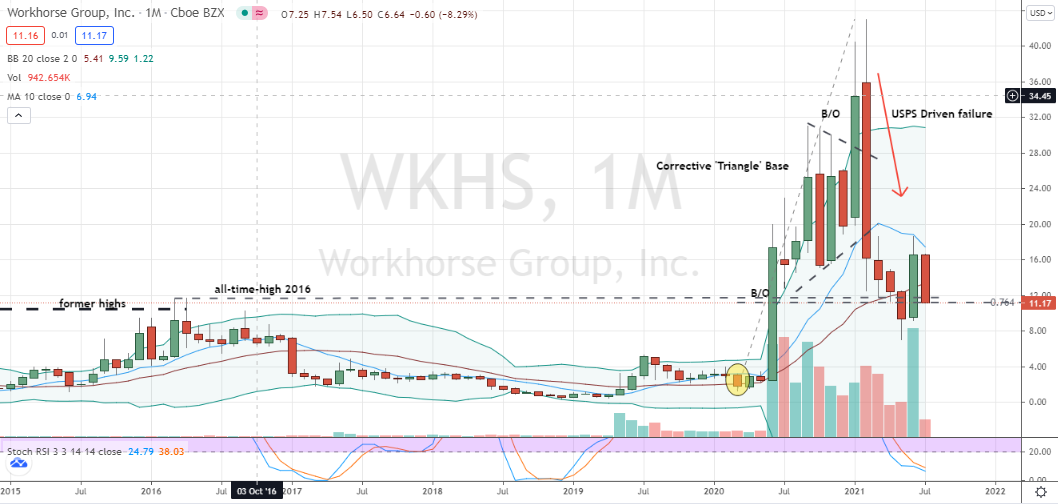 Source: Charts by TradingView
Workhorse is the next of our "real" most-shorted stocks. Similar to GME and AMC stocks, this one needs no introduction. It's high-profile lost bid with the U.S. Postal Service for a multi-billion-dollar deal crashed WKHS stock by nearly 50% in a single session back in February.
Today and as much as I'd enjoy telling this most-shorted stock's 35% bearish short interest to take a hike, the monthly price chart indicates it's the remaining apes which need to throw in the towel.
Technically, shares are at a critical make-or-break challenge of WKHS stock's former highs and 76% retracement level. Unfortunately, the abrupt and bearish U-turn causing the test also includes a bearishly weak-looking stochastics, which indicates a full-blown failure is increasingly likely.
If you're in this most-shorted stock as a bull, hope isn't a strategy. A hard stop-loss below $10.50 or fully-hedged collar to contain larger losses on a possible ride back down into single-digit obscurity makes sense.
Most-Shorted Stocks By Short Interest: Blink Charging (BLNK)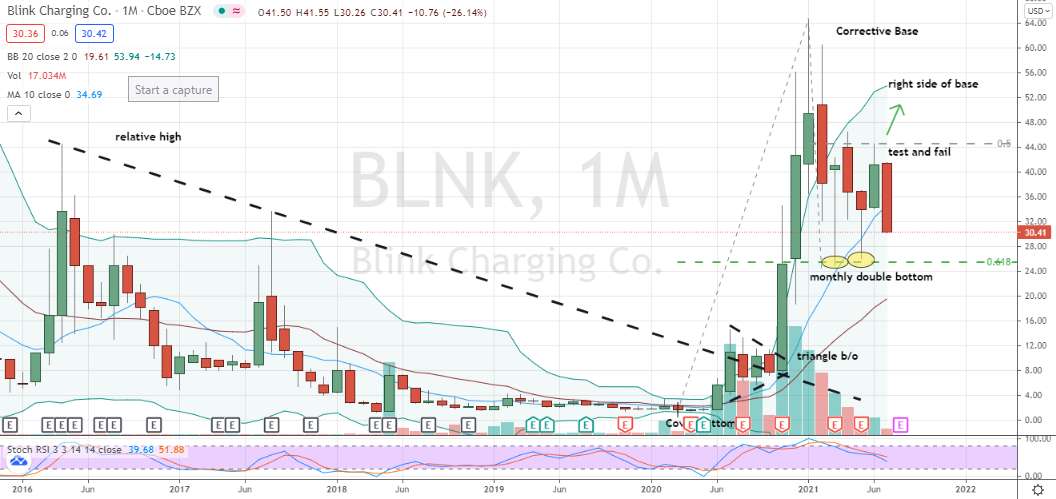 Source: Charts by TradingView
The last of our most-shorted stocks is Blink Charging. BLNK stock has been a longtime favorite of bears with short-interest consistently above 30%. Today it stands at nearly 34% and sufficient to put shares of the EV charging play in third position.
Do the bears know something? At times it certainly didn't appear so. As recently as last month BLNK stock was putting together a classically bullish corrective double-bottom base. Today though and the pattern is nearing failure in a noticeably big way.
Since June's pivot low confirmation, shares of this most-shorted stock failed to enter the right side of the corrective base. That was far from a good sign. Worse, since the test-and-fail price action of this most-shorted stock's 50% retracement level, BLNK has been backtracking aggressively below the hammer candlestick buy signal.
With stochastics never committing to the bullish price action and the indicator now looking increasingly bearish, No.3 on our list is hinting strongly it's time for apes to respect, rather than toy with the bears.
On the date of publication, Chris Tyler does not hold (either directly or indirectly) positions in any securities mentioned in this article. The opinions expressed in this article are those of the writer, subject to the InvestorPlace.com Publishing Guidelines.
Chris Tyler is a former floor-based, derivatives market maker on the American and Pacific exchanges. For additional market insights and related musings, follow Chris on Twitter @Options_CAT and StockTwits.