Crypto investors saw two surprises this week.
First, Bitcoin (CCC:BTC-USD) climbed back above $50,000. Anyone who bought the dip last month would be sitting on 35% gains.
Second, crypto entrepreneur Justin Sun bought an NFT of a laser-eyed rock picture for $600,000. "It wasn't even a good picture of a rock," wrote Jared Dillian, editor of the Daily Dirtnap, in his review of the purchase. "It had little to no artistic merit."
These two events were certainly related. Much like the technology in 1999 or the 2006 housing bubble, rising markets create pockets of unimaginable wealth. Just ask a Florida home flipper where they vacationed that year.
Today, the same pattern is forming in cryptocurrencies. Rising crypto prices have sent speculators into some of the lowest-quality assets imaginable — consider the vast sums spent on seemingly ludicrous NFTs. And the eventual shake-out will inevitably kill off weaker players while allowing the stronger ones to fill the void.
So, how can Moonshot investors profit? The short-term traders among us will find joy in buying up hot potatoes and passing them off fast (I'll have three picks for you folks later in this email). Meanwhile longer-term investors will seek out the best cryptocurrencies that will survive the shakeout (And I'll have five choices in that category).
But regardless of your strategy, know this. If you're ever in doubt of what stage of the crypto cycle we're in, consider what the sale of a $600,000 JPEG of a rock tells you about the world today.
NFT Bubble 2.0? Why Quality Cryptos Are Winning
Typically, bubbles mean that low-quality assets will outperform. In 2006, real estate investors seemed more enamored with developing Florida swampland than Class A office buildings.
NFTs have gone the same way, with JPEGs of rocks selling for more than works by recognized artists such as Alberto Seveso or José Delbo. People are buying based on hype, not merit.
But there's one exception to that rule: cryptocurrencies.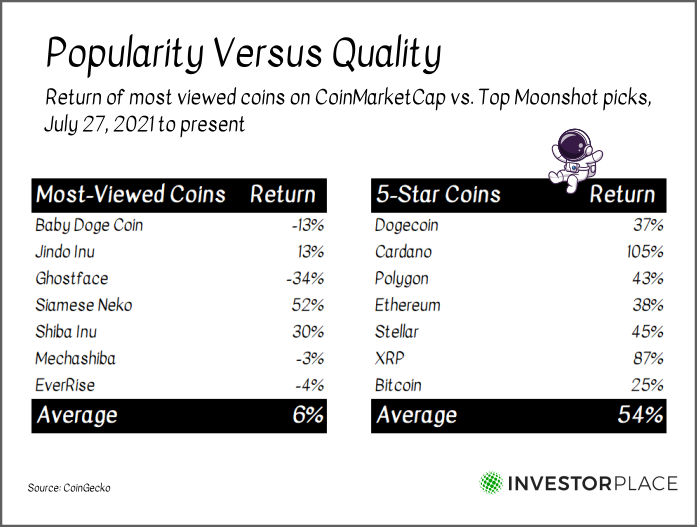 Since crypto bottomed out in late July, the 5-star coins from my comprehensive 2021 Cryptocurrency Guide have outperformed the most-viewed coins on cryptocurrency aggregator site CoinMarketCap by a 9-to-1 ratio.
In other words, quality is beating popularity.
The reason is straightforward: tokens have become so easy to transact that speculative bubbles rarely last more than several weeks. With ChainPots, MaestroPups and countless other forgotten NFT projects as a guide, there's a good chance few people will remember EtherRocks by next week.
Five Cryptocurrencies to Ride the NFT Wave
There are certain exceptions to the rule. Shiba Inu's (CCC:SHIB-USD) staying power and overall code quality have landed the Ethereum-based token on my medium-term buy list. It's a low-quality currency that could still rise on investor interest (Note: the closely related ShibaSwap has more significant governance issues).
Dogecoin (CCC:DOGE-USD) has also remained high on my list thanks to its broad-based support.
The other winners from the NFT boom are Ethereum (CCC:ETH-USD), Cardano (CCC:ADA-USD) and Stellar (CCC:XLM-USD). For Ethereum, most of the world's NFTs run on the Ethereum network, and few see the point in switching to a new protocol. Meanwhile, Cardano and Stellar have use beyond NFTs, so they don't have to compete head-to-head with Ethereum's dominance.
Medium and Long-Term Cryptocurrencies to Buy
Dogecoin (DOGE)
Cardano (ADA)
Stellar (XLM)
Ethereum (ETH)
Shiba Inu (SHIB)
Spamcoins with Momentum
For investors seeking shorter-term trading ideas, the Momentum Master strategy has identified several promising leads. Keep in mind these are for day-trading — each has little reason for gains beyond 3-4 days.
Covid Vaccine (CCC:COVAC-USD). The self-proclaimed "community-driven, fair launched DeFi token used to track the number of COVID vaccinated people" doesn't have much to do with the Covid-19 vaccine. But that hasn't stopped believers from sending the token up 400% in the past week. A listing on CoinGecko or CoinMarketCap could send the token even higher before people realize the disconnect.
MktCoin (CCC:MLM-USD). Much like fans of ScamCoin (CCC:SCAM-USD) and PooCoin (CCC:POOCOIN-USD), speculators buying MktCoin are fully in on the joke. Firstly, the coin's "MLM" ticker would make any Reddit reader chuckle — many Redditors have long looked down on multi-level marketing as a scam. And secondly, its 13x gain yesterday will certainly put it back on people's radar as a cryptocurrency to speculate on.
TigerKing (CCC:TKING-USD). After essentially going dark for two weeks, volume in TigerKing is back. Netflix (NASDAQ:NFLX) had no sooner teased a "coming soon" Season 2 of Tiger King than crypto investors jumped back onboard. The token, with 1% owned by imprisoned TV personality Joe Exotic, depends on publicity to succeed. And investors in TKING are getting precisely that this week.
Where Did SafeMoon Go?
Some Moonshot investors might loathe me for saying this, but I must say it. I am not a big SafeMoon (CCC:SAFEMOON-USD) fan.
That's landed me in hot water with SafeMoon evangelicals before:
"I read your article on yahoo finance about #safemoon . Only time will tell and that article won't age well for you doubting #SafeMoonCommunity movement. See you hater!" (May 15, 2021)
Unfortunately for my loyal Twitter commentator, the token has dropped 80% since then. The tide of social media fans simply could not keep up the momentum.
It isn't the only token to have fallen to earth, either.
BabyCake (CCC:BABYCAKE-USD): Down 68%
SafeDoge (CCC:

SAFEDOGE-USD

): Down 76%
Dogelon Mars (CCC:

ELON-USD

): Down 97%
Mars Token (CCC:OMT-USD). Down 98.6%
The return of NFTs has spelled disaster for these Binance tokens. A slick Twitter (NYSE:TWTR) campaign only gets you so far when million-dollar NFT sales draw people's attention and money elsewhere.
Perhaps this makes me partially a value investor. My Golden Rule of Penny Stock Investing instructs people to buy quality assets for cheap. But it's also a reflection on the crypto world. Much like non-art NFTs, Binance-based tokens come in virtually unlimited numbers. And relying on luck alone isn't a particularly long-term strategy.
| | |
| --- | --- |
| 1,150 | Average number of daily trades of Reckless Whales in July. The NFT project depicting the card-playing sea mammals was briefly the most-traded ERC-721 token, according to Etherscan.io. |
| 38 | Average number of daily trades in Reckless Whales in August. Liquidity for pieces has dried up as speculators have moved on. |
| 1.3 | Ethereum paid for the highest-price Reckless Whale in July — over $4,000 in today's dollars. |
| 0.003 | Value in Ethereum for a Reckless Whale NFT today. The cheapest options start at $10. |
Riding the Stock Market Higher
Shorting a stock is far different when long-side traders are driving the bus, according to InvestorPlace writer David Moadel. So he's warning investors to avoid shorting GameStop (NYSE:GME).
Muslim Farooque identifies seven penny stocks with millionaire-maker potential. A 5G play in there looks particularly interesting to your Mr. Moonshot.
One groundbreaking LiDAR tech could change how self-driving cars work, according to Luke Lango. He offers a new addition to his 1 to 30 Hypergrowth Portfolio this week.
The Value of Bitcoin
I rarely talk about politics in polite company. What better way to spoil a good meal with family and friends?
But one article by CNBC writer MacKenzie Sigalos caught my eye this weekend.
"Chainalysis' 2021 Global Crypto Adoption Index gives Afghanistan a rank of 20 out of the 154 countries it evaluated in terms of overall crypto adoption," she wrote. "And when you isolate for its P2P exchange trade volume, Afghanistan jumps up to seventh place."
In other words, Afghans are turning to cryptocurrency to hedge their bets against political and financial instability.
It's not the first time a nation has overcome a frail banking system. Almost three-quarters of Kenyans use M-Pesa, a mobile banking app by telecom giant Safaricom. And close to 90% of payments are now done electronically in China.
But it's one of the first times people are taking cryptocurrency seriously at a national level. At current rates, Afghanistan may soon join El Salvador and Paraguay in adopting these next-generation digital payments.
Diners Club changed the world of payments in 1950 when they introduced the credit card. With some luck, cryptocurrencies might change that world yet again.
FREE REPORT: 17 Reddit Penny Stocks to Buy Now
Thomas Yeung is an expert when it comes to finding fast-paced growth opportunities on Reddit. He recommended Dogecoin before it skyrocketed over 8,000%, Ripple before it flew up more than 480% and Cardano before it soared 460%. Now, in a new report, he's naming 17 of his favorite Reddit penny stocks. Claim your FREE COPY here!
On the date of publication, Tom Yeung did not have (either directly or indirectly) any positions in the securities mentioned in this article.
Tom Yeung, CFA, is a registered investment advisor on a mission to bring simplicity to the world of investing.