It's on a launch pad, but is there enough fuel for Virgin Galactic (NYSE:SPCE) to rally? Let's look at market conditions off and on the price chart of SPCE stock, then offer a risk-adjusted determination based on what we see.
Space. It's the final frontier, but it's seeing more traffic these days, after Virgin Galactic's billionaire front man Sir Richard Branson's mid-July extraterrestrial field trip. He flew just an itsy, bitsy little bit beyond the Earth's stratosphere into suborbital space.
By all accounts, SPCE stock's anxiously-awaited first-ever, fully-crewed test flight on VSS Unity was a huge success. Yet you could be misled to believe the mission was an utter failure based on investors rather abrupt "sell-the-news" reaction.
The week of the space launch, shares of Virgin were sent plunging nearly 39%. And at their weakest in the last couple weeks, SPCE stock has cratered another 20%. Today, a market price near $28 remains a distant 52% from the stock's June peak of $57.51.
The Problems in SPCE Stock
So, what exactly has gone wrong in Virgin Galactic's shares?
For certain, a selling-the-news reaction was teed up nicely. After all, SPCE made a rather dazzling rally of about 280% in less than six weeks leading into the Unity 22 mission.
But there was more fuel behind the fall.
With VSS Unity's vapor still in the atmosphere, the company announced its intentions to a dilutive secondary of up to $500 million in SPCE stock.
Then there's Amazon (NASDAQ:AMZN) — or rather, Jeff Bezos' rival side project Blue Origin. The space company celebrated its own rocket ship launch with Amazon founder Jeff Bezos on board just days later, helping take the wind out of SPCE's sail.
Let's not forget Elon Musk either. The Tesla (NASDAQ:TSLA) CEO's SpaceX venture is certainly an existential threat.
Yet today, there are other factors hurting SPCE that shouldn't be ignored.
The space tourism operator's first commercial flight is expected in 2022. Right now, though, there's no hard and fast date for civilians paying $450,000 to climb on board.
And the thing is, as Virgin has moved beyond a pure concept play, it's increasingly about capturing revenues from satisfied customers.
Then there's those fickle meme-loving Reddit investors. Collectively, the group has notoriously aborted on many of its favorite trading vehicles this year. Even the most successful schemes like GameStop (NYSE:GME) or AMC (NYSE:AMC), which have been given legitimate lifelines to turn around their businesses, have proven wickedly volatile for buy-and-hold bullish investors.
And you guessed it — SPCE stock with its higher short interest of about 15%, fairly large $7 billion capitalization and still risky business ambitions continues to fit the volatile meme-stock bill.
SPCE Stock Weekly Price Chart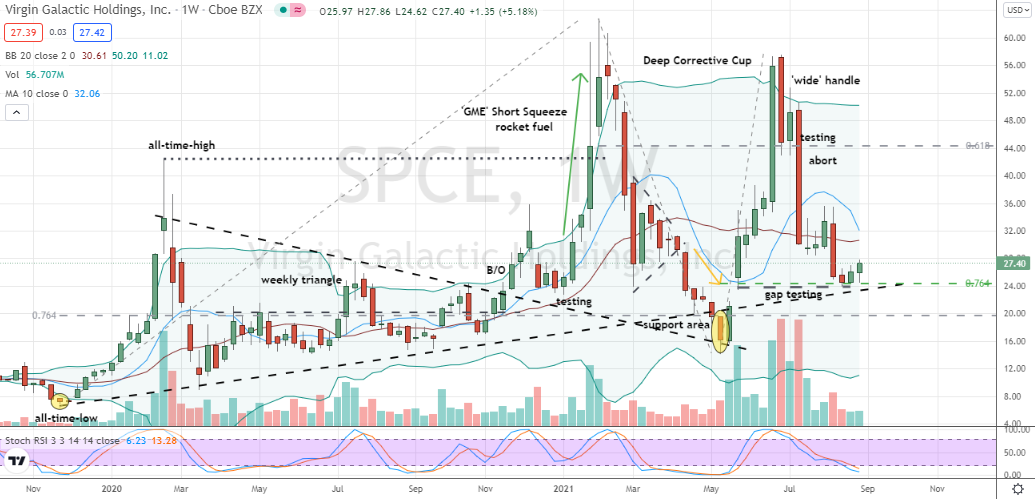 Source: Charts by TradingView
The net result of investors collectively exiting SPCE stock since Virgin's July space mission has put shares into a solid-looking area of key support.
The technical zone is made up of the 76% retracement level from May's low to Virgin Galactic's June peak, gap and trendline support dating back to SPCE's all-time low. That's good, but it gets better.
Not only are current stock levels a potential launch pad for higher prices, SPCE shares have already confirmed a weekly candlestick pivot low.
Combined with stochastics in oversold territory, decent short interest and obvious bearish sentiment, the setup could quickly yield a terrific shorter-term opportunity for bulls over the next couple to maybe few weeks.
Ideally, I'd like to see stochastics bullishly crossed over and SPCE's technical situation occurring in a month other than a historically bearish September. However, appreciating that out-of-this-world returns are never picture-perfect opportunities, this looks like a worthwhile proposition in Virgin Galactic.
Bottom line though, one compromise I wouldn't make in SPCE stock is failing to use Virgin Galactic's options market for iron-clad risk management of the position. One favored spread which looks attractive off and on the chart for bulls to suit up with is the Oct $29/$36 collar combination.
On the date of publication, Chris Tyler did not have (either directly or indirectly) any positions in the securities mentioned in this article. The opinions expressed in this article are those of the writer, subject to the InvestorPlace.com Publishing Guidelines.
Chris Tyler is a former floor-based, derivatives market maker on the American and Pacific exchanges. For additional market insights and related musings, follow Chris on Twitter @Options_CAT and StockTwits.