Crypto's Flash Crash
When online communities decided to celebrate El Salvador's Bitcoin Day by buying $30 worth of Bitcoin (CCC:BTC-USD) on Sept. 7, Dogecoin (CCC:DOGE-USD) fans might have felt a sense of déjà vu. A similar grassroots initiative created a #Dogeday holiday in April to commemorate… well… nothing in particular.
And sure enough, crypto prices saw the same old story.
As retail investors loaded up on cryptocurrency, others used the opportunity to take profits. The ensuing "flash crash" would wipe billions off of crypto valuations; at one point, Bitcoin had shed -17% of its value.
In a sense, this portends what El Salvador has in store. It's one thing to buy Bitcoin for profit; it's entirely another to hitch your country's monetary policy to an uncontrollably volatile asset. But strongmen leaders have done stranger things before. And who knows… perhaps this economic experiment might one day help one of Central America's poorest economies claw its way to success.
Happy B-Day to You, El Salvador!
Other News Tidbits
AMC Entertainment (NYSE:AMC). Shares of this meme favorite once again spiked following a record-breaking Labor Day weekend at the box office. Perhaps GameStop (NYSE:GME) might see the same luck once Half-Life 2: Episode Three gets made someday.
IPO Market. The lull in the summer IPO market looks ready to end with Warby Parker, Reddit and Discord all potentially listing sometime this year.
Coinbase (NASDAQ:COIN). Shares dipped after the Securities and Exchange Commission sued the cryptocurrency exchange over a lending program. Coinbase retorted by accusing the SEC of "sketchy behavior." One hopes that COIN's legal defense strategy gets revisited before the court date.
The Next Cardano Is Already Here (Part 2)
A week ago, I wrote about three cryptos set to become the "Next Cardano." Fast forward to today and all three — Solana (CCC:SOL-USD), Internet Computer (CCC:ICP-USD) and Terra (CCC:LUNA-USD) — have outperformed the world's third-largest crypto over the past week.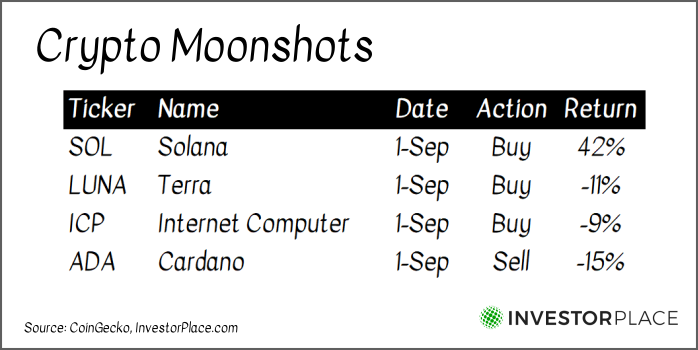 Solana deserves a special mention. On Tuesday, the understated cryptocurrency overtook Dogecoin to become the world's seventh-largest coin; SOL is now worth almost $50 billion. Not bad for an asset that's unavailable on Robinhood (NASDAQ:HOOD) and shares an acronym with "Sh*t Outta Luck."
The cryptocurrency's rise reflects the growing resurgence of NFTs, the blockchain-stored deeds that track ownership of digital goods. Unlike Ethereum's (CCC:ETH-USD) high GAS fees (reaching nearly $60 during the NFT boom earlier this year), Solana's streamlined protocol means transactions can cost as little as $0.00025. And its smaller market cap means SOL has far more upside than other coins of its class.
That's why I added SOL to my "buy" list last week and why it remains as a top pick.
Playing with House Money
Position sizing is still important, however. Solana's 50% rise means that anyone who bought SOL, ICP, and LUNA in equal one-third portions now sits on an unbalanced position. To even up positions, quality-minded investors should convert some of their holdings into ICP, LUNA or cash while they can.
Essentially, investors need to protect themselves from an overheating market. Consider these recent newsmakers:
DOG Coin. When a Shiba Inu meme NFT was sold in June for $4 million, traditional investors were likely already shaking their heads. How could an internet meme be worth so much? Today, fractional ownership in DOG Coin values the NFT at over $550 million.
Shirtum (CCC:SHI-USD). "What is the name of the first blockchain project allowing players to sell shirts to fans? Shirtum!" Though the Barcelona-based cryptocurrency only has 5,000 holders (and no business model yet), its value is now high enough to break into the top 1,000 coins by size, according to CoinGecko.
Sushiverse.io. Why stop at Cryptopunks? With people running out of ideas for three-quarter-face portraits of people, apes and cute ponies, perhaps it was only natural that pictures of sushi would be next.
As NFT projects (and valuations) become increasingly ridiculous, investors need to step off the Rising Stars gas pedal and be sure to take some profits along the way.
The Crypto Rocket Fizzles
If cryptocurrencies were a theme park ride, conservative investors would have lost their lunch this week. On Tuesday, the prices of Dogecoin and XRP (CCC:XRP-USD) both dropped 20% in less than an hour.
Financial historians will doubtlessly point to some combination of investor panic and programmatic trading as the cause. These culprits were behind scares such as 1987's Black Monday and 2010's flash crash.
But there's also a simpler explanation when it comes to crypto: high financial leverage.
Unlike stocks, cryptocurrencies have few rules against margin trading. Investors can borrow 100x or more to buy Bitcoin and other cryptos. Only exchange limits (and common sense) stop people from taking even greater risks.
That's why few should be surprised that Uniswap (CCC:UNI-USD), PancakeSwap (CCC:CAKE-USD) and Binance (CCC:BNB-USD) all took such extreme tumbles when Bitcoin dipped 17% on Monday. The three currencies underpin much of the programmatic trading in tokens and other speculative cryptos — the blockchain versions of hedge fund clearinghouses (smart investors should use this rare opportunity to load up on these high-quality cryptocurrencies).
Other altcoins were also caught in the crossfire. As many traders discover, losses in one position can force people to sell shares in another to meet margin requirements. It's a process that El Salvadorians might end up calling "Tuesday."
Bottom line: cryptocurrencies are volatile, and investors need to selectively use dips to buy traditionally high-priced cryptos like Uniswap, PancakeSwap and Binance Token.
Big Rewards Can Come With Big Risks
| | |
| --- | --- |
| 0 | Number of times gold prices have dropped more than 20% in a single trading day since 1929. Gold, however, has only returned 1.9% per year in real terms since then. |
| 1 | Number of times the S&P 500 index dropped more than 20% during the same period. The S&P 500 has returned 5.8% per year. |
| 14 | Number of times Dogecoin has lost 20% or more in a day since 2014. The coin is up 511x since that year. |
| 21 | How many times Shiba Inu (CCC:SHIB-USD) has lost 20% or more in a day since its inception in 2018. The Ethereum-based token is up almost 6,000x. |
Energy, Vaccines and Hurricanes
The future of solar power isn't solar, according to Eric Fry. Here's why one of InvestorPlace's chief editors believes we need to look further afield to battery stocks.
Are magic mushrooms the new pot? Luke Lango takes a look into the fast-growing world of psychedelics and argues why one company seems best-poised to win.
The resurgence of Covid-19 cases has sent shares of vaccine makers higher. One underrated firm could surprise investors, according to David Moadel.
And finally, if you're looking to buy a generator for the next hurricane season, you aren't alone. Louis Navellier writes on why a home generator company could give Tesla (NASDAQ:TSLA) a run for its money.
The Great Bitcoin Experiment Is Underway
The President of El Salvador announced in June 2021 that his country would accept Bitcoin as legal tender. Crypto enthusiasts cheered. The 40-year-old Nayib Bukele seemed to be living up to his self-proclaimed title as the "coolest president in the world" (a moniker I incidentally gave myself in third grade).
Meanwhile, skeptics might have thought it was all a big joke. Mr. Bukele — widely seen as authoritarian by Western states — has created such a polished online persona that it's sometimes hard to separate truth from Instagrammed fiction.
Yet here we are. El Salvador leapfrogged the rest of the world to adopt Bitcoin as legal tender; its government now owns 550 BTC and mandated in Article 7 that all businesses must now accept the cryptocurrency.
In a sense, using Bitcoin was (and still is) a publicity stunt. Stablecoins like Tether (CCC:USDT-USD) and USD Coin (CCC:USDC-USD) would have given the El Salvadorian economy a less-volatile token while modernizing its financial system. More efficient coins from Solana to Terra would have provided its citizens with lower-cost transactions.
But right or wrong, El Salvador is embarking on one of the greatest crypto experiments yet. And the world will be watching closely.
FREE REPORT: 17 Reddit Penny Stocks to Buy Now
Thomas Yeung is an expert when it comes to finding fast-paced growth opportunities on Reddit. He recommended Dogecoin before it skyrocketed over 8,000%, Ripple before it flew up more than 480% and Cardano before it soared 460%. Now, in a new report, he's naming 17 of his favorite Reddit penny stocks. Claim your FREE COPY here!
On the date of publication, Tom Yeung did not have (either directly or indirectly) any positions in the securities mentioned in this article.
Tom Yeung, CFA, is a registered investment advisor on a mission to bring simplicity to the world of investing.