Survey Results
Thank you to everyone who filled in last week's Moonshot survey. We had a great deal of fun reading your comments and I appreciate the suggestions on starting a side-gig in finance-related standup (the legal department is somehow less enthused).
Of course, we're always looking for more suggestions on how to make Moonshot the best newsletter on Earth (or any other planet). And we won't stop until we figure it out. So if you have suggestions, send me an email at moonshots@investorplace.com.
My No. 1 Strategy for Buying Cryptocurrencies Long Term
Regular Moonshot readers should know by now that the Momentum Master system works. $10,000 invested in Dogecoin (CCC:DOGE-USD) at the start of 2021 would have turned to $1.3 million, 8,560% better than a buy-and-hold strategy. And if you think I'm cherry-picking results, here's the strategy run on all top cryptocurrencies of 2021.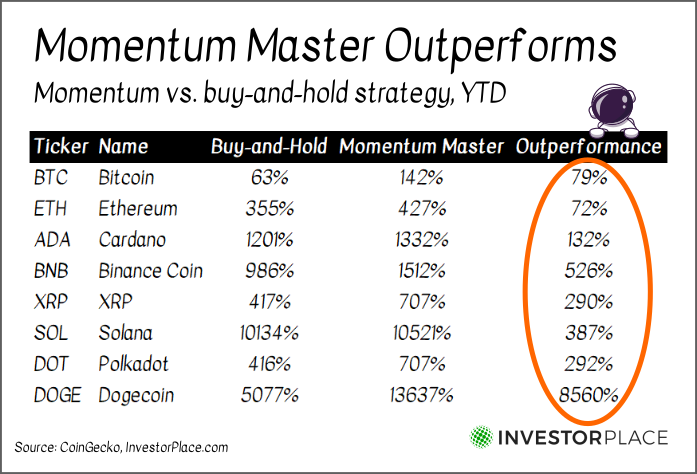 Why does the Momentum Master strategy work so well?
Speed. Crypto markets are slow at incorporating new information, which gives momentum-seeking strategies an edge.
Consistency. The strategy consistently sells during drawdowns. There's no second-guessing about when to cash out.
Insight. The strategy tends to identify promising cryptocurrencies in the "early adoption" phase.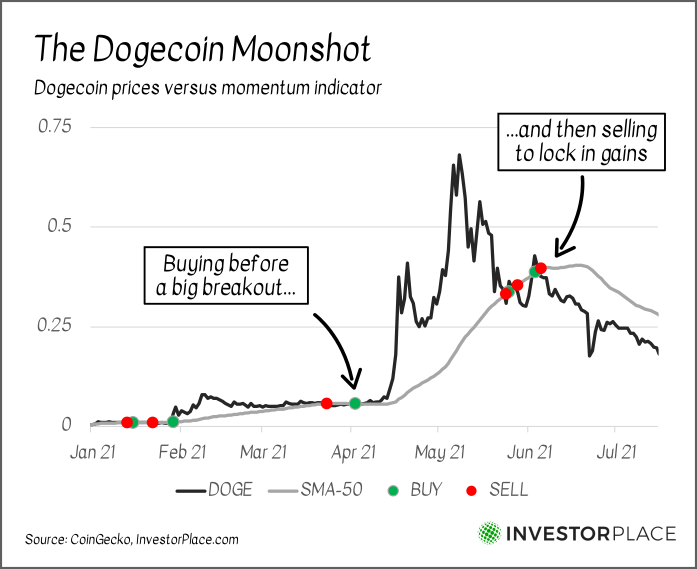 An example of the Momentum Master strategy in action
But understandably, some investors don't want to be glued to their Robinhood (NASDAQ:HOOD) accounts every time a 10% swing happens. I get it. Life gets in the way.
That's why we at InvestorPlace also have come up with a second tactic for investors, focused on finding high-quality cryptocurrencies and holding them for the long run.
In the Long Run, Quality Beats Hype
In my July 28 MOON issue, I recommended investors rotate from low-quality cryptos into higher-quality plays. Those who did would have locked in their 12% gains from HODL (CCC:HODL-USD), WolfSafePoorPeople (CCC:WSPP-USD) and RichQUACK (CCC:QUACK-USD) from the previous week while achieving another 57% average gain in Internet Computer (CCC:ICP-USD), PancakeSwap (CCC:CAKE-USD) and HOOD.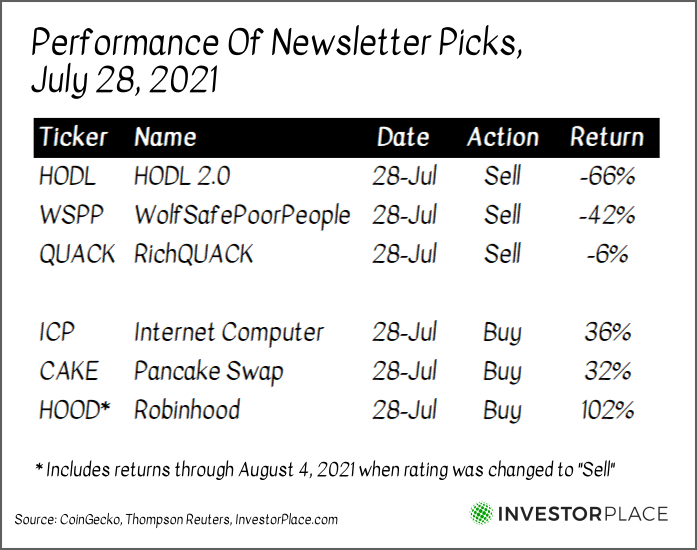 The reason was simple. As higher-quality cryptocurrencies regain momentum, they become a better choice than lower-quality Moonshots.
Today, the same pattern is reemerging once more. Higher-quality cryptocurrencies from Terra (CCC:LUNA-USD) to Cardano (CCC:ADA-USD) are handily beating the Spamcoins and Sh*tcoins of the world.
That's not to say investors need to give up super-normal potential. $10,000 invested in InvestorPlace's Ultimate Crypto Portfolio in 2020 — a strong collection of high-quality cryptocurrencies — would be worth $103,300 today. And "rug-proof" tokens like Shiba Inu (CCC:SHIB-USD) offer lower risk than those like SafeMoon (CCC:SAFEMOON-USD) that leave anonymous developers with the keys to the kingdom.
The Top 2 Cryptocurrencies To Know for 2022
But how do you go about finding these buy-and-hold-forever cryptocurrencies? My Momentum Master strategy, after all, is more suitable for traders willing to move in and out of positions quickly.
That's where the Ultimate Crypto portfolio comes in — the portfolio I was mentioning just before.
On Wednesday, InvestorPlace's Luke Lango and Charlie Shrem hosted a webinar outlining their quality/growth crypto strategy. Fortunately, those that missed the webinar can watch the video here.
The strategy they use is quite literally buy-and-hold investors' ultimate dream — find cheap cryptocurrencies with enough underlying quality to notch excellent gains.
And the great thing is: it works (especially if you're patient). Ultimate Crypto suggested investment in Cardano twelve months before I came around in January. It also identified VeChain (CCC:VET-USD), a coin that I was neutral on that subsequently rose 300%.
To give you a sense of the portfolio, I've been permitted to share two of its top picks.
Algorand (ALGO)
This week, the New York-based Drone Racing League landed cryptocurrency platform Algorand (CCC:ALGO-USD) as a primary sponsor. The $200 million first-person-view racing league now joins the NBA, MLB and Formula 1 Racing among those sports that sell naming-right assets to crypto companies.
For Algorand, it's a great win. The sponsorship perfectly reflects an upstart cryptocurrency charting an offbeat course.
But readers of Luke's Ultimate Crypto shouldn't be surprised:
"Algorand's (ALGO) blockchain focuses on five key features: pure proof of stake, global scale, broad decentralization, robust security, and guaranteed finality. And the Algorand Foundation is serious about increasing its development… Hold ALGO and buy only on dips below $1."
ALGO is a high-performing cryptocurrency designed by MIT professor Silvio Micali. The coin has already proved itself as an energy-efficient and secure token utilizing a proof-of-stake protocol. And the missing piece — a star business development team to match its strong technology — is coming together under Algorand Foundation CEO Sean Lee.
Ultimate Crypto picked ALGO back in April 2020; prices are up 820% since then. Algorand's low price-per-coin, however, still gives investors the potential for more gains.
Chainlink (LINK)
I've written about Chainlink's (CCC:LINK-USD) benefits before, but Luke and Charlie take a slightly different approach:
"We feel pretty good about the big picture here, and execs at Chainlink obviously do, too. The project has gone on a massive hiring spree recently, hiring everything from engineers, to operations, to product development, to data analytics and marketing — virtually the entire spectrum."
In short, if the Chainlink team is going on a hiring spree, that's a good sign the insiders know something we don't.
Chainlink is an "oracle" that connects blockchains to real-world data. Any smart contract that distributes insurance money after a flood, for instance, can use Chainlink to feed in verified, trustworthy data.
LINK will hold a dominant space in smart contracts as the concept takes hold. Its closest competitor, WINkLINK (CCC:WIN-USD), is just 3% the size — and size matters when you're looking to build dominance.
It's no surprise that Chainlink is featured in Ultimate Crypto. And once you learn more about this "oracle," you might become a fan too.
My No. 2 Strategy for Buying Cryptocurrencies Long Term
Some investors are understandably hesitant about buying cryptocurrency directly. The three "S's" — security, status-quo and sensibility — can make even the most risk-seeking stock investors think twice about jumping into a digital asset like Dogecoin.
For these investors, I offer two picks outside Luke's Ultimate Crypto portfolio for consideration.
Robinhood (HOOD)
Surprise! With HOOD stock dipping below $40 this week, I'm reversing my August "Sell" call. HOOD is now a Moonshot Investor "Buy."
In short, Robinhood's 40% decline since my August call has put the stock back in the "fairly valued" bin (it would take a sub-$30 price to land it in the bargain bin). Remember, HOOD still commands a major portion of retail crypto trading and has name recognition that incumbent players can only dream of.
The company is also attempting a return to growth. A $100,000 giveaway to college students is just the tip of the iceberg — Robinhood is also working on crypto wallets and expanding its pre-IPO trading capabilities.
Keep in mind however, that HOOD doesn't have 100x return potential anymore. That kind of growth would make Robinhood worth almost 50% more than Apple (NASDAQ:AAPL) today (Investors seeking that kind of return need to consider earlier-stage startups, as I outlined last week).
Nor is Robinhood a good stock for those who decry the "gamification" of stock trading. Even Reddit users are divided on the negative influence of an app that encourages stock gambling.
Nevertheless, investors seeking a relatively safer Moonshot would do well to buy Robinhood at these prices.
Argo Blockchain (ARBKF)
I've long held that Bitcoin (CCC:BTC-USD) mining is a tough business. Much like real-world metal miners, digital crypto miners face 1) high capital investment that 2) produces an undifferentiated product. Eww.
But some companies are better-run than others. And that brings me to Argo Blockchain (OTCMKTS:ARBKF), a U.K.-based Bitcoin miner focused on profitability rather than pricey acquisitions.
From the start, CEO Peter Wall has largely refused to overpay for mining machinery. Some of the firm's biggest capital purchases came in 2019, a year where machinery prices were hitting all-time lows. And the firm has shown a willingness to cancel mining rig orders when cheaper options come on the market.
The focus has paid off. Since 2020, Argo Blockchain has remained cashflow positive while Riot Blockchain (NASDAQ:RIOT) and Marathon Digital Holdings (NASDAQ:MARA) have burned through cash.
Then there's SOS Limited (NYSE:SOS), the target of a well-researched short-seller's report published last March.
"We are short $SOS, which we believe to be an obvious China-based shell game reanimating the corpse of a former China based company that earlier imploded 90% from its highs," tweeted Hindenburg Research.
I also suggested that readers run for the hills. Though the entire Bitcoin mining industry has lost steam, SOS has lost three times more than Argo Blockchain.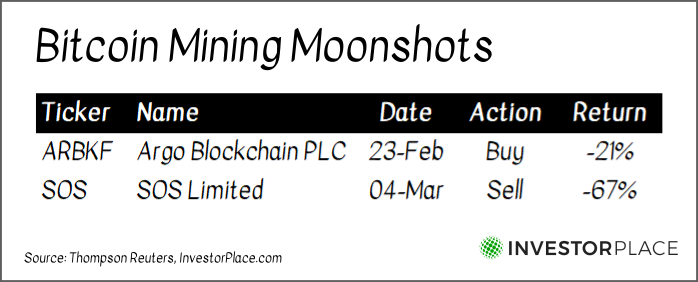 Bottom line? Although the future of Bitcoin miners is still uncertain, long-short investors should consider buying Argo Blockchain while shorting a basket of SOS, Riot and Marathon.
Do Cryptocurrencies Have Any Fundamental Value?
Four years ago, I stumbled on MetaMask — a browser extension that lets users interact with the Ethereum (CCC:ETH-USD) blockchain.
At the time, it honestly felt quite slow. Cryptocurrencies were seen as a store of value, which was just as well since crypto activities were limited. My Ethereum wallet sat there doing precisely zilch.
Fast forward to 2021 and everything has changed. Investors can now "stake" their cryptocurrency and earn 300%+ APR yields from margin-hungry investors. Smart contracts identify millions of artworks and collectibles, tying the pieces to their rightful owners. And a couple of mouse-button clicks can send money seamlessly across the world, even to countries without stable financial systems.
In a sense, cryptocurrency has created an entire unregulated shadow banking system. And though there will be many regulatory hurdles along the way, buy-and-hold crypto investors will likely find themselves pleased with the results — and the returns.
P.S. Do you want to hear more about cryptocurrencies? Penny stocks? Options? Leave me a note at moonshots@investorplace.com or connect with me on LinkedIn and let me know what you'd like to see.
FREE REPORT: 17 Reddit Penny Stocks to Buy Now
Thomas Yeung is an expert when it comes to finding fast-paced growth opportunities on Reddit. He recommended Dogecoin before it skyrocketed over 8,000%, Ripple before it flew up more than 480% and Cardano before it soared 460%. Now, in a new report, he's naming 17 of his favorite Reddit penny stocks. Claim your FREE COPY here!
On the date of publication, Tom Yeung did not have (either directly or indirectly) any positions in the securities mentioned in this article.
Tom Yeung, CFA, is a registered investment advisor on a mission to bring simplicity to the world of investing.