This article is excerpted from Tom Yeung's Moonshot Investor newsletter. To make sure you don't miss any of Tom's potential 100x picks, subscribe to his mailing list here.
Cryptos Go "Taylor Swift"
On Monday, news emerged that little-known Omicron Token (CCC:OMIC-USD) had jumped 1,000% overnight. It didn't seem to matter that anonymous developers entirely controlled the token. If it shared its name with a new Covid-19 variant, people were buying.
One might call this the "Taylor Swift Effect," after the unfortunately common (and androgynous) name that's made life challenging for people who share a moniker with the singer-songwriter. Back in 2015, GQ Magazine reported how a now 36-year-old man, Taylor Adam Swift, had to change his email address after country music fans flooded his inbox with fan mail.
On the other hand, crypto investors seem to relish in the Taylor Swift effect and it's crossed wires. Bitcoin Gold (CCC:BTG-USD), Ethereum Classic (CCC:ETC-USD) and other second-tier cryptos seem to spark interest every several months simply for sharing forks and names with their better-known siblings. And tokens from Mars Inu (CCC:MARSINU-USD) to MetaDoge (CCC:METADOGE-USD) top the "now trending" charts by re-cutting names like "Dogelon Mars" into something new.
Clearly, these knockoff tokens are poor long-term investments. Last I checked, Shiba Inu (CCC:SHIB-USD) remains the only meme copycat that breaks into the top-100 cryptocurrencies. But that hasn't stopped speculators from trying their hand at the game anyway.
So, what to do about the "Taylor Swift" effect in crypto? Easy. When it comes to cheap coins, pick originals that have yet to break beyond $1.
3 Millionaire Maker Cryptocurrencies For Under $1
On Nov. 23, Dollar Tree (NASDAQ:DLTR) announced that after 35 years, the company would be raising prices to $1.25. The "Dollar-Twenty-Five Tree" might not have the same ring, but even the bargain discount retailer knew that a dollar was too good a deal to make in today's economy.
Meanwhile, many sub-$1 cryptocurrencies still offer great deals. These under-the-radar coins share an element that meme coins lack:
They all have some aspect of irreplaceability.
Whether attached to high-potential businesses or holding a special place in investors' hearts, these coins are penny stock versions of CryptoLand that look set to succeed.
Crypto.com Coin (CRO)
When I first wrote about Crypto.com Coin (CCC:CRO-USD) in early November, it almost felt too late. The cryptocurrency had already risen from 6 cents to 33 cents since January and broken into the Top 50 coins by market cap.
But it was a timely call. CRO has since risen another 2.5x and now seems poised to break into the $1 range.
The reason for waiting was this:
Crypto trading apps have a habit of fading into oblivion.
Robinhood (NASDAQ:HOOD) now barely breaks into the Top 200 on the Apple app store, according to data collected by SensorTower. Webull, Coinbase (NASDAQ:COIN) and other trading platforms have seen similar dropoffs. It's hard to sustain momentum in a saturated market.
Crypto.com has wisely taken a different tack. Rather than relying on crypto trading alone, the firm has turned to payments to boost revenues. You might trade $1,000 in Dogecoin (CCC:DOGE-USD) once a quarter, but easily spend that amount on household expenses every week (a fact that the Crypto.com credit card fully acknowledges).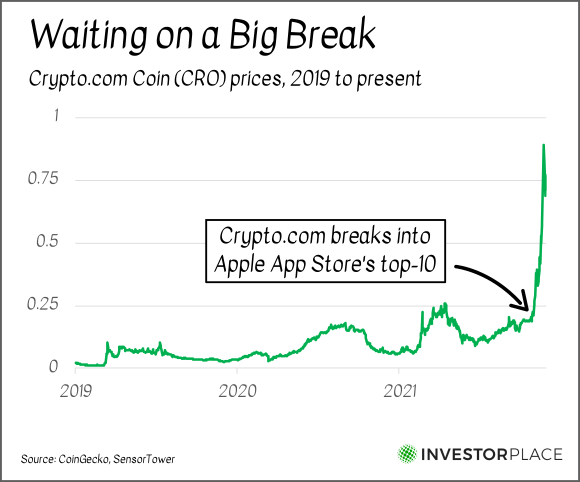 Margins are also fatter for payments. Typical credit card fees range from 1.5% to 2.5%, compared to the pennies earned through Payment From Order Flow (PFOF) in trading. That's why firms like Visa (NYSE:V) generate eight times more profit than Charles Schwab (NYSE:SCHW) despite having the same number of employees.
As Crypto.com continues to build out its payment capabilities, it should become a viable alternative to PayPal (NASDAQ:PYPL) and Square (NYSE:SQ). And at 75 cents, CRO is a crypto that's still not too late to buy.
Dogecoin (DOGE)
I've long used the Momentum Master strategy to identify entry and exit points for Dogecoin. A momentum-seeking approach could have turned $10,000 into $1.2 million since January, nearly three times more than a buy-and-hold strategy.
The reason for the outperformance has more to do with psychology than black magic or luck. Dogecoin prices are largely retail-driven — and mom-and-pop investors tend to chase trends instead of making their own. If prices are going up, they're the ones waiting in line to buy. And if they're going down, these hot-money investors won't stick around.
It's also why eagle-eyed Moonshot readers will notice that Dogecoin has seen fewer mentions lately. DOGE has been in "sell" territory since dropping below 26 cents on Nov. 11.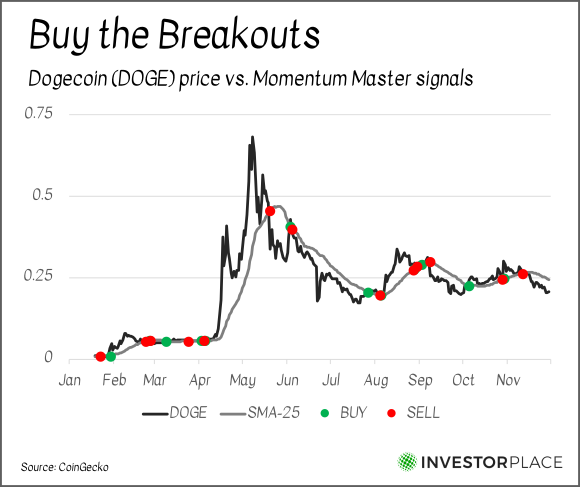 Momentum Master: buy DOGE when it next crosses above 25 cents
But most importantly, Dogecoin is arguably the original "fun" coin. While younger investors jump between new pupcoin tokens in hopes of striking it rich, people tend to buy Dogecoin because it's good, silly fun. And if you hold on for long enough, perhaps the top dog can still one day make you a millionaire.
Gala Games (GALA)
Those looking for a bit more adventure could consider Gala (CCC:GALA-USD), a token recently featured in Moonshot. Its high potential — paired with a sub-$1 price — makes it a coin to follow.
Eric Schiermeyer, co-founder of mobile game maker Zynga (NASDAQ:ZNGA), created Gala Games with a straightforward premise: creating blockchain games people want to play.
That's a breath of fresh air. Blockchain gamers will quickly realize that most first-generation crypto games aren't very enjoyable to play, at least in the traditional sense. NFT-based games typically involve collecting an indefinite number of online trinkets; gameplay is usually an afterthought.
Now, Gala Games wants to try their hand at recreating the success of Zynga's Poker, Mafia Wars and Farmville games. With 90+ team members and 1.3 million monthly active users, the firm has a strong head start in professionalizing NFT game development.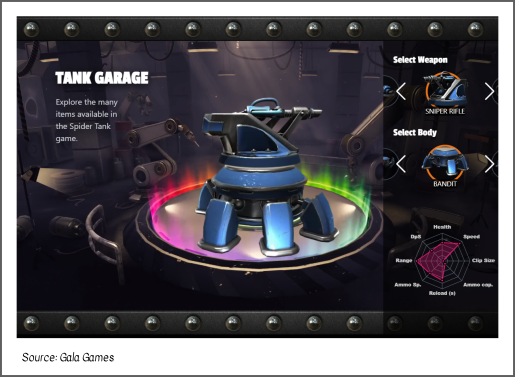 No garage space for a collectible tank? What about a virtual one instead?
Success, of course, isn't guaranteed. Zynga itself struggled to create more blockbuster games as mobile competition heated up. But so long as Mr. Schiermeyer's firm stays ahead of the pack, there's a greater chance that GALA will be a millionaire-maker crypto.
The Cheap Get Cheaper
Omicron variant fears have left no market untouched. On Monday, King Floki (CCC:KING-USD) shed 97% of its value within 24 hours. Baby Meta (CCC:BABYMETA-USD), Elonomics (CCC:ELONOM-USD) and BitcoinX (CCC:BCX-USD) weren't far behind.
These price collapses laid bare something we all already know:
These tokens had zero value to start with and zero value in the end.
Yet investors still seem blindsided when they get rug-pulled, honeypotted, or see their token investments goes to zero. It's like Groundhog Day, except people's portfolios don't magically reappear the following morning.
To illustrate why I largely avoid these copycat cryptos, consider the ease of deploying a new token:
Copy a BEP20 Token contract template (Binance offers a template here).
Change the name, symbol, decimals and total supply inputs on lines 347 to 350.
Upload to an IDE (Binance recommends Open Remix) to compile and deploy.
The entire process can take less than five minutes for those with basic coding skills. And for those less technologically inclined, sites like CreateMyToken.com and CoinTool.app offer point-and-click solutions instead.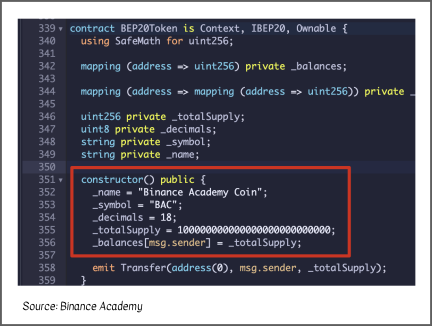 Required coding changes for creating a BEP-20 token
With an infinite number of potential tokens, it's no wonder why I stay away from hawking "the next Shiba Inu to make you rich."
When Sub-$1 Coins Are Expensive
Dollar Tree… McDonald's dollar menu… my office's vending machine… $1 sales seem to have gone the way of the dodo, at least in the real world.
But not in CryptoLand. Twenty-four of the top 100 crypto tokens by market capitalization trade for less than a dollar, and the proportion only increases the further down the list you go.
One culprit is the all-too-human tendency to believe low-cost items are cheap. It's why companies often practice "shrinkflation" (selling less product in the same size packaging) rather than raise product prices.
But with crypto, there's a more straightforward reason: ERC-20 and BEP-20 allow 18 digits of accuracy, and programmers have been all-too-happy to make use of every single zero allowed. That's why tokens such as MetaZilla (CCC:MZ-USD) carry prices of $0.000000000000000028.
So, before rushing off to buy a token with more decimals than you can count, remember that coins are much like calculating one's net worth in Venezuelan Bolivar. You could have millions of the currency in your pocket, but becoming a U.S. dollar millionaire will take far more than just that.
P.S. Do you want to hear more about cryptocurrencies? Penny stocks? Options? Leave me a note at moonshots@investorplace.com or connect with me on LinkedIn and let me know what you'd like to see.
FREE REPORT: 17 Reddit Penny Stocks to Buy Now
Thomas Yeung is an expert when it comes to finding fast-paced growth opportunities on Reddit. He recommended Dogecoin before it skyrocketed over 8,000%, Ripple before it flew up more than 480% and Cardano before it soared 460%. Now, in a new report, he's naming 17 of his favorite Reddit penny stocks. Claim your FREE COPY here!
On the date of publication, Tom Yeung did not have (either directly or indirectly) any positions in the securities mentioned in this article.
Tom Yeung, CFA, is a registered investment advisor on a mission to bring simplicity to the world of investing.