This article is excerpted from Tom Yeung's Moonshot Investor newsletter. To make sure you don't miss any of Tom's potential 100x picks, subscribe to his mailing list here.
Are You Gifting an NFT for Christmas?
What would you do if I gave you a $15,800 NFT of a digital pink speedboat for Christmas?
If you were my late father, he probably would have asked where the real thing was (my mother would have laughed and recalled the money my dad spent on even sillier purchases). Their views are pretty typical of most Americans.
I can also imagine their surprise that the same NFT sold for $25,200 the following month. That's just what happened with the Pink Prowler Speedboat, a Sandbox-based NFT.
It's no wonder people are trying to spread that Christmas cheer.
"Millennials and Gen Z are planning to spend thousands on cryptocurrency, NFTs and metaverse land as holiday gifts," CNBC observed last week. And it's true. For people looking to get rich quick (or those who hate in-person holiday shopping), there's never been a better time to be alive.
But before you go rushing to OpenSea with your credit cards, remember there are now more than 27,200 of these NFT collections. Many of these sport 10,000 pieces or more, and most of them are ghost towns. Over 90% of ERC-721 tokens have seen two trades or fewer this past weekend, according to data from Etherscan.io.
Yet there have also been plenty of blockchain-based winners this year. And to highlight these big bets, today's edition is a pre-Christmas special: a wrap-up of my best — and worst — crypto calls of 2021.
My 5 Best Crypto Bets of 2021
In January 2021, I had a bright idea:
Why not give every major cryptocurrency on the market a good, hard look?
Aggregation sites like CoinMarketCap were already ranking coins by size. But just like Enron… Pan Am… Blockbuster… biggest doesn't necessarily mean best.
And so began my quest to identify the best cryptocurrencies for 2021.
The 5-Star Parade
My initial list of 5-star currencies would eventually include:
Together, these coins averaged a return of 830%, seven times more than the 4-star coins and twelve times more than the 1-star ones.
There would, of course, be some hiccups along the way. Dogecoin gave up 70% of its gains as it fell from 69 cents to 17 cents. And market madness forced me to add and remove coins from my "top-buy" list as the year progressed.
But in general, these higher-quality crypto bets gave coins like NEM (CCC:XEM-USD) and Bitcoin SV (CCC:BSV-USD) a walloping.
My 5 Best Crypto Bets of 2021: 1. Dogecoin (DOGE)
"In the world of cryptocurrencies and memes alike, second acts DO exist," I said of Dogecoin in January. "In an asset class where popularity trounces usability any day of the week, Dogecoin could quickly return 1,000%."
The meme coin would eventually become my top-performing pick of 2021. As celebrities and Redditors jumped on board, prices surged 8,500% before settling at a +3,600% level. Dogecoin also spawned thousands of imitators: the Binance chain alone now hosts 51,000 tokens with the word "Doge" in it.
As 2022 rolls around, the original meme token remains a cryptocurrency to watch. Dogecoin is still the ninth most popular coin on trading app Coinbase (NASDAQ:COIN), ahead of every other meme coin. And even though its development has slowed to a standstill, wider adoption in 2022 could turn the tides once more.
2. Ethereum (ETH)
In January, I did something I rarely do:
I put a specific price target on a cryptocurrency.
"Ethereum investors could see $1,500 in the near term and $2,500 sometime by the end of 2021." — January 8, 2021
With the benefit of hindsight, it's easy to forget how audacious that target was. The last time Ethereum reached $1,400 was in 2018; prices collapsed 94% the following year.
Fortunately, that eye-catching price target would eventually play out. A combination of development milestones, NFT rollouts and blind luck has pushed Ethereum to my price target and beyond. Today, Ethereum remains one of my top crypto picks for its relative stability and room for growth.
As 2022 rolls around, don't be surprised if ETH overtakes BTC to become the world's largest coin.
3. Cardano (ADA)
"ADA, which runs on the Cardano network is one of the most technologically exciting cryptocurrencies to date. Its proof-of-stake system means it can operate more efficiently than the standard proof-of-work system. And its use of smart contracts means that it can keep track of transactions like bitcoin while handling payments like Ethereum." — January 2021
By September, this third-generation cryptocurrency would have turned a $10,000 investment into $155,000, making it the top-performing large-cap coin in the world.
But regular Moonshot readers also know that all good things must come to an end. As Cardano closed in on its $3 high point, I issued a warning:
"In order to notch another 700% rise however, Cardano would have to reach a $1 trillion market cap, a feat that only Bitcoin has achieved. And Moonshot readers will know by now that, much like an oversized housepet, it's hard for something big to grow infinitely bigger. To repeat these 700% gains, it helps to look at altcoins coming from a smaller base… Solana (CCC:SOL-USD), Internet Computer (CCC:ICP-USD) and Terra Luna (CCC:LUNA-USD)."
Playing the hokey-pokey with Cardano (i.e., putting your left foot in-and-out of the position) has confirmed my belief that it's always better to take profits when prices rise too high, too fast. ADA traders would have outperformed the buy-and-hold crowd by a 2-to-1 ratio.
Now that Cardano has dropped to a more "reasonable" $1.20, it's starting to look attractive again. Wait until the Momentum Master strategy sounds the all-clear, but once it does, ADA is a coin to buy.
4. Shiba Inu (SHIB)
Sure, we all love quality coins. But what about something the cat (or doge) dragged in?
Here's where Shiba Inu (CCC:SHIB-USD) comes in — an Ethereum token I picked out in August.
"Shiba Inu's staying power and overall code quality have landed the Ethereum-based token on my medium-term buy list. It's a low-quality currency that could still rise on investor interest." — August 2021
The coin would subsequently rise another 420% to $0.00004, proving that swarm traders don't much care for valuation or common sense. As long as a token is going up, it must be a buy.
But just as I did with Cardano, I then (rather unceremoniously) told investors to take profits.
"As my Momentum Master strategy makes clear, investors should also know when to lock in profits," I said about SHIB in October. "It's time to cash in." Those who did would have locked in their gains and side-stepped a 50% drawdown.
5. Solana (SOL)
Finally, there's Solana.
In early September, I noted how SOL had gone quiet, at least from a market perspective. Cardano had recently overtaken both Binance (CCC:BNB-USD) and Tether (CCC:USDT-USD) to become the world's third-largest coin, sucking the oxygen out of the room for other "Ethereum Killers."
"But don't be fooled," I wrote. "Solana has garnered more interest from Silicon Valley than from Wall Street… though the Solana Foundation has its work cut out for it, it's only a matter of time before the finance folks realize what the tech gurus have been doing."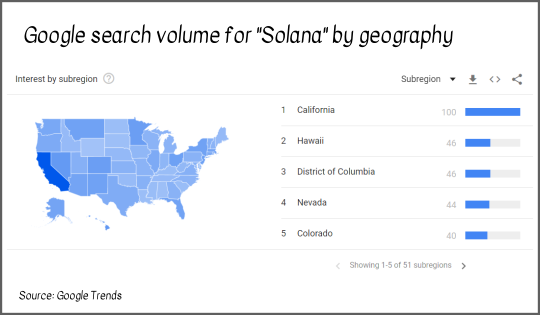 Investors wouldn't have to wait long. By Sept. 9, Solana surged 90% to $207, rivaling Cardano in size.
Today, SOL's large size is a mixed blessing. Though it's more stable than before, potential returns have declined for the same reason. I now prefer Algorand (CCC:ALGO-USD) for its smaller starting size.
Bottom line: Among top 2021 picks, Dogecoin, Ethereum stand out as potential 2022 winners. Cardano and Solana remain in wait-and-see territory, while smaller-cap Algorand is a "buy."
My Worst Crypto Decision of 2021
You might think of Internet Computer as my worst pick in 2021. The coin is down 65% since I mixed it in with two winners, Solana and Terra Luna, earlier this year. Turns out it's rather difficult to create a blockchain-based cloud computing system, even when you have VC firm Andreessen Horowitz footing the bill.
But my biggest regret of 2021 isn't the loser I picked, but the multi-bagger I missed:
Binance Token.
In my sweeping January review, I gave BNB two stars on account of its parent company's checkered past:
"Binance's homegrown coin has use on its platform, but not much else… In October, Forbes staff released documents alleging that Binance and its founder created an elaborate corporate structure designed to deceive U.S. regulators."
Oops. My bad.
Binance's native token eventually returned 1,300%, outperforming Ethereum and Cardano.
Now, I was correct that BNB was only useful on the Binance platform. But I failed to anticipate just how big the Binance platform could become.
In the end, Binance's cheap transaction prices, coupled with light-touch regulation, spawned an entire ecosystem of meme coins such as Safemoon (CCC:SAFEMOON-USD) and Floki Inu (CCC:FLOKI-USD) — multi-billion-dollar tokens that sent BNB ever higher.
Not everything, however, has been smooth sailing. In October, the popular Netflix (NASDAQ:NFLX) show Squid Game spawned a crypto namesake, Squid Token (CCC:SQUID-USD), that turned out to be a massive scam. The token's anonymous developers eventually made off with $30 million of investor money.
Binance's attitude that "it's easier to ask forgiveness than permission" has also landed the company in hot water. In August, the U.K. Financial Conduct Authority accused Binance's "complex and high-risk financial products" of posing "a significant risk to consumers". And crypto regulators from the U.S. to Singapore have begun cutting Binance's trading apps from its shores.
But that hasn't stopped meme coin investors from buying in anyways. And that's what makes it hands-down my worst crypto bet of 2021… the one winner that got away.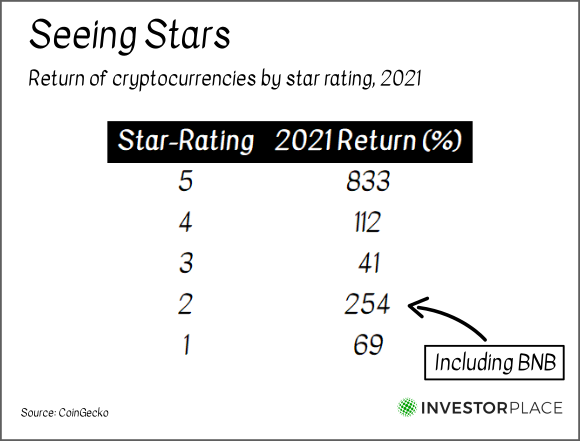 All I Want for Christmas… Is a $15,800 Boat NFT
Years ago, my father told my mom that he wanted to buy a real-life boat.
"Whatever for?" She asked my dad. "You don't even like the water."
"I just want to enjoy looking at it," he responded (Years later, I would hear a similar line of dialogue repeated in the videogame Grand Theft Auto V).
My father's quip had an element of honesty to it. As every marina watcher knows, boats can spend virtually their entire lifetimes moored to the shore or beached in someone's front yard. Collectible sneakers can spend decades unopened, and fine wines can go sour without anyone ever noticing (You're apparently not supposed to open such treasures).
In other words, he would have eventually understood the draw of NFTs. Not only can people enjoy ownership of digital collectibles — they'll pay top-dollar to have the prestige of owning a scarce and popular resource. Notice how people beach their real-life yachts in the front yard rather than the back?
So, if you're planning on giving an NFT as a gift this Christmas, make sure it's something they'll enjoy. Otherwise, you might as well get them $15,800 of lottery tickets and a printed-out copy of their favorite pink speedboat.
P.S. Do you want to hear more about cryptocurrencies? Penny stocks? Options? Leave me a note at moonshots@investorplace.com or connect with me on LinkedIn and let me know what you'd like to see.
FREE REPORT: 17 Reddit Penny Stocks to Buy Now
Thomas Yeung is an expert when it comes to finding fast-paced growth opportunities on Reddit. He recommended Dogecoin before it skyrocketed over 8,000%, Ripple before it flew up more than 480% and Cardano before it soared 460%. Now, in a new report, he's naming 17 of his favorite Reddit penny stocks. Claim your FREE COPY here!
On the date of publication, Tom Yeung did not have (either directly or indirectly) any positions in the securities mentioned in this article.
Tom Yeung, CFA, is a registered investment advisor on a mission to bring simplicity to the world of investing.