It's a new and bullish Roaring '20s. And that means there's stocks to buy, right? Indeed, there are. But today those purchase decisions may be put to better use in stocks where the only roar has been of a more durable bearish persuasion.
Record breaking all-time-highs. Historic, above-average double-digit gains. Welcome to the 2020's and Wall Street's homage to the prior century's post Spanish Flu, go-go stock era.
That's not to say Wall Street has been serving a free lunch.
If being involved in the market simply involves listening to the 15 second Dow Jones and Nasdaq recap on the nightly news, you've done terrific since early 2020's swift, Covid-induced March bear market bottom.
Likewise, more active investors whose stocks to buy watchlists resulted in purchases of large-cap, household favorites like Microsoft (NASDAQ:MSFT), Home Depot (NYSE:HD) or Tesla (NASDAQ:TSLA), chances are you've handily outperformed the market.
Even in the best investing environments though, there's always going to be the roar of bearish cycles.
And right now there's plenty of once-hot SPACs, cryptos, pot companies, meme and short squeeze plays and plain and simple growth stocks that support a different type of Roaring '20s market experience.
Advanced Micro Devices (NASDAQ:AMD)
DigitalOcean Holdings (NYSE:DOCN)
Ark Innovation ETF (NYSEARCA:ARKK)
Today, let's look at the weekly price charts of three stocks to buy where the only thunderous din has been the more constant roar of bears, but today hint of a more pleasant change of tune by investors in 2022.
Stocks to Buy: Advanced Micro Devices (AMD)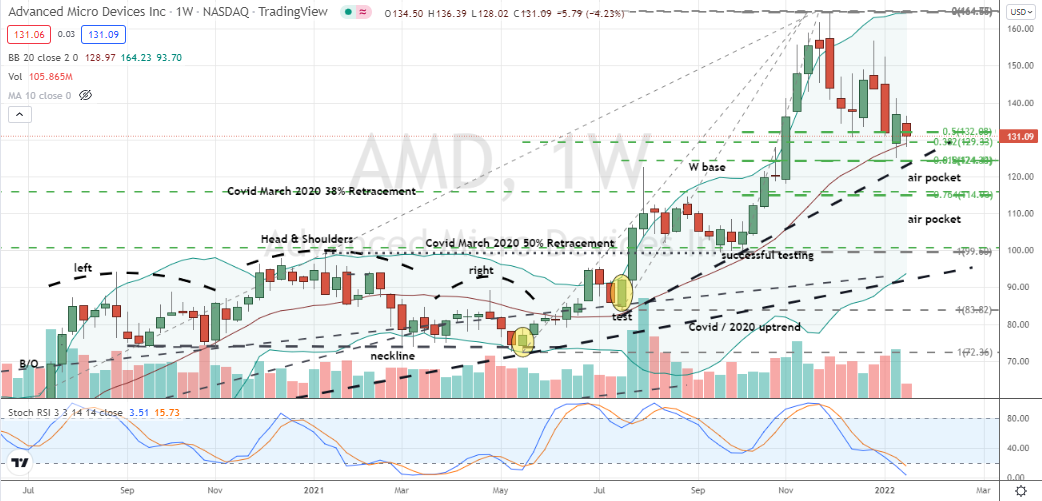 Source: Charts by TradingView
The first of our stocks to buy and where the bear has sufficiently less fat to chew on are shares of Advanced Micro Devices.
As of last week and after several weeks of corrective activity, AMD stock made it official.
At last week's low this stock to buy shed as much as 24%. In doing so the price action signaled a popular, but typically not-worth-its-salt bear market as it cut 20% off its valuation.
I take that back. The bearish indicator looks great for AMD stock bulls looking to purchase growth at a well-supported discount.
Despite the obvious shorter bear market cycle, the semiconductor giant's shares are now testing a band of trendline and Fibonacci support from about $125 to $132.
And with AMD also sporting an oversold weekly stochastics, the days of needing to be fearful of overly-aggressive buyers are in the rearview mirror.
Can I promise a bottom, let alone a lasting intermediate low in this stock to buy? Nope. And an air pocket beneath last week's low warns that a much larger correction is always possible.
Still, with an inside candlestick being built in the weekly doji, this large-cap tech leader definitely deserves a spot on investors' stocks to buy watchlists.
DigitalOcean Holdings (DOCN)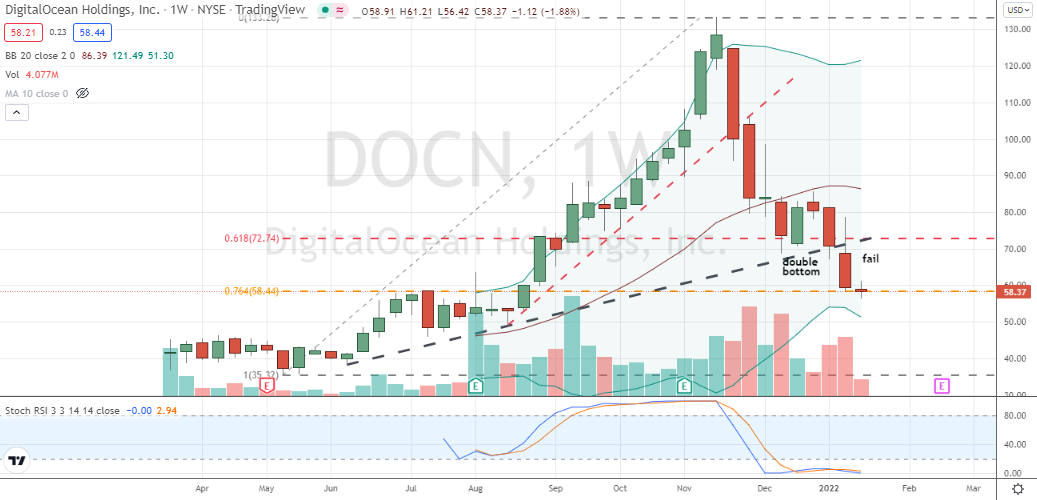 Source: Charts by TradingView
The next of our stocks to buy is DigitalOcean Holdings.
In the scheme of things and similar to AMD, it hasn't taken a lot of time for investors cheers to turn into jeers.
Unlike Advanced Micro Devices though, shares of the small-to-mid-size business (SMB) cloud-computing specialist and recently reinstated mid-cap have been clobbered roughly 2.5x as hard.
DOCN stock's bear market correction of about 58% isn't entirely surprising, though.
Given the risk-off environment in growth stocks since November, deeper multiple contractions on either side of 50% is a common price of admission for outsized upside when conditions cool off.
And appreciating DOCN's superior cloud services niche and forecasted CAGR of 27% for the next couple years, DOCN stock certainly qualifies.
As well and to be fair too, judging by this stock to buy's weekly price chart, price action from late summer into November certainly allowed bulls to grin easily from ear-to-ear.
Today though, it's time to make better use of this bear market.
With DOCN shares stationed on the 76% Fibonacci level in a weekly doji pattern and stochastics oversold, but in need of a bullish crossover, a "matter of when, not if" bottom appears close at hand in this stock to buy.
Stocks to Buy: Ark Innovation ETF (ARKK)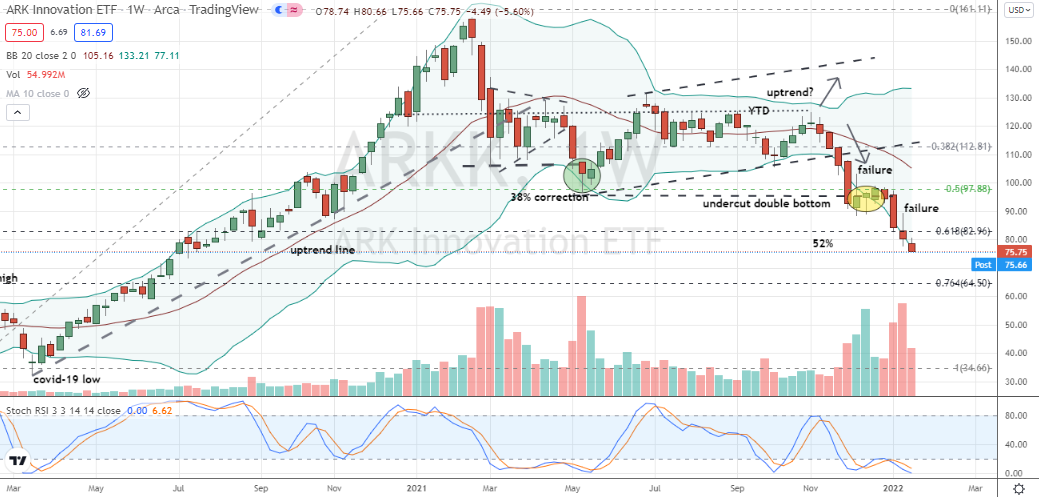 Source: Charts by TradingView
The last of our stocks to buy isn't a stock per se, it's the Ark Innovation exchange-traded fund. But it certainly makes sense as a vehicle to purchase given the circumstances.
As an ETF which trounced the broader averages in 2020 on the back of Ms. Wood's singular, growth-centric and aggressive investment style, last year marked a vicious slap-in-the-face, market-defying slump of nearly 23.50%.
Bulls caught in the crosshairs can blame unwavering and larger commitments in stocks like Teladoc (NYSE:TDOC), Zoom Video (NASDAQ:ZOOM) and Roku (NASDAQ:ROKU) as reasons for what went wrong.
And today Ark's investors can continue with the blame game. January's bearish behavior in growth stocks has led to another near 20% lopped off ARKK shares.
But with ARKK's oversold price action also sheering more than 50% off last year's mid-February peak and this stock to buy representing a basket of stocks not unlike more dearly-held market averages, it's fair to say this Roaring '20s market is looking a bit safer to purchase.
On the date of publication, Chris Tyler holds long hedged positions (either directly or indirectly) in Ark Innovations ETF (ARKK). The opinions expressed in this article are those of the writer, subject to the InvestorPlace.com Publishing Guidelines.
Chris Tyler is a former floor-based, derivatives market maker on the American and Pacific exchanges. For additional market insights and related musings, follow Chris on Twitter @Options_CAT and StockTwits.