Carnival (CCL) stock remains at larger risk of inflation challenges plaguing the market.
CCL stock is trending lower and in jeopardy of continued downside.
Buying Carnival is riskier business and a more questionable position without a hedged strategy.
They say a rising tide lifts all boats. But when it comes to Monday's session, that certainly wasn't the case in shares of Carnival (NYSE:CCL). In reality, the market is made up of stocks that often march to the beat of their own drum. Strong performance in the rest of the market won't stop CCL stock's anchor-dragging performance.
It didn't take a lot for Wall Street to start the workweek anxious to locate bargains in risk assets of all sizes and business missions: Upbeat performance guidance from JPMorgan & Chase (NYSE:JPM), optimism the U.S. may quash trade tariffs against China and an oversold market hitting new bear market lows on Friday, all led by the Dow Jones gain of 2%.
But cruise line operator Carnival saw shares finish the session down 0.15% and only after being down more than 4% intraday and hitting fresh one plus year lows. And as we'll explore in the following, off and on the price chart, CCL stock buyers would be advised to carry a travel insurance policy of sorts that prepares investors for rougher conditions ahead.
Don't Board CCL Stock
If CCL investors think it couldn't possibly get any worse than the onset of Covid-19 back in 2020, they might be mistaken. Sure, CCL stock's fleet is fully operational, and it's the first of the major cruise lines to do that. And given where we were less than two years ago, that's no small feat.
It's also fair to say that global populations aren't at the same sort of risk to the virus given today's vaccines and overall much better readiness. But neither is going to move the needle favorably for Carnival in the near-term.
More important is 2022's one-two punch of restrictive Covid-19-related shutdowns in China and Russia's invasion of Ukraine. And problematically, there are real world bearish implications that won't be so easy for CCL stock to navigate. I'm talking about inflation and interest rates, of course.
Inflation on critical line items is a big and growing burden. That includes gargantuan food and fuel costs. And so is the huge debt Carnival incurred as it looked to survive Covid-19 amid suspended operations.
Then there's the cruise line's customers whose wallets feel stretched amid higher interest rates and a weaker stock market. And with cruise lines dependent on discretionary spending, this year is a brewing perfect storm of trouble whose full impact remains to be seen.
Carnival Shares Could Sink Further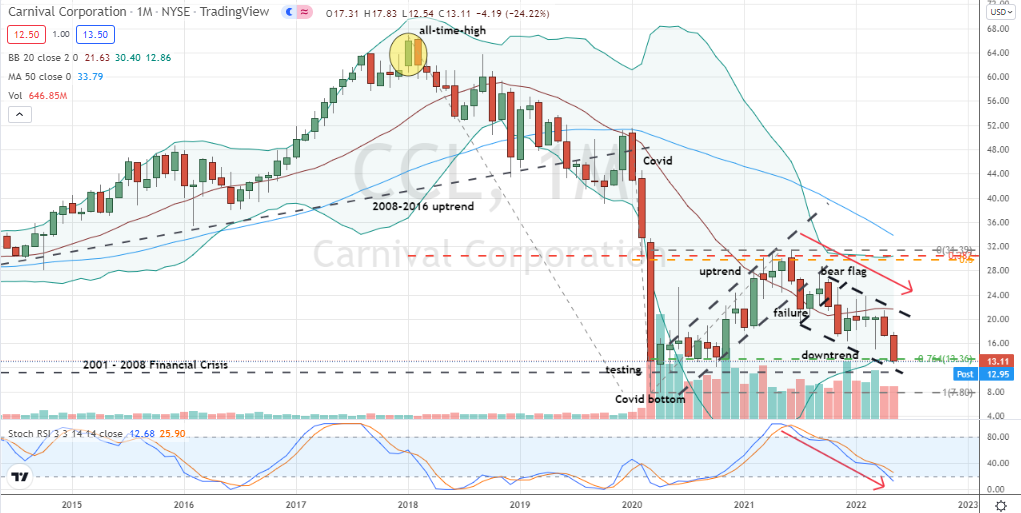 Source: Charts by TradingView
Of the largest cruise line operators, shares of CCL have been the weakest since Covid-19. This year Carnival stock is down 35% compared to a losses of 27% and 28% for Norwegian Cruise Line Holdings (NYSE:NCLH) and Royal Caribbean (NYSE:RCL).
Today, with CCL stock reaching new one year lows, a full-blown retest of CCL's April 2020 bottom is also the closest in percentage terms with shares about 40% above those levels. That would be a fair bit of ground to give up, but it would be naïve to think it couldn't happen based on what we're seeing on CCL's stock chart.
Technically, Carnival is in downtrend as the illustrated monthly chart reveals. Coupled with stochastics trending lower and just on the cusp of oversold territory, a failure to hold Bollinger and 76% Fibonacci support leaves CCL stock open to bearish momentum and the increased risk of a double bottom emerging before year's end.
A CCL Stock Lifeline for Buyers
Trends in motion tend to stay in motion, but a sinking of CCL stock also isn't guaranteed. Trends do change. Most recently, today's downtrend was preceded by a fairly strong-looking uptrend off CCL's March 2020 low into June 2021.
Having said that though, I still wouldn't blindly buy CCL stock without having some monthly chart confirmation that conditions are favoring a trend change first. As with last June's top which saw an overbought stochastics bearishly cross and warn of a cycle change, a better-placed buy could be as simple as waiting on a bullish stochastics crossover in oversold territory.
If the ebbs and flows which occur regularly in stocks do begin to favor a Carnival purchase, I'd also recommend buying travel insurance of sorts on that purchase. Bottom-line and given CCL's current losses and negative cash flow, owning a long put in the event shares turn south or having a fully-hedged collar are lifelines that can keep investors afloat rather than going down with the ship.
On the date of publication, Chris Tyler did not have (either directly or indirectly) any positions in the securities mentioned in this article. The opinions expressed in this article are those of the writer, subject to the InvestorPlace.com Publishing Guidelines.