The market is rallying for a second straight day and shares of hydrogen champion Plug Power (NASDAQ:PLUG) are enjoying an outsized lift. PLUG stock is up 9% compared the tech-heavy Nasdaq's gain of 3%.
It's no secret Wall Street has been a wreck for most stocks in 2022. From supply chain snarls to inflation at multi-decade highs and hawkish, behind the eight ball central bankers trying to reign in prices while avoiding a recession, it has been a tough environment.
And those challenges have been particularly harder for smaller growth narratives, even market leaders like Plug Power whose shares remain down 41% year-to-date and nearly 80% from their multi-decade peak of $75.49 in late January 2021. But it's time to see the opportunity and look past the fear.
Let's look at the reasons why a more sustainable bull market in PLUG stock is likely to emerge and how to buy into that potential more smartly.
| | | |
| --- | --- | --- |
| Ticker | Company | Current Price |
| PLUG | Plug Power | $17.10 |
Plug Power Is Making the Right Moves
First, let's get the ugly stuff out of the way. PLUG stock is losing money. Plug Power's losses are growing. Plug Power is burning cash. And surging natural gas prices, which drive much of today's hydrogen production, are making those red-line items more of an eyesore.
But those are shorter-term headwinds for PLUG. The thing is Plug Power is building an increasingly sustainable business for an alternative "green hydrogen" fuel source and economy whose time has finally arrived.
I'm not bold enough to call PLUG The "Tesla of Hydrogen" as InvestorPlace's Luke Lango has. Nevertheless, Plug Power is the real deal and an undisputed leader in hydrogen's role as a powerful decarbonization solution for business.
Just last month, Plug's industry leading position was reinforced with a new agreement with longstanding customer Walmart (NYSE:WMT) to supply green hydrogen for as many as 9,500 of the retailers forklifts across its fulfillment and distribution centers.
Most recently, PLUG received an order to supply a gigawatt (GW) electrolyzer to hydrogen fuel-cell outfit H2 Energy Europe. If investors can keep their eye on the ball rather than the Federal Reserve's eight ball, Plug Power stands to see $500 million in revenues in 2024 from that deal alone. That's not all that investors have to be upbeat about either.
PLUG Stock Is Also Making The Right Moves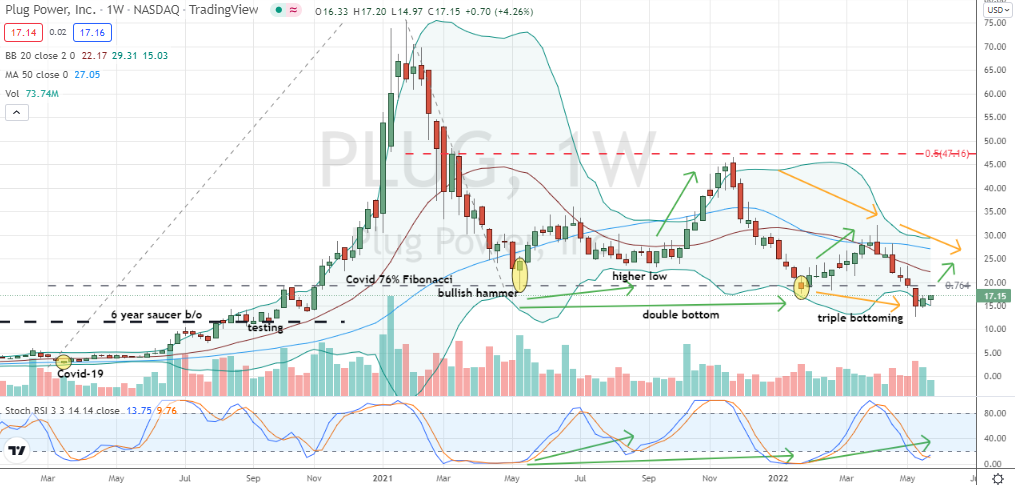 Source: Charts by TradingView
With PLUG stock's Rochester electrolyzer gigafactory expected to come online in 2025 and the equipment key to making green hydrogen production competitively priced for broader commercial use, Plug Power's recently reiterated sales growth guidance of 80% on revenues of $900 million to $925 million for 2022 stands to balloon to $3 billion in 2025.
Plug Power makes for a compelling opportunity for PLUG shareholders as well.
Valued at just under $10 billion and with $2.5 billion in cash and equivalents, the company is well-positioned to make good on its intermediate-term objectives. From there, even if PLUG was to only capture a fraction of the success Tesla (NASDAQ:TSLA) has enjoyed, it's fair to say that buying Plug Power can still prove a huge win with significant upside for investors.
And technically, that starting point could be in play for PLUG buyers right now.
Today shares are on the cusp of trading above an inside weekly chart candlestick. Stationed within a triple bottoming pattern that has formed over the past twelve months and with stochastics giving the green light, a Plug Power purchase obviously has a lot working in its favor.
Buying PLUG Stock
One other benefit of buying PLUG stock today is the broader market. The way the session is shaping up into Thursday's close, the major averages should confirm a rally attempt out of this year's corrective bottom with a historically bullish follow-through day (FTD).
The price and volume event is never a guarantee of success, but a transition into a bull market is never complete without a FTD signal in place.
Appreciating PLUG's own weekly chart dynamics where we're expecting the bottom to hold, but also aware of a slightly more bearish lower-high formation from March, I'd propose buying shares with a July $12.50 put for protection.
Then, and if shares rally toward $25 in the weeks ahead, adjusting into a fully hedged and actively managed collar position is a calculated strategy that leaves less room to chance.
On the date of publication, Chris Tyler did not have (either directly or indirectly) any positions in the securities mentioned in this article. The opinions expressed in this article are those of the writer, subject to the InvestorPlace.com Publishing Guidelines.