Most risk assets of all sizes and mission statements have taken a beating this year. But beneath headlines of a bear market and now tons of warnings of a dead cat bounce, a certain change of character is occurring. Moreover, it's worth buying into with select Nasdaq 100 stocks today.
For a second straight week Wall Street is doing more than squeezing bears in the major averages. Led by tech shares, the Nasdaq 100 is reaffirming the past five-day period's solid gain and its critical bullish price and volume signal known as a follow-through day, or FTD.
If investors want something substantial to bet on that's more important than inflation, next week's European Central Bank rate decision or supply chain issues, appreciate that no modern bull market in the U.S. stocks has occurred without a FTD in place.
That's not to say every FTD turns into a bull market, as a couple have already failed in 2022. But a third time does look more charming for buyers of these three Nasdaq stocks set up for sizzling returns beginning this summer.
| | | |
| --- | --- | --- |
| CEG | Constellation Energy Corp | $65.30 |
| AMZN | Amazon | $2,434.66 |
| NFLX | Netflix | $200.69 |
Constellation Energy Corp (CEG)


Source: Charts by TradingView
Constellation Energy Corp (NASDAQ:CEG) is the first of our Nasdaq 100 stocks that's sure to outperform and in position for buying.
There's little doubt CEG isn't the first name that comes to mind with the Nasdaq, maybe not even the last one you'd consider. For one, its ticker is three letters and not the standard four associated with ever popular favorites like Microsoft (NASDAQ:MSFT) or Tesla (NASDAQ:TSLA).
Also, CEG stock isn't your typical tech stock in the Nasdaq 100. It's a utility company.
Looking past those oddities though, the recent spin-off is the index's top-performer in 2022 with a return of around 70%. Constellation Energy is also the country's largest clean energy utility and an alternative energy leader with its integrated platform for sustainable energy solutions.
Technically speaking, this Nasdaq 100 stock is also setting itself up to continue its market leadership.
Today shares are trading within a bullish classic cup-with-handle formation. Buying CEG stock on a handle breakout should reasonably lead to new highs and momentum could easily take this Nasdaq 100 stock towards $75 to $80 before channel resistance comes into play.
Amazon (AMZN)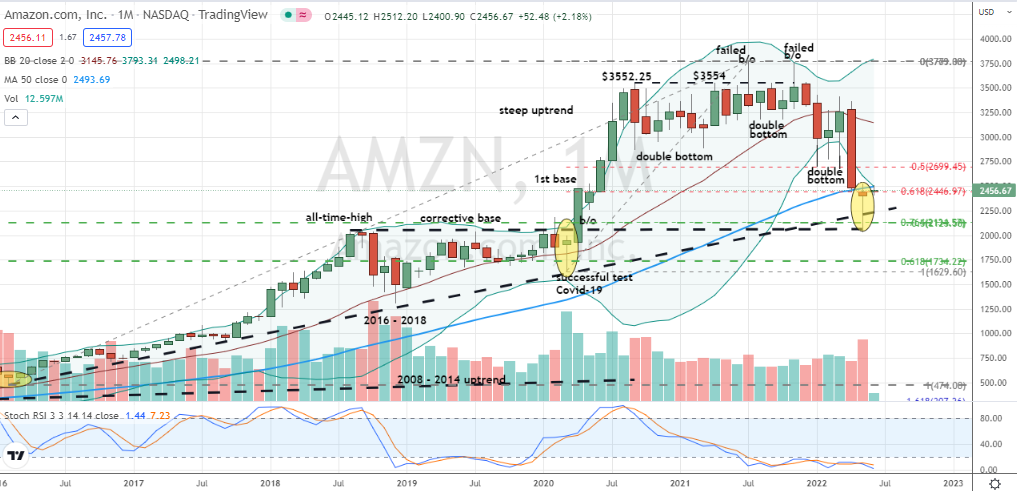 Source: Charts by TradingView
Amazon (NASDAQ:AMZN) is the next of our Nasdaq 100 stocks to buy.
Unlike CEG stock, Amazon is no stranger to investors, with most doorsteps, screens and companies reliant on the diversified tech giant's retail and cloud services. It's an uncontested 800 pound gorilla.
Despite Covid-19 and Russian-related challenges impacting some its business sprawl, as evidenced by Amazon's most recent quarterly results, the report wasn't as toxic as Wall Street's share crashing aftermath suggests, as solid AWS cloud and advertising results were swept under the carpet.
Fast forward a handful of weeks with the market's FTD in place, and it's time to be upbeat that a fourth purchase decision in Nasdaq 100 stock will be a great deal for investors.
After three failed double bottom buy decisions over the past year and change, the monthly view reveals a very attractive oversold bullish monthly hammer formed outside AMZN's Bollinger band that's resting on key longer-term trend, Fibonacci and price support.
An intermediate to longer-term out-of-the-money bull call spread looks like a terrific 'package' for delivering profits with vastly reduced risk on nearby monthly price confirmation in this Nasdaq 100 stock.
Netflix (NFLX)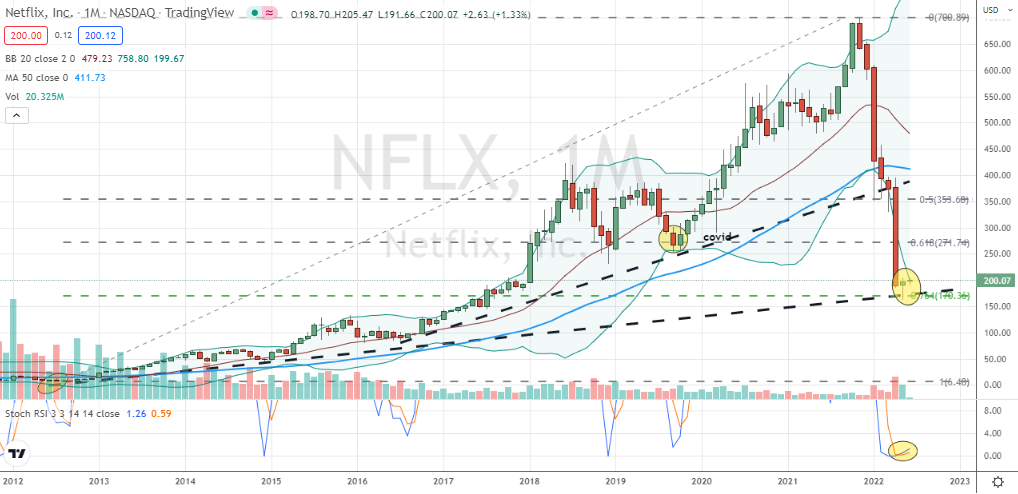 Source: Charts by TradingView
Netflix (NASDAQ:NFLX) is our final Nasdaq 100 stock to purchase. Not that I've saved the best for last, but for contrarian investors NFLX stock certainly looks the part.
Following April's epic 35% tumble in the wake of Netflix's all-around terrible-sounding earnings report and management warning of an even worse quarter to come, this Nasdaq 100 stock is about as bad as it gets. Well, to some investors at least.
With NFLX's year-to-date loss of 67%, situated in last place within its Nasdaq 100 constituency, and shares off 71% since November's all-time-high, the price chart has shaped up nicely for contrarian style buyers.
Technically, the streaming giant's sell-off manifested itself into a confirmed hammer candlestick. Combined with the oversold formation finding decade-long Fibonacci and trend support, the reversal pattern signaling outside the lower Bollinger band and stochastics now bullishly aligned, this Nasdaq 100 stock is in position for a happy ending.
I'd suggest a fully-hedged or even a partially-hedged, modified collar in this Nasdaq 100 stock so investors can get to the next and hopefully bullish storyline with more authority.
On the date of publication, Chris Tyler did not have (either directly or indirectly) any positions in the securities mentioned in this article. The opinions expressed in this article are those of the writer, subject to the InvestorPlace.com Publishing Guidelines.