The world of pharmaceutical progress happens incrementally and exponentially. That is, therapies are iteratively improved while breakthrough treatments are also created and discovered. Investors who are curious to understand drug stocks with promising pipelines should start with these companies.
2023, like all years, holds the same promise of progress in the pharmaceutical sector: Iterative and breakthrough progress that will increase the health and well-being of patients. The companies above promise both breakthroughs and iterative progress within their current pipelines.
| | | |
| --- | --- | --- |
| Ticker | Company | Price |
| NVS | Novartis | $91.83 |
| BMRN | BioMarin | $110.62 |
| LLY | Eli Lilly | $343.89 |
Novartis (NVS)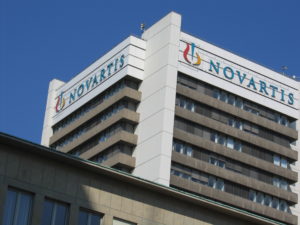 Novartis (NYSE:NVS) stock has a potent catalyst in its toolbox. The company has a firm grasp over two drug therapies for spinal muscular atrophy (or SMA). SMA is a rare disease with certain forms having a fatal prognosis within two years.
SMA is a disease that can be managed and perhaps cured through targeted gene therapy. Novartis' pipeline currently includes a 2019 FDA-approved treatment for a particular form of SMA. The drug, Zolgensma, was approved for the treatment of patients under two years of age with specific mutations. Novartis published long-term data on Zolgensma in May '21, which showed that 10 of 13 patients treated with the drug were alive, breathing independently, and maintaining previous motor activity. It is also prohibitively expensive, with a price tag of $2.1 million for the single required infusion.
Novartis is developing another SMA gene therapy drug for patients aged 2 to 18. The company will soon conduct a Phase 3 trial of 100 plus patients for that drug. Part of Novartis' challenge is getting the expensive treatments covered by health insurers. If successful in navigating that challenge, Novartis should expect strong revenues from that portion of its pipeline.
BioMarin (BMRN)
BioMarin (NASDAQ:BMRN) is another drug stock investors should pay close attention to in 2023. Its hemophilia drug, Roctavian, makes its pipeline one to watch this year.
The drug received European Commission approval in August of last year. Phase I/II safety trials began in December 2020 and will continue through February 2029. The drug reduces the number of bleeding events in hemophiliacs, necessitating prophylactic treatments that combat a malfunctioning blood protein known as factor VIII. Analysts believe that sales of the drug could reach $500 million by 2031.
However, investors should note that the drug could have meaningful impacts on BioMarin's stock price sooner than that. The drug has been identified as one to watch, with FDA discussions about it expected early this year.
People with the most severe form of hemophilia A, 50% of all patients, are susceptible to painful, life-threatening bleeding from slight injuries. These patients have to endure multiple monthly infusions, which do not completely stop breakthrough bleeding. As a result, patients can develop joint damage or other serious complications.
Eli Lilly (LLY)
Eli Lilly (NYSE:LLY) stock has a very potent catalyst in diabetes drug, Mounjaro. Sales of the drug outpaced Wall Street expectations in Q3 on strong patient demand and wider insurance coverage. Eli Lilly reported $97 million in sales from the drug during Q3.
But that's only part of the story. Mounjaro isn't only being sought after for its ability to reduce blood sugar in diabetic patients. It is also shown to be effective in helping patients lose weight. However, Eli Lilly cannot promote Mounjaro for weight loss specifically until it receives clearance to do so. Eli Lilly has submitted an application which is expected to be decided by April.
That means LLY stock might have a blockbuster on its hands. Novo Nordisk's (NYSE:NVO) Wegovy received FDA approval for weight loss in 2021, with the drug becoming a viral sensation through TikTok and YouTube of late. However, Novo Nordisk failed to address supply chain issues, and the drug is proving difficult to source. As a result, sales of $700 million have fallen well short of the $2 billion (1)some analysts had predicted. That leaves the door open to a massive opportunity for Eli Lilly and Mounjaro if it receives FDA approval for weight loss in April.
On the date of publication, Alex Sirois did not have (either directly or indirectly) any positions in the securities mentioned in this article. The opinions expressed in this article are those of the writer, subject to the InvestorPlace.com Publishing Guidelines.