The current market volatility, while disconcerting, is opening up opportunities to buy strong growth stocks on the cheap. As share prices drop, some stocks that are usually expensive stocks become much cheaper. Opportunistic investors who buy now are likely to be rewarded over the long term once markets recover and a broad-based rally takes hold. It's also important to remember the current slump in equities that took hold in August is largely due to near-term expectations around interest rates and the fact that the U.S. Federal Reserve isn't likely to start lowering rates until the middle of 2024 — at the earliest. Geopolitical uncertainties with wars now raging in the Middle East and Europe aren't helping either. But once interest rates lower, stocks should rise sharply and many well-known growth stocks should resume their upward trajectory. Here are three growth stocks that will make you rich in 20 years.
Amazon (AMZN)
E-commerce giant Amazon (NASDAQ:AMZN) looks to be back on track after reducing its headcount and scaling back its operations coming out of the pandemic. However, the real reason to buy and hold AMZN stock is that the company is so much more today than a company that sells items over the internet and deliveries them to homes and businesses. It was recently announced that Amazon plans to invest $4 billion in artificial intelligence (AI) start-up company Anthropic, which is a rival to ChatGPT creator OpenAI. Going forward, Amazon said its cloud customers will be given access to Anthropic's technology through its Bedrock AI platform for businesses.
The Anthropic investment is the latest example of how Amazon is diversifying its business and moving into new areas. From cloud computing to streaming live NFL football games, to selling groceries through Whole Foods and developing cutting edge drones to deliver packages and humanoid robots to work in its e-commerce fulfillment centers, Amazon is an increasingly diverse technology concern. While AMZN stock was driven lower during last year's tech wreck, the share price is now on the comeback trail, having gained 50% so far in 2023. Over the long-term, the stock can be expected to continue providing value to shareholders.
Tesla (TSLA)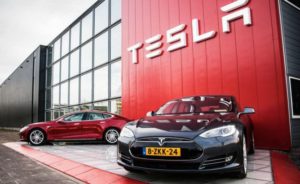 A huge buy-the-dip opportunity is forming with electric vehicle maker Tesla (NASDAQ:TSLA) after the company's stock fell 15% following its third-quarter financial report. Any further slide in TSLA stock should be seen as a chance to buy the stock on the cheap, especially if the share price falls below $200. To be sure, Tesla faces a number of short-term challenges that have hurt its earnings and are weighing on the stock. These include a slowing global economy, declining consumer spending on big-ticket items and rising competition from traditional automakers.
However, long-term it would be foolish to bet against Tesla CEO Elon Musk. Many people who shorted TSLA stock in recent years have publicly said they came to regret the decision. Also, like Amazon, Tesla is diversifying and becoming a more wide-ranging tech company. Moving beyond its traditional focus on electric vehicles and the batteries that power them, Tesla is pushing into new areas such as solar panels and is even now developing a new supercomputer called Dojo created to train AI systems on large language learning models.
Investment bank Morgan Stanley (NYSE:MS) issued a note to clients in September stating the Dojo supercomputer could boost Tesla's market valuation by as much as $500 billion in the coming years. Investors who buy and hold TSLA stock over the long term should be rewarded.
Ferrari (RACE)
Luxury sports car maker Ferrari (NYSE:RACE) is literally racing ahead of other automakers when it comes to share price performance. RACE stock has gained 40% so far this year, is up 53% over the last 12 months and has risen 160% through five years. At the same time, most other automakers' stocks have fallen into the red. Ferrari owes its success to the fact that it offers a niche product to an elite clientele. Each year, Ferrari produces only about 8,500 vehicles compared to 8.60 million made by Toyota Motor (NYSE:TM).
However, the starting price of a Ferrari is more than $200,000 versus about $20,000 for a Toyota sedan. Ferrari operates in an extremely lucrative, high-margin business and has far fewer competitors than most other automakers, providing it with a wide moat around its business. Ferrari is also innovative and constantly trying new things. Recently, the company said it will now accept cryptocurrencies as payment for its cars within the United States. Going forward, Ferrari will accept payment in Bitcoin (BTC-USD), Ethereum (ETH-USD) and USDC — one of the largest stablecoins. The company says it is simply responding to the demands of its ultra-wealthy customers.
RACE stock shows no signs of slowing down and is unlikely to be disrupted in the same way as traditional automakers.
On the date of publication, Joel Baglole did not hold (either directly or indirectly) any positions in the securities mentioned in this article. The opinions expressed in this article are those of the writer, subject to the InvestorPlace.com Publishing Guidelines.