Yes, 3D printing stocks are on fire. No, it isn't 2013. It's 2021 and 3D printing stocks are making an enormous comeback.
The 3D Printing ETF (BATS:PRNT) is up 111% over the past year… and more than 50% since the start of the year.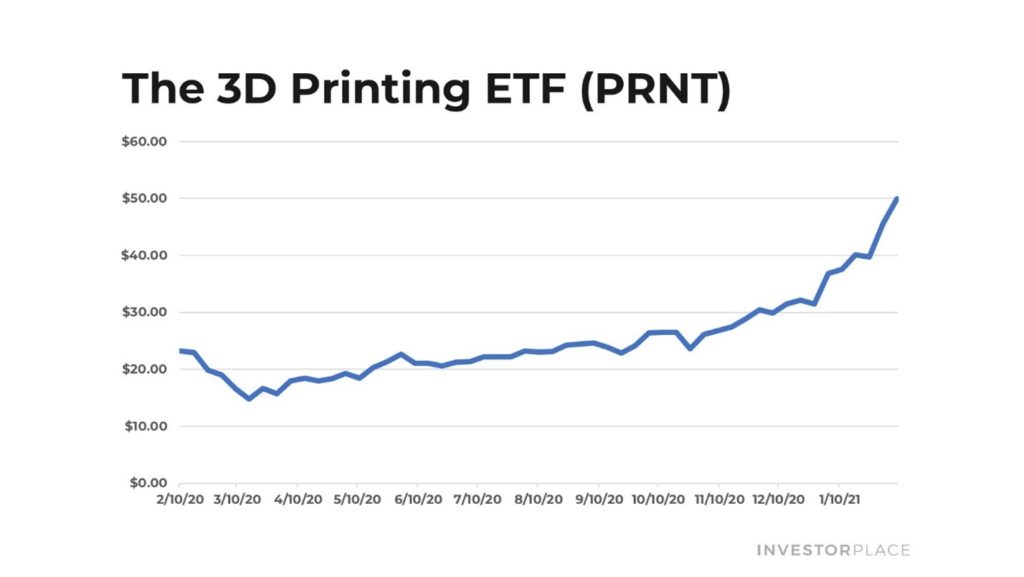 3D Systems (NYSE:DDD) is up 391% year-to-date… Stratasys (NASDAQ:SSYS) is up 146%… ExOne (NASDAQ:XONE) is up 474%… Voxeljet (NASDAQ:VJET) is up 194%…
What in the world is going on?
The market is sending a message loud-and-cloud: The once sleepy and left-for-dead 3D printing industry is ready to wake up and sprint into hypergrowth mode over the next decade.
You see… for years and years, 3D printing was too slow, too expensive, and too niche to be usable for anything besides small-scale, one-off prototyping.
But the industry has made huge technical advancements over the past several years.
Now, these 3D printers are printing faster than ever thanks to more efficient layer-by-layer printing technology…
They are becoming very affordable, as manufacturing processes have been streamlined, economics of scale has kicked in, and material costs have plummeted…
And, most importantly, they are now able to print in metal (as opposed to just plastic), which makes them immediately usable on the factory floor.
The result is that more and more companies are incorporating rapid, cost-effective, metal 3D printing capabilities into their actual assembly lines.
It's the beginning of the long-overdue 3D Printing Revolution.
The market finally started to notice that the tide was turning on Nov. 24, when Volkswagen ordered two 3D printers from Stratasys in a vote of confidence that these printers are value-additive now.
Then, on Dec. 10, metal 3D printing pioneer Desktop Metal (NYSE:DM) came public through a business combination with Trine Acquisition Corp. Through that business combination, Wall Street finally started to see first-hand that there was some really exciting progress being made on the metal 3D printing front.
A month later, 3D systems reported blockbuster preliminary fourth-quarter numbers that called for revenues to rise 5% year-over-year (versus expectations for a 15% drop) and for profits to double year-over-year (versus expectations for a 20% drop). This was a landmark moment wherein – for the first time ever – the numbers corroborated the turnaround thesis.
On Jan. 19, Stifel issued broadly bullish coverage on the entire 3D printing industry. That same day, Proto Labs (NYSE:PRLB) acquired online manufacturing platform 3D Hubs.
A week thereafter, 3D Systems announced intentions to significantly expand its bioprinting and regenerative medicine solutions… and most recently, on Feb. 8, ExOne reported upside prelim Q4 numbers that were as positively surprising as 3D Systems' numbers in early January.
It's been a very busy two months for the 3D printing industry.
And a very positive two months, too.
This industry is at a critical inflection point. It's been a no-growth market for several years. Now, over the next few years, it's going to transform into a sustainable 20%-plus growth market as a new generation of fast and affordable metal AM machines make their way onto factory floors everywhere, printing end-use parts for cars, planes, rocket-ships, medicine, and more.
Have you missed the rally?
A great question to ask, considering many of these stocks have doubled, tripled, even quadrupled in as little as a month.
But the answer is: No.
ARK Invest pegs the metal 3D printing market growing to over $97 billion in size by 2024, and some industry insiders believe $490 billion isn't out of the question by 2025.
Yet, today's 3D printing companies all feature sub-$10 billion market caps.
3D Systems is worth just $6.5 billion…
Stratasys is worth just $2.9 billion…
ExOne is worth just $1.3 billion…
Desktop Metal, just $6.5 billion…
Materialise (NASDAQ:MTLS), just $4.3 billion…
Proto Labs is worth just $5.5 billion.
Not all of these companies will succeed. But some will. And those that do will be worth many multiples of $10 billion – meaning that in this group, there are a few multi-baggers hiding in plain sight.
So, while 3D printing stocks are broadly overbought, they are not overvalued. Wait for them to cool off. Wait for these overbought conditions to retreat. Then, get aggressive. Buy the dip in what could be some of the biggest winners over the next decade.
P.S. As much as I like 3D printing stocks, there's another kind of stock I'm much more bullish on.
I like to say that where there's disruption, there's opportunity. And, at this very moment, a massive opportunity is happening right before our eyes.
Remember how Jeff Bezos looked at the state of the retail market, and he created Amazon.com in response? Yes, this opportunity is that huge.
As you know, I don't make stock picks on a whim. I spend countless hours analyzing them, creating models, and measuring their long-term potential. It's how I got to be America's No. 1 stock picker, according to TipRanks.
So believe me when I tell you that there's a stock out there that could very well become "the next Amazon." And this Tuesday I will reveal its industry, name, and ticker symbol… for free.
Watch the video below to learn more about this hypergrowth opportunity and reserve your seat here!
On the date of publication, Luke Lango did not have (either directly or indirectly) any positions in the securities mentioned in this article.
By uncovering early investments in hypergrowth industries, Luke Lango puts you on the ground-floor of world-changing megatrends. It's how his Daily 10X Report has averaged up to a ridiculous 100% return across all recommendations since launching last May. Click here to see how he does it.