We're now a few weeks into earnings season, and as we near the end of July, it means it's time for the FAANG stocks — Facebook (NASDAQ:FB), Amazon (NASDAQ:AMZN), Apple (NASDAQ:AAPL), Netflix (NASDAQ:NFLX) and Google (NASDAQ:GOOG, NASDAQ:GOOGL) to take center stage with their most-recent earnings results.
Netflix got the ball rolling Tuesday afternoon with its second-quarter earnings report. And given the stock's 3.3% selloff this week on the heels of its results, it's clear Wall Street was not very impressed.
For the second quarter, sales jumped 19% year-over-year to $7.34 billion. Second-quarter earnings came in at $2.97 per share, up 138% from $1.59 per share in the same quarter a year ago. The consensus estimate called for earnings of $3.16 per share on $7.32 billion in sales, so Netflix missed earnings estimates by 5.8% and posted a slight sales beat.
Analysts were not expecting much from new subscribers to the streaming service, with estimates of 1.19 million users. Netflix reported that it added 1.54 million users globally, bringing the total number to 209 million paid memberships. The company cited a slowdown in memberships compared to the higher growth seen in 2020 due to the coronavirus stay-at-home orders.
For the third quarter, NFLX guided for 3.5 million new memberships, below analysts' estimates for 5.5 million adds. Company management expects a booming third quarter, due to the large number of titles set to be released in the second half of this year. Netflix pushed back many titles last year during the coronavirus pandemic but are set to release those titles this year and next year.
As I mentioned, NFLX fell on its disappointing earnings results. However, those following my Portfolio Grader would've known to stay away ahead of the company's most-recent report.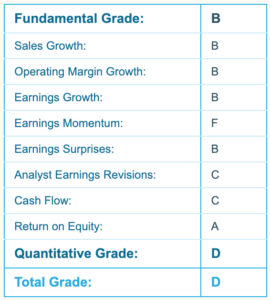 Well before the company reported its earnings, my Portfolio Grader flagged NFLX as a "Sell," due to its weak Quantitative Grade, which indicates low institutional buying pressure.
Now, the rest of the FAANG stocks are set to report earnings throughout next week. So, let's take a quick look at what Wall Street is expecting.
Apple, Inc. (AAPL): Set to Report Earnings on July 27
Earnings per Share: $1.00
Year-over-Year Earnings Growth: 56.3%
Revenue: $72.93 billion
Alphabet, Inc. (GOOGL): Set to Report Earnings on July 27
Earnings per Share: $19.21
Year-over-Year Earnings Growth: 89.6%
Revenue: $56.02 billion
Facebook (FB): Set to Report Earnings on July 28
Earnings per Share: $3.02
Year-over-Year Earnings Growth: 67.8%
Revenue: $27.82 billion
Amazon (AMZN): Set to Report Earnings on July 29
Earnings per Share: $12.22
Year-over-Year Earnings Growth: 18.6%
Revenue: $115.07 billion
How I Judge the FAANG Stocks
The rest of the FAANG stocks are expected to post double-digit year-over-year earnings growth, but does that mean you should rush to snap up shares ahead of their earnings reports next week?
Let's see what my Portfolio Grader has to say…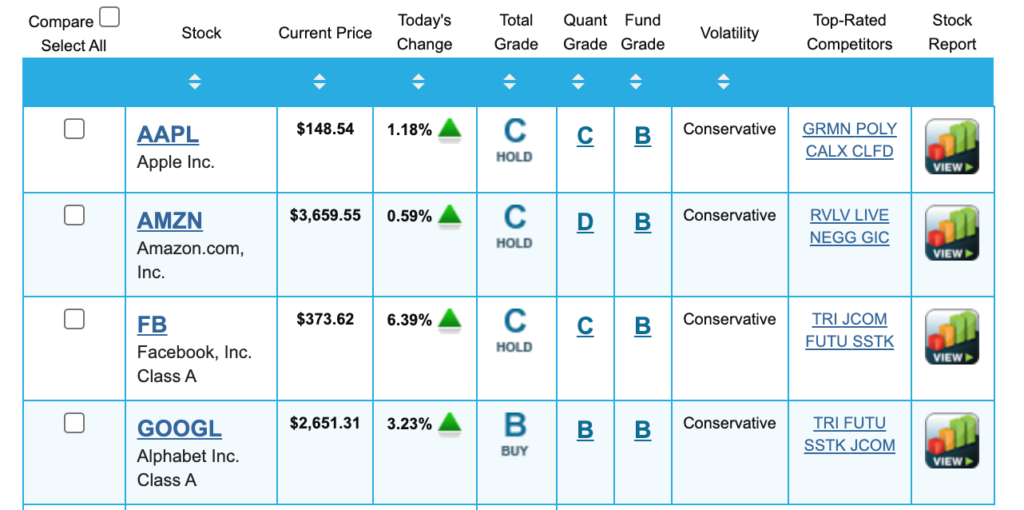 GOOGL leads the pack with a B-rating, while the rest fall behind with C- and D-ratings, making them holds right now.
So, if you're looking to build up your portfolio, I wouldn't start with the FAANG stocks. Instead, I recommend turning your attention to fundamentally superior stocks that are highly rated in Portfolio Grader and expected to report strong earnings and sales growth as well as positive future guidance.
For example, two of my Growth Investor stocks, First American Financial Corporation (NYSE:FAF) and Celanese Corporation (NYSE:CE), rallied nicely higher this week after posting strong earnings results Thursday. FAF crushed earnings estimates by 60% and CE reported record-breaking earnings results for its second quarter in fiscal year 2021.
The truth of the matter is I'm extremely bullish and excited for my Growth Investor stocks to continue to announce results from the latest quarter. I have 18 Growth Investor companies scheduled to release their most-recent results next week, and I fully expect wave-after-wave of better-than-expected results to continue to dropkick and drive their stocks higher.
If you're looking for fundamentally superior stocks to invest in, my Growth Investor Buy List is a great place to start, as it's chock-full of high-quality stocks dominating their respective industries.
If you're interested in my Growth Investor service, now is the perfect time to join. I am releasing my Growth Investor Monthly Issue for August next Friday, which will include my latest market commentary, Top 5 stocks list and much more.
There will be a lot to talk about, so click here now to get started!
Sincerely,
Louis Navellier
P.S. There's a great divide opening up in America and investing in my Growth Investor stocks will help get you on the right side of it. On one side is a new aristocracy that's amassing more wealth more quickly than any other group in American history. For people like me, the one percent, life has never been better, more prosperous.
On the other side, the opposite is happening. Wealth is flowing out of the pockets of ordinary Americans at an unprecedented rate.
What's happening is only going to gather in strength over the coming decades. It certainly won't weaken.
Few Americans even know that any of this is going on. I've never seen anyone from my side of the chasm step forward to explain any of these things.
It's why I put together this video. In it, I'll lay out exactly what is happening, including several key steps every American should take right now.
It doesn't matter if you have $500 in savings or $5 million. You can benefit from the information in this video.
It's free to watch and by doing so I know you'll be ahead of everyone else struggling to understand what is really going on.
Note: The Editor hereby discloses that as of the date of this email, the Editor, directly or indirectly, owned the following securities that are the subject of the commentary, analysis, opinions, advice, or recommendations in, or which are otherwise mentioned in, the essay set forth below:
Facebook (FB), Amazon (AMZN), Alphabet (GOOGL)
Louis Navellier, who has been called "one of the most important money managers of our time," has broken the silence in this shocking "tell all" video… exposing one of the most shocking events in our country's history… and the one move every American needs to make today.