With the market trading at record levels, it's hard to imagine that there are stocks to buy out there that have been battered beyond recognition. But there are.
Now we never want to catch a falling knife, but not every stock that's trading at lows is untouchable.
In fact, there are five out there right now that I think have the potential to come back from the grave.
Let's take a closer look.
Stocks to Buy: MakeMyTrip Limited (MMYT)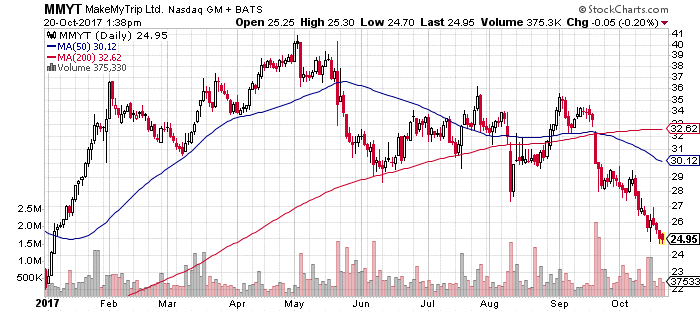 MakeMyTrip (NASDAQ:MMYT) is a major online travel company based in India, and it stands to benefit as the middle class continues to grow in one of the most populous countries in the world. More disposable income for those folks comes with a strong desire to travel.
The $2.6 billion company is projected to continue losing money over the next few years, but it's encouraging to see the trend rising with revenue increasing 33% over the previous year.
I view MMYT as a major travel player in the years ahead, so the recent 37% pullback from its 2017 high creates an opportunity to get in close to the ground floor.
Stocks to Buy: Hi-Crush Partners (HCLP)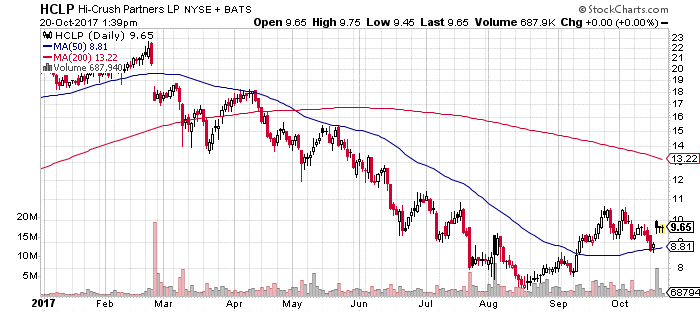 As one of the major producers and distributors of frac sand in the United States, Hi-Crush Partners LP (NYSE:HCLP) was hit hard by a selloff in oil earlier this year. And it has yet to really turn things around.
The stock started to bounce toward the end of the summer, and it's once again moving higher this week after management confirmed that they will resume making dividend distributions. HCLP plans to pay out $0.15 per share on a quarterly basis, which equates to a very strong yield of 6.25%.
Over the long term, the use of frac sand by the shale players is not expected to go away, and that suggests that HCLP will be much higher in the years ahead. That said, there is some risk here in that if oil pulls back, it could hurt HCLP even more.
Stocks to Buy: Impinj (PI)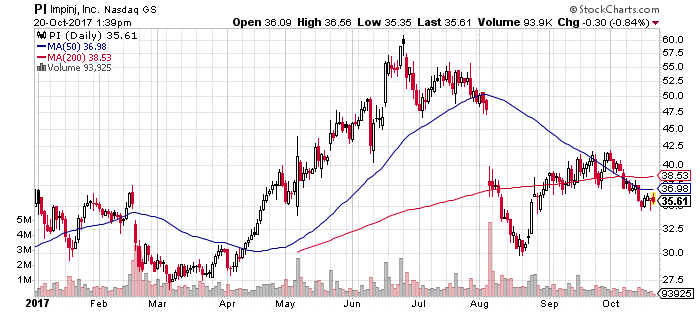 Impinj Inc (NASDAQ:PI) makes small radio frequency devices that are used in nearly every industry, and its chips help track products as well as provide identity and other real-time information to its clients.
With the future all about the Internet of Things (IoT) and connectivity, PI will be a major player in helping the world achieve that.
The small-cap company expects its earnings to take off in the coming years, from 5 cents a share this year to $1.16 a share by 2021.
Such growth on both the top and bottom lines in a NexGen industry is hard to come by, which tells me that PI is a stock on sale currently trading 40% from its 2017 high.
Stocks to Buy: JD.com (JD)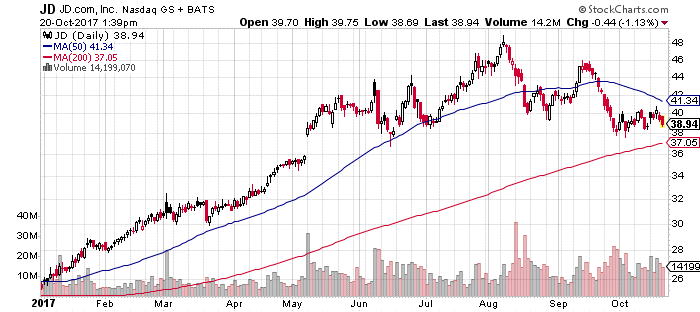 The number two online retailer in China — behind only Alibaba Group Holding Ltd (NYSE:BABA) — has struggled in recent months while its peers continue to reach for new highs.
JD.Com Inc(ADR) (NASDAQ:JD), which interestingly is partly owned (10%) by Wal-Mart Stores Inc (NYSE:WMT), pulled back 23% from its 2017 high before starting to form a bottom, and the chart below suggests that a new uptrend is beginning.
It's not too late to jump on board here. The e-commerce space is one of the most exciting growth stories of this decade, and I am confident there is plenty of room left to run.
Stocks to Buy: PetMed Express (PETS)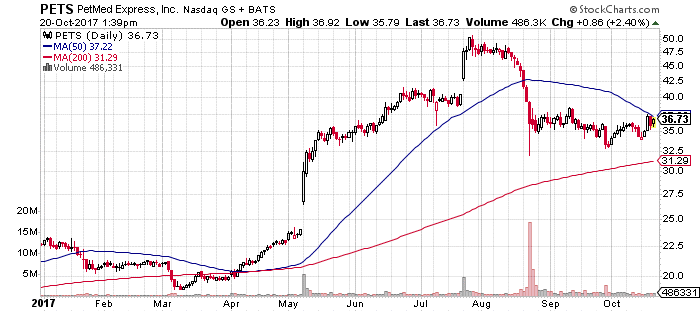 This fifth battered stock popped before this article was posted, but it just goes to show how quickly things can turn around under the right circumstance. PetMed Express Inc (NASDAQ:PETS) reported earnings before the open on Monday and the shares surged more than 20%. They've recaptured the 50-day moving average (the blue line), and the chart is now open for a move back up to the highs above $50.
PETS, for those unfamiliar, is a pharmacy for, well, pets. It operates 1-800-PetMeds through phone orders and online, providing both prescription and non-prescription medicine for people's furry best friends.
PETS more than doubled in the first six months of this year before hitting a high and crashing down 35% on high volume. It put in a bottom and built a base last month, and is once again starting to look attractive.
Keep in mind that the pet business is a multi-billion-dollar industry, and with PETS emerging as one of the early leaders it remains a very smart bet on the continued growth of pet ownership in the country.
Matthew McCall is the founder and president of Penn Financial Group, an investment advisory firm, as well as the editor of FUTR Stocks and the ETF Bulletin. Matt just launched two new investment advisories focused around the "next" generation investing theme. His trademark three-prong investing approach targets the mega-trends old Wall Street is missing out on. Click here for more information on the "NexGen" Experience.